ASUS Padfone 2 images and video leak out ahead of official announcement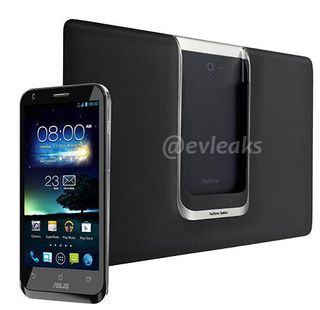 ASUS has already sent out the invites for their October 16th event where they're expected to fully announce Padfone 2 in addition to the purported specs having already been leaked. Now, for those of you who simply couldn't wait to see the Padfone successor, we're now getting a look at the total package through some leaked images and an early video.
Keeping in line with the original Padfone experience, the handset is separate from the tablet and on it's own actually looks pretty nice. Needless to say, our main question of pricing of the tablet companion devices remains unanswered but at least now, we know what it should end up looking like. You can jump below to check out the video (Skip to 2 mins in) and gallery of images.
Source: @evleaks, BloombergUTV
Image 1 of 5
Image 2 of 5
Image 3 of 5
Image 4 of 5
Image 5 of 5
That's a really good looking device!

Doesn't look like it has much OEM skinning at all.

my ideal phone if they release it in the US =/

Throwing money at the screen but nothing's happening. Seriously with its lte capable it needs to come to the U.S., even though verizon wouldn't sell it because they wouldn't be able to charge you $10 extra a month for a tablet on your plan, but you know they probably would.

that does look really nice..

Yikes. That's unexpectedly nice. Although I don't know why I wasn't expecting it to be nice; my Nexus7 is very damn fine.

Make it available in the US already for crying out loud!!!

If the phone does pentaband (I'm on Mobilicity in Toronto - 1700Mhz AWS) and if this ever supports Ubuntu-for-Android, I'm in.

See, that is a damn good looking phone. Why can't Samsung make a Nexus phone look like that? I love my Gnex but it's plastic feel and bland design is seriously lacking IMO.

A lot of the specs from that packaging with only one mistake (the Super AMOLED misprint) are coming true. If this is a pentaband device it'd be awesome. Be even more awesome if it supports some US LTE bands.

Yeah I have to say, if they have something like that out and newer release it would replace whatever tablet I have at the time and my phone no thought about it. That eliminates the clutter of having two devices by making them the same device. Lots of times I have to do things on my cell because of no wifi for my tablet. Like tonight I wanted some simple kids game to distract my kid, I couldn't get it on the screen he is used to which is my Nexus 7 because the resteraunt didn't have Wi-fi. This would eliminate that problem. Like i said, if it something like this out in a year, I'm all in.

That would be sweet if they had this here in the States especially on Verizon.

y'know what I see here? Capacitive buttons that do not include menu. So we have the annoyance of modern HTC devices and the 'menu stripe here....

I don't get this. If they're going to put capacitive buttons including home and back, why not include the menu button? When the app needs it, you'll have a LOT of unusable room at the bottom of the phone.

Those buttons look exactly like the HTC buttons. If it works like the latest patches on the HTC One and Evo 4G LTE, the right button will have the option of being a recent apps button or a Menu button/(long press)Recent Apps button. That's how I have my EVO set up and it works great. No more crazy menu button on the screen.

The Taichi (dual screen laptop/tablet combo) looks awesome! Actually, everything in that video looked awesome, Asus really makes some innovative products.

159,999 Dafuq does it look like im made out of money?, haha i kid, i kid

The rumor is AT&T will get it and that was only because ASUS did some major begging. So far NONE of the other carriers want to touch it. Sad really.

Me likey that wallpaper and widget.

From the video I'd say the design leaves a bit to be desired. It needs to be completely flush with the phone docked. I wouldn't want to lay it on a desk and have rocking on the camera lens every time I touched it.

Why ASUS Why!!!!!! Pleaseeeeeeeeeeeee come to the US this thing is gorgeous. I will jump ship to whatever carrier needed for this.

Brilliant idea. I like it and would like to hear more about it. But then, I'm sure that Apple already invented it. I think they invented dirt didn't they?
:)

This should be the next Nexus Device.... Asus makes the best hardware on the market...

depends on pricing.. but more on US availability. Have been intrigued with ASUS devices since the OG transformer. Really liking the bottom of the devices... and the perceived lack of too much OEM skinning.. love it! would definitely buy if price was right and availability is in the US. HOWEVER... i will be REALLY surprised if they arent the next OEM in cRapples sights. Your kidding yourself if you dont think the top half of the device all the way to include the buttons doesnt look like the 4 and 4s. Dont understand why an OEM wouldnt make sure they go out of their way to make a new device that is NOT anything like an iPhone.

That is a nice looking phone! Very nice indeed :)

If the final display resolution of the tablet portion is the same as the transformer infinity, this will be my next purchase.

I wouldn't mind actually seeing the video. Why is it marked Private?
Android Central Newsletter
Get the best of Android Central in in your inbox, every day!
Thank you for signing up to Android Central. You will receive a verification email shortly.
There was a problem. Please refresh the page and try again.