With OxygenOS 12, OnePlus loses what little identity it had left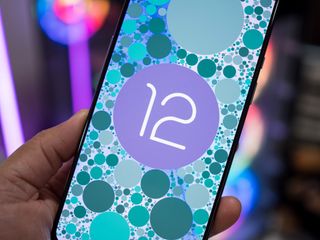 (Image credit: Harish Jonnalagadda / Android Central)
I've used OxygenOS from the very beginning, and I wasn't a fan of the changes that were introduced last year with OxygenOS 11. The design aesthetic felt half-baked and a poor imitation of One UI, and the interface lacked cohesion.
Well, what OnePlus is doing with OxygenOS 12 is far worse. OnePlus merged the OxygenOS codebase with ColorOS in a bid to deliver faster updates; OxygenOS 11.3 on the Nord 2 gave us a first look at the ColorOS-based future, and it was fine because a lot of the user-facing features — like the launcher — were still made by OnePlus.
That's not the case with OxygenOS 12. The Android 12-based interface is essentially just ColorOS 12 with a different name. OnePlus has managed to salvage a few features, but otherwise, the interface is identical to what you'll find on any OPPO phone today.
Now, that's not a bad thing; I like ColorOS 11 quite a bit, and I'm excited for the direction OPPO is taking with ColorOS 12; the Chinese manufacturer is cleaning up the interface and adding features aimed at global users. What's bothersome is the fact that OnePlus decided to get rid of its biggest selling point; OxygenOS set the standard for Android skins thanks to its simplicity, and that allowed OnePlus to gain a distinct edge over its rivals.
That edge is missing in OxygenOS 12; sure, you'll still find a decent amount of customization, but that's taken from ColorOS. All of the new additions — like Private Safe and customizable dark mode — are also from ColorOS, and the only "exclusive" features are the Shelf, Canvas AOD, Work Life Balance, and Zen Mode. Other than these additions, there's nothing original left in the interface. Even the launcher is now from ColorOS, and that more than anything else drives home the point that OxygenOS isn't what it used to be.
On that note, I don't see how a OnePlus phone is any different to what OPPO is offering. Both companies have worked together on the manufacturing side of things from the very beginning, but OnePlus always had two factors going for it: a distinctive design, and the best third-party software on Android. I'm not sure how the former will turn out (we'll need to wait for the OnePlus 10 series), but the latter is going away; my sources within OnePlus indicate that the OxygenOS division has been dismantled, with a bulk of the team merging with OPPO.
There's no identity to OxygenOS anymore, and in that sense, I'm glad that this will be the final version of the interface. OnePlus is working with OPPO to introduce a unified OS that will launch with the OnePlus 10, and from what I understand, that will just be ColorOS 12 with nothing but a few tweaks and new branding.
OnePlus built its entire business on the back of a "Fast and Smooth" ideology that's equal parts reliant on hardware and software. But it was OxygenOS that made all the difference; with hardware being the same across the best Android phones, it was the clean interface and the customizability of OxygenOS that endeared OnePlus to power users. With that no longer the case, I don't see why anyone would buy a OnePlus phone instead of just going with OPPO. The only point I can think of is the North American market; as OPPO doesn't sell phones directly in the region, it is using OnePlus as the conduit for ColorOS. This reasoning plays out when you look at what OnePlus is doing with the budget-focused Nord N series.
Essentially, OnePlus is to OPPO what POCO is to Xiaomi: a sub-brand targeting a niche userbase. I'm not saying that OxygenOS 12 is inherently bad; just that it should not be called OxygenOS. I recommended OnePlus devices widely to friends and family over the years, and when I showed them what's coming with OxygenOS 12, they weren't keen on the direction the software is taking.
OnePlus has set its sights firmly on a mainstream audience, and a shared software allows the manufacturer to streamline its resources. But if you're a power user that has used OnePlus phones because of the software, you're likely not going to like the changes baked into OxygenOS 12. I'm crossing my fingers that Google is able to deliver with the Pixel 6 series, because right now, there's a distinct lack of choice for enthusiasts.
Android Central Newsletter
Get instant access to breaking news, the hottest reviews, great deals and helpful tips
Harish Jonnalagadda is a Senior Editor overseeing Asia at Android Central. He leads the site's coverage of Chinese phone brands, contributing to reviews, features, and buying guides. He also writes about storage servers, audio products, and the semiconductor industry. Contact him on Twitter at @chunkynerd.
Yep totally agree - it makes me glad I got out at the OnePlus 6. Now onto the Pixel 5 and really enjoying stock Android (which the old OP was very close to).

I'm just going to jump in here and say Pixel is NOT stock. Stock is AOSP. Pixel Android is no more stock than any OEM, including Oppo.

Dumbest hot take of the day

Yeah ok, who do think provides the source for AOSP. Google is pure stock vanilla and everything else is a variant of it

Still use a oneplus 5, last OnePlus phone I felt was worth buying. Now they're just another manufacturer, I'd rather buy Samsung than ersatz Samsung.

The Sony Xperias are pretty fantastic, have near stock OS, and have flagship quality specs...

Very true indeed.
However, the problem is their software support is abysmal for the prices they're charging; you only get two major software updates and security patches come... whenever, really.
If they update their software support to rival Google, Samsung, etc. then they would be an extremely strong competitior.

I was thinking about getting a OnePlus 8 or 9 to replace my faithful but aging OnePlus 5. Sounds like maybe I'll look at other options.

Same as others stated. Had the 3, 5T, 6, 8 Pro. Moved to Pixel 5 (and will likely do 6 Pro) and haven't looked back. I always felt the 8 Pro took great photos (and they're not bad) but when my wife still uses the 8 Pro and I snap the Pixel 5 right next to it at the same scene/object it's a joke how bad the OnePlus camera looks in terms of color accuracy. Night it's game over.

Lol the comments below are a joke the software wasn't what was selling their phones but the competitive prices were. Also ever since they moved away from one phone a year and the nearly stock launcher there sales have been booming. Think people can you make profitable and growing business by just catering to a small number of enthusiasts? No you are doomed to fail.

Who is actually bothered about stock AOSP in 2021/22... Oneplus are still providing one of the quickest and smoothest devices on the market, only the codebases have been merged and the software features were already similar between OOS and ColorOS. The merger will also help more reliable and quicker OTA updates. The OOS Android 12 builds look really nice, the OP shelf etc is an invaluable part of my OP9 and it looks awesome in the new update. Also exciting to see what they achieve with Hasselblad for the 10 series. OP are doing just fine and won't be going anywhere!

Yeah keep living in denial

Yeah. Ok. Just read an 'article' on Android authority about OnePlus software... Sigh... The article explained how amazing and respected OnePlus software was. Then I noted the article was 'sponsored'. Sigh. Thank you androidcentral for this 'non-sponsored' article. Yikes, Hey?... Anyway, I will be using my OnePlus 8 Pro for a spell longer. If the software sucks, it will suck, and I'll move on. But I'm
probably not the target market anyway. I'm even thinking of going iPhone after so many years of high end Android and high end macs. When Apple sort their type-c and notch **** out, I'll probably jump.

I'm weirdly with you. I was going to grab an 8t at Christmas, but I'm concerned, and nothing else in Android-land is exciting to me anymore to the point that I keep coming back to considering iphone.
I did just watch The Creepy Line and that is contributing to my reluctance to keep coming back to anything Google.

No more OnePlus for me. Stupid decision by some CEO who just want to cut costs
I really don't understand why they are going to do this. Market share will drop for sure. Goodbye OnePlus hello Pixel

I just bought a Samsung. I was a one plus user since their beginning and got a lot of my friends onto them. I had been using the 6 but with the latest update. The 6 made my mobile data stop working, if I connected Bluetooth to my car it actually SHUT OFF my vehicle, and it has caused the mobile network to cut in and out. It massively disrupted my life in the interim as I waited three days for my Samsung s21 ultra to arrive. Now everything works absolutely fine. I almost bought the newest one plus three weeks prior and I'm so glad I didn't. The tech support from one plus was absolutely useless just kept telling me to do everything I already did to try to reset my phone. Honestly if that was some shifty apple tactic to force the operating system to go so far ahead of the hardware to cause older phones to malfunction. It's sickening. I need my phone for work, the shutting my car off via Bluetooth is disastrously hazardous and put me in a dangerous situation. I'm so glad I have a Samsung now and I probably won't stop telling everyone how malicious one plus is for a very long time.

I would rather see Oppo phones in the U.S. anyway. Make OnePlus editions with the ringer slider if they want, but give us the great devices they offer elsewhere with support for U.S. bands.
Android Central Newsletter
Get instant access to breaking news, the hottest reviews, great deals and helpful tips
Thank you for signing up to Android Central. You will receive a verification email shortly.
There was a problem. Please refresh the page and try again.