Opera browser updated with faster startup, video downloads, and more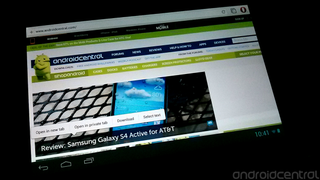 Multiple features added for file handling and performance
A new update to the popular Opera browser has hit the Play Store, dubbed Opera 15 to those keeping count. The browser switched to being Chromium based in a previous release, which has been updated to Chromium 28. Time from icon press to actual web browsing has improved, making this release noticeably faster at startup.
Some interesting new features have been sprinkled throughout the latest version of Opera. It is now possible to download videos that can be played in Opera by either long pressing or using the download button. The location of where said videos -- and any other downloadable files -- are download to is now configurable, allowing the user to choose what device folder is used. It is also possible to browse external SD card folders and open files for use in Opera. Those with something to hide will be happy to see the new "open in private tab" context menu, as shown above.
Under the hood Opera gets an improved Cookie clearing mechanism, a fix for the unintended-uninstall-bug for Samsung devices, and memory leak plugs with stability improvements.
Check for updates directly in the Play Store or use the Play Store button at the top to get the latest version of Opera.
How is this browser versus chrome? Posted via Droid RAZR M on the Android Central App

I've been disappointed with Opera in the past but I've been using it all day & out of all my browsers on the HTC One (currently Stock, Firefox, Dolphin & Chrome) I'm pretty sure Opera is my favorite. It definitely opens most pages faster than the other ones & I happen to prefer the UI as well

I've used Opera for years but still undecided about this new version. Maybe this update will improve it to where I'd like it to be. Don't like the fact that all bookmarks are saved as speed dials. The home screen gets cluttered up real fast. Right now I'm using Maxthon as my daily and so far pleased with it. YMMV though. Posted via Android Central App

I have used it in the past. But have now given up on it due to always force closing on my note 2.

Results on my N7 have been excellent. It feels faster than stock all the way around and scrolling is way smoother, about how the stock browser USED to be before the ota update to 4.2. No crashes so far. Nice features. If the stock browser on your N7 stutters and lags, try Opera. Posted via Android Central App

I am still using opera classic, better, faster ...

I have tried what seems like every browser in the Play Store at least twice and have found the 2 best browsers for speed. The Next Browser is by far the fastest for reading normal Web pages & HTMLs and Boat Browser Mini is the fastest full featured with a lot of customizations. It's also great for flash content. I haven't tried Opera in a few months but it was very slow & had a few quirks I couldn't live with.

I really do hope they hurry up and add extensions for the mobile browser.... that is the one very critical thing for me that it is missing.

I have used opera for many years, although the new desktop opera was awful I don't think the browser is to bad, its proper quick on my note and the discovery part is quite addictive to keep checking news.

The new version of Opera does not have a Flash plug-in so i don't use it. which makes me sad(i still have a gingerbread and ice cream devices)

How do i add new speed dial and where is the exit button?

I Dont think there is a exit button but to add a webpage to speed dial all you do is in the address bar click the plus on the left hand side then you can add to speed dial or offline use

If you long press the back button while Opera is open, you get a popup that says exit. Works that way on my S3 with JB Posted via Android Central App

Been using Opera desktop for years; and then Opera Mini when I had a Blackberry, then Opera Mobile when I got an Android and now the full Opera on Android. I never really liked Firefox and can't get into Chrome either. I hope Opera bring a lot of their features back into their latest Chromium based desktop browser. Posted via Android Central App
Android Central Newsletter
Thank you for signing up to Android Central. You will receive a verification email shortly.
There was a problem. Please refresh the page and try again.