OnLive Universal Wireless Controller [Accessory Review]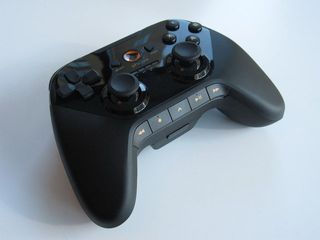 YouTube link for mobile viewing
When OnLive announced they were bringing their services to Android, I was pretty excited. Unfortunately, as soon as I dove into the app, I was made aware of a huge limitation: the touch controls.
They're not terrible (they're touch controls, what do you expect?), but they close off a whole section of the games library that requires a physical controller. So what did I do? I grabbed one of them fancy phyiscal controllers and took it for a spin.
First off, let's talk design. If you've ever used an Xbox 360 controller or a PS3 controller, you'll definitely see some elements of both here. The body of the controller looks like it's straight from Microsoft. The four-way directional pad and dual joysticks add that Sony flair, but despite the mishmash, everything is surprisingly functional and comfortable.
There's the requisite A, B, X, and Y buttons, Start and Select buttons, and the OnLive logo in the middle is both the power button and right where many Xbox fans have been trained to find their power button.
Along the top of the controller there's the standard bumper and trigger keys, along with a microUSB charging port. Like most wireless controllers these days, you can go either the rechargeable battery pack route or just keep burning through AA batteries as you please. For those who choose the former, that's where the microUSB port comes in.
Lastly, underneath the joysticks are OnLive's special function buttons (that we also saw as touch controls in the app), such as Play/Pause, Back, Forward, and most importantly, Record. With OnLive's built-in Brag Clips, you're only a button press away from saving your sweetest kills and sickest tricks in the cloud for all the world to see.
So, now that we've gotten the hardware talk out of the way, how does the darn thing actually work? Simply put, pretty well, actually. The build is familiar enough that your years of intense gaming will feel right at home with this controller in your hands, and wirelessly, the response is as sharp and quick as any controller I've used on an actual console.
The buttons have a satisfying click to them, with the exception of the trigger buttons. Both of those feel just a bit too gummy and slow-moving to fit in with the rest of the controller, but perhaps that's just me being a controller snob.
The D-pad moves rather well, but it probably wouldn't have hurt to give us the full 8-way directional pads most of us have grown accustomed to. The joysticks are fluid, fast, and everything you'd want, especially if you're a fan of the FPS genre. Their click is pleasantly familiar, and once you press them, you'll know what I'm talking about.
Pairing with your device is an absolute breeze, thanks to that handy-dandy Bluetooth. You'll know you're paired up when the flashing lights on front turn solid and stay on one of the controller positions (usually first player). For those folks without Bluetooth (like say, us Logitech Revue owners), OnLive has a nifty USB receiver that plugs straight into your box and yes, the controller actually works with it. It's awesome.
So after so many words typed, what's the verdict? In short, this is the best way to play serious games on your Android device, hands down. With a good internet connection, your phone or tablet becomes a fully capable gaming device, and the controller only enhances that experience in a way that gamers of this generation can appreciate.
The controller runs a pretty standard price at $49.99, and you can pick some up straight from OnLive's website if you're looking to take advantage of all OnLive has to offer to us Android faithful. Plus, if you're already using OnLive on your computer, the controller works with that, too.
Get the Android Central Newsletter
Instant access to breaking news, the hottest reviews, great deals and helpful tips.
I personally am looking forward to the Vizio VAP430 with OnLive support. Although in the future I also plan on getting a nice Tablet to do this with as well.

I love OnLive, mainly because the tech geek in me is still amazed at the fact that I can play a high end game from a server miles away and feel like it is installed on my computer, it just baffles me still (and I'm 20 growing up in this era). I get flawless OnLive playback on my laptop, OnLive console (rarely play on my Desire S as it's too small really) and even since switching from BT at average of 14Mbps to Sky at 10.2MBps (for their truly unlimited service) I still can play perfectly, I will however continue to pester Sky about why they can't supply me with near the speeds of BT even though it's down the same line and exchange haha, especially since their equipment at the exchange is newer than BT's :P But coming back on topic, OnLive is way ahead of its time yet works brilliantly, keep and eye on the services OnLive provides as it may become more and more like that in the future (something I have likes and dislikes about) I will always love my physical media (nothing streamed comapares to a bluray movie quality for example) but OnLive is a great direction for a lot of customers who wants gaming on the fly and without having the hardware.

This may be wishful thinking; but is the controller capable of working with other non-OnLive applications/games?

No it unfortunately is not.

Don't know about that, but I do know my PC Xbox 360 controller works perfectly with OnLive on my ASUS Transfomer Prime (plugged into the USB port on the keyboard) and with Shine Runner. Other than being corded, it's an excellent solution for the Prime.