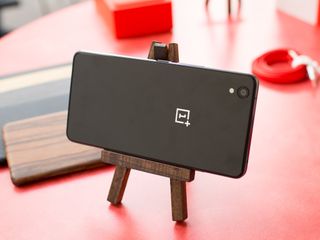 The OnePlus X is hardly a barn burner when it comes to the spec sheet, but for $249 you're getting a pretty solid device. A 5-inch 1080p display is powered by a Snapdragon 801, 3GB of RAM and 16GB of storage, along with a few extras like an SDcard slot and Gorilla Glass 3. Check out the full spec sheet, including radio bands, below.
Category
Specification
Operating System
OxygenOS, based on Android 5.1.1
Display
5-inch 1920x1080 AMOLED (441 ppi)
Corning Gorilla Glass 3
Processor
Qualcomm Snapdragon 801 quad-core @ 2.3 GHz
Adreno 330 GPU
Storage
16GB eMMC v5.0
MicroSD expandable up to 128GB
SIM
Dual SIM slots or single SIM + MicroSD card
RAM
3GB LPDDR3
Rear Camera
13MP ISOCELL 3M2 CMOS, f/2.2
1080p resolution video; Slow Motion: 720p video at 120fps
Front Camera
8MP OV8858, f/2.4
Network (U.S.)
GSM: 850, 900, 1800, 1900 MHz
HSPA: B1/B2/B4/B5/B8
­LTE: B1/B2/B4/B5/B7/B8
Network (EU & Asia)
GSM: 850, 900, 1800, 1900 MHz
HSPA: B1/B2/B5/B8
TDD-­LTE: B38/B40
FDD­LTE: B1/B3/B5/B7/B8/B20
Connectivity
802.11a/b/g/n, Bluetooth 4.0, FM radio
GPS, GLONASS, BDS
Sensors
Accelerometer, Gyroscope, Proximity, Ambient Light, HALL
Battery
2525 mAh LiPo
Charging
Micro USB
5V/2A charger included
LED notification light
Yes, multicolor
Dimensions
140 x 69 x 6.9 mm
Weight
138 g (Onyx)
160 g (Ceramic)
Colors
Onyx (black) or Ceramic (limited edition)
Andrew was an Executive Editor, U.S. at Android Central between 2012 and 2020.
sold my M8 and bought a LG G4...i don't regret the decision but the HTC sofware optimization with Snapdragon 801 is better then LG's with 808, the M8 didn't stutter and micro-lag as the G4, and felt snappier, even the battery was better,i think the Oneplus X will be my next phone as the software is practically stock, don't really care about NFC,i hope that Oneplus X will come to Europe at an affordable price, if not, Amazon here i come :)

See our other posts. This is very much coming to Europe :) We even get the limited run ceramic version . Posted via the Android Central App

Would be sweet if it was out in time to get discounted further on black friday

I like that they're going with last year's 801. Its a better option than today's mid-range chipsets and it'll perform great. I think it looks cool too. $249 makes it a hell of a deal even if its missing some key features

It still requires an invite, but only for the first month. After that, you can freely buy it. IMHO, they're moving a step in the right direction, but I'm still not fully sold on the company yet. And yes. Those specs are pretty good.

Very similar spec wise to the 2014 Moto X (which performs well) Posted via the Android Central App

I might buy it as a backup phone. The fact that it's 1080p AMOLED intrigues me. AMOLED looks so much better than ips. Posted from my Asus ZenFone 2.

at $250 it's really good. Shame about no quick charging though.

My Oneplus One charged fairly quickly despite not having quick charging and having a 3100 mah battery, so I'm guessing this will be similar. If I didn't have my One as a back up, I'd definitely wait the month and pick this up after the invite system goes away. Nexus 6

This or the 5x?? Pickle. Posted via the Android Central App

Depends on what's important to you. 5X will always have the newest release, Nexus Imprint, NFC (can't forgive OnePlus for that...) and fast charging via USB-C. While the 1+X has none of those things, it's internals seem to be generally on par with a device worth 2x as much (another pro for the 1+X). I'd say if you need to have a fingerprint scanner or the latest OS un-flavored, and money isn't a huge issue, get the 5X. Otherwise, for the sheer value, the 1+X is an absolute solid choice based solely on what we see here. Plus, just look at it. It's pretty gosh-darn smexy...

if you're on tmobile, 5x. unfortunately there is no band 12 support on this.

Are you kidding? 5X for sure.
Besides, OP won't just sell you a phone.

No band 12...hope that is a typo. All tmobile consumers are out if not. Band 12 is backbone of network upgrades.

And no band 17, which leaves out AT&T.
OP = FAIL

As someone unfamiliar with GSM bands, could you explain the importance of Band 12?

SD 801?? Man...otherwise the specs are nice. Posted via the Android Central App

The 801 is still a solid chip. Nexus 6

What's wrong with the 801? Sure it's last year's chip, but it still outperforms this year's low/mid-range chips that you would've otherwise seen in a phone priced like this. Posted via the Android Central App

Sorry, but you don't know a heck of a lot if you bad-mouth the 801.

I know that this probably gets asked all the time, but will this work on Verizon?

Dang, thanks for the info though!

I wish this kind of thing could be mentioned in all these stories.

Of course. I'm really to the point of just switching carriers. I'm fed up with this. They are such absolute control freaks

Brand new phone, but lacks USB Type C? Posted via the Android Central App

Its a 250 dollar device. We cant have everything we want for that price.

no Band 12/17? Nexus 5 | AT&T
Android 6.0 Marshmallow

It's OP. They don't know what they're doing. Obviously.

One plus X looks very nice. In paper, it looks better than Moto G 3rd. But I really doubt it will perform so much better than the Moto G. I know it has a better chip and more ram but my Moto X has an 801 as well and the Moto G performs similar to it. Posted via the Android Central App on Moto X 2014/Moto G3/Moto G1/Lenovo Tab S8/ Lenovo Yoga 11 on $35 Cricket wireless plan.

Looked but can't find info on audio. Is it Dolby or other

Same specs as the OnePlus One just a lower clock speed and smaller screen. And this thing performs perfectly and smooth all the time with no lag what so ever. There won't be a phone that outperforms the X at this price Posted via the OnePlus One (Cyanogen OS 12.1 w/ Nova Prime)

i live in Egypt and i get invite for one plus x , so i need to know if it will work in my region or not
thanks in advance

Can someone translate me this:
"Dual SIM slots or single SIM + MicroSD card" I can either use 2 Sims and NO MicroSD or 1 SIM+MicroSD??

Damm... had some expectations with this one.

Well, for 269€ you weren't expecting miracles, were you? ;)

See, this is what the midrange market should be. Sony Xperia Z2
Nvidia Shield
Xperia Z3 Tablet Compact

My sister has been looking for a new dual SIM phone to free herself from the sinking boat that is Windows Phone (she's had it with the lack of apps) and this phone quite appealed to her (mainly because she's worse than Scrooge McDuck). However, if the invite system is kept for long, she'll just pass it.
She doesn't care at all about mobile phones to go trough the headache that is getting an invite etc and I won't bother in her place either. So basically it's in OnePlus's hands if they want to make a sale or not. If they're not that interested, I'm sure there are other nice dual SIM Android options out there (though I'll admittedly have to look into it as I never liked dual SIM phones and unlike my sister, I always rather splurge the money on flagships).

There are so many good inexpensive phones anyways....why pay for a SnapDragon 801 at this point? LG G Flex 2 $250 this weekend on Ebay brand new in the box....I have one .....top notch specs....You could go get a ZenFone 2 /2 Laser on Amazon.... So much better with lots of ram and great specs. So many better options. the the Oneplus X.
Android Central Newsletter
Get the best of Android Central in in your inbox, every day!
Thank you for signing up to Android Central. You will receive a verification email shortly.
There was a problem. Please refresh the page and try again.