OnePlus phones will receive the Always On Display feature with Android 11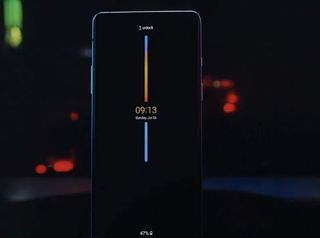 (Image credit: OnePlus on Weibo)
What you need to know
OnePlus has posted a video on Weibo showing off the Always On Display feature that will be coming to the company's phones with the Android 11 update.
OnePlus is set to release the final developer preview build of OxygenOS 11 for the OnePlus 8 series on August 10.
Aside from Always On Display, the OxygenOS 11 update is expected to come with several other new features and improvements as well.
In March this year, OnePlus confirmed that it was working on bringing the Always On Display feature to its phones, although the company refrained from providing a specific timeframe for the rollout. Last month, however, OnePlus CEO Pete Lau teased the feature with a cryptic tweet, suggesting it could arrive with OxygenOS 11. The company has now shared a video on Weibo that shows some of the Always On Display styles that it had considered before revealing the final design for HydrogenOS 11.
Along with the current time and date, the Always On Display will also show you how many times you have unlocked your phone and the usage period. Notification icons will be displayed at the bottom of the screen. Since HydrogenOS and OxygenOS builds differ from one another in many areas, we cannot be certain if Always On Display will have the same design on OxygenOS as well. We also expect OnePlus to offer more than just one option when it finally rolls out the feature to users as part of the OxygenOS 11 update.
As revealed by OnePlus earlier this week, the final developer's preview build of OxygenOS 11 will be released on August 10. The first Android 11-based OxygenOS 11 Open Beta will likely be released shortly after, although a specific date has not been confirmed yet.
Android Central Newsletter
Get instant access to breaking news, the hottest reviews, great deals and helpful tips
Looks like OnePlus phone will be back on the menu. It would be awesome if it could be customized to only show notifications rather than always displaying the time and date and other stuff. Basically I would love Always on Display to take the place of the notification LED on my Pixel 2 without a bunch of the fluff that typically comes with Always on Display. Just show me notifications or nothing.

Why do OEMs feel the need to provide useless extras rather than useful features? Number of unlocks? A heatmap of phone usage? These aren't useful for on-the-go information. If your always-on display is more cluttered and less interactive than Motorola's it's not good. Moto has far and away the best AOD on the market. All others just shouldn't be hailed as a good thing if they don't do what Moto does.

Can't imagine buying a phone without an AOD. Had one on my Nokia N8 and Lumia 820 briefly made do with an LED notification on a Moto g until buying the Moto X which has imo the best implementation as it works with sensors that you just wave over the phone or pick it up while showing the time and notifications, genuinely useful and something I would definately consider a deal breaker on a phone without it.

Never cared about AOD, it's a battery hog. I'm just glad I have my iPhone 11 Pro Max as my daily driver now and I don't have to be frustrated that OnePlus newest flagships are on the Android 11 beta but as I'm an iPhone user again and this time for good, I don't care and I won't update my 7T. OnePlus can kiss my behind as I'm done with not only OnePlus, but with Android.

Oh Beno, can't wait till you raving bout how great having an AOD is when apple 'invent' it next year lol!
And by the way it makes zero difference to battery life.

Actually Beno I have a genuine question for you as I've often wondered this when I read your comments, how old are you? And before you ask why I'll let you know I'm 54 years old and genuinely curious how old you are. I can't make my mind up if I think you're a teenager or an older person with the mind of a teenager?
Android Central Newsletter
Get instant access to breaking news, the hottest reviews, great deals and helpful tips
Thank you for signing up to Android Central. You will receive a verification email shortly.
There was a problem. Please refresh the page and try again.