OnePlus 7 Pro packs improved vibration motor, so no more mushy notifications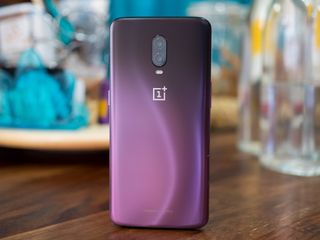 (Image credit: Android Central)
OnePlus owners, rejoice: the brand is ramping up quality of the vibrations motor on its OnePlus 7 Pro scheduled for an official announcement Tuesday. While many of the phone's features are aimed at swaying consumers away from their iPhones or other Android devices, this update comes in direct response to criticisms among OnePlus devotees who have lamented for years about the weakness and inconsistency of the brand's vibration tech.
"We are constantly listening to feedback from the community on what features and characteristics they would like to see implemented on OnePlus phones. Their feedback helps us focus on certain features," OnePlus founder and CEO Pete Lau told CNET in an interview.
To power these more intense and precise vibrations, the OnePlus 7 Pro needed a larger motor than past models. The brand claims this new engine is 200% stronger than previous iterations.
"Our team had to rethink the internal design of the OnePlus 7 Pro, to fit inside the body without increasing the thickness of the device, which could lead to a less ergonomic feel," Lau told CNET. "At the same time, we had to ensure that the haptic motor was in the right position so that the haptics would be strong, yet even across the device."
The phone also has three customizable vibration settings for notifications: "light," "medium," and "strong." The motor's vibration pattern has an additional six settings, and users can "tune the vibration" to tailor how the keyboard feels while typing.
Along with a more powerful motor, users can expect features such as three rear cameras, a pop-up selfie camera, and one of the highest refresh rates on any phone currently on the market with the OnePlus 7 Pro. Given the brand's pricing patterns over the last few generations, estimates place the 8GB/256GB version to be priced around $749 with a 12GB/256GB version around $819.
One thing it won't have, though, is a water resistance rating, so getting this new phone wet will be at your own risk.
Never Settle
(opens in new tab)
Best bang for the buck
OnePlus has always been in the business of giving you the most for your money, and even as prices rise, it still delivers on that. The OnePlus 6T combines striking design, high-end specs, and a clean software package ensuring you get one of the best experiences on Android without feeling the pain in your wallet.
Get the Android Central Newsletter
Instant access to breaking news, the hottest reviews, great deals and helpful tips.
nah, they never listen to consumers, otherwise they wouldn't have removed the notification LED

I understand the necessity of cost cutting measures in the normal 7, but not having IP certification in a phone costing $749 is a little absurd.

It has water resistance, just no IP certification since they didn't see the need to pay for testing. No one can say the degree at this point. We'll have to see. It would be nice if they were more specific. However, previous handsets already fared well with water and advertised to be water-resistant. I'd assume that they improved it further this generation.

Does that mean that OnePlus 7 (the standard one) is just gonna have a new chipset and some new 1-2 features thrown in? It IS a new generation, not a 'T'. If you're already saving money by using an existing design, atleast put that money somewhere else.

Hey, while they're listening to customers. Let me silence the ringer volume all the way down without having to use the damn slider. That way we can use timers to restore the ringer.

tbh I find it annoying and turn it off

Carl Pei
We're going to listen to consumers so we're going to put up a poll on Twitter about the headphone jack. Wow the results were 88% YES for wanting the headphone jack. Let's remove it! Pete Lau
Increasing the thickness means less ergonomic for the users. Because thinner is so much easier to grip and hold (SMDH). These guys are clowns and Pete has no idea what he's talking about. Thinner is definitely not better for ergonomics.

So, all this marketing and singling praises about OP 7 Pro means OP 7 ("regular") will be a good for nothing shiite? A new chip in the body of 6T, slightly improved cameras and nothing else?

If it just had QI, it seems this would be the perfect phone for me.