OnePlus 7 Pro Almond hands on: Natural beauty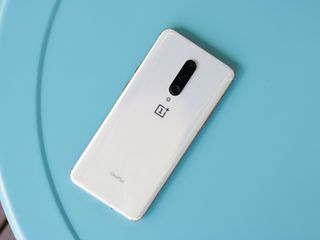 It's been a little under a month since OnePlus took the wraps off of the OnePlus 7 Pro during its NYC launch event. When the phone was unveiled, OnePlus showed it off in three colors — Mirror Gray and Nebula Blue have been available since day one, but the striking Almond hue has simply been shown as "coming soon."
As of Tuesday, June 11, OnePlus is ready to get that color in customers' hands with the launch of the OnePlus 7 Pro in Almond for the United States and Canada.
The Almond variant of the OnePlus 7 Pro is only available in the mid-tier configuration (aka the best one) with 8GB of RAM and 256GB of storage. Specs-wise, it's identical to the 7 Pro we reviewed last month. It's got a gigantic 6.7-inch AMOLED display with a buttery smooth 90Hz refresh rate, speedy Snapdragon 855 processor, triple rear camera setup, in-display fingerprint sensor, etc., etc.
All of that's fine and dandy, but the star of this particular show is the Almond colorway.
The last "gold" phone OnePlus sold was the Soft Gold OnePlus 5 from 2017, and depending on how the light hits it, Almond on the 7 Pro is bit more colorful than the muted gold/white we previously had.
Image 1 of 4
I'm usually not one for gold phones, but I dig this Almond aesthetic. While the back glass is still glossy, the actual finish is much more full and less reflective than what you'd find on something like a gold iPhone XS. In fact, I'd consider the back of the Almond OnePlus 7 Pro to be more of a blush than anything. The frame of the phone is a much more pure gold color, as is the accent surrounding the rear camera.
This combination looks fantastic in person and is a nice middle ground between the overly colorful Nebula Blue and very subdued Mirror Gray. It's more visually interesting than your typical black and white handsets, but it still looks professional and not too boisterous.
We already have a full review of the OnePlus 7 Pro for you to check out if you haven't already, but even after just my few initial minutes using the phone for the first time, I came away really impressed. I bought the first OnePlus One as soon as I got an invite, modded the hell of out the 3T, and still play with my Red OnePlus 6 from time to time. All of those phones were fantastic, but the 7 Pro feels like a proper culmination of those many years of hard work to create something truly special.
The OnePlus 7 Pro is big, heavy, and doesn't have the absolute best cameras in the world, but wow, is it fun to use. The fit and finish is top-of-the-line, the 90Hz display is stupendous, and I'm genuinely surprised with how well the in-screen fingerprint sensor works.
Dedicated OnePlus fans have probably already picked up a 7 Pro by now, but if you've been holding off and waiting on the sidelines, I'd say to go for it. Nebula Blue still might be my color of choice, but if it's too loud for your liking, Almond is the next best choice.
The Almond OnePlus 7 Pro is available for purchase right now from OnePlus' website for $699. If you live in the UK, you can get the Almond 7 Pro via OnePlus' website (opens in new tab) and John Lewis and Partners (opens in new tab) for £699. Customers in India can also pick it up on Amazon India (opens in new tab) for ₹52,999.
Android Central Newsletter
Get instant access to breaking news, the hottest reviews, great deals and helpful tips
Joe Maring was a Senior Editor for Android Central between 2017 and 2021. You can reach him on Twitter at @JoeMaring1.
Do they still not support Verizon? Then I don't buy OnePlus.

I just activated mine on Verizon, when I entered my imei on the site it detected it properly and said it was supported. Some people have issues with just swapping their current sim in, in that case you need to contact Verizon and let them know it's CDMA-less.

Why would "beauty" be mentioned seriously in the title of the article? The ESSENTIAL PHONE was widely considered to be a beautiful device but was riddled with software faults. We, on this forum, know its fate. In addition, at least 90% of its buyers will immediately slap a case on the OnePlus 7 anyway.

We, on this forum, know OnePlus phones aren't riddled with software faults like that garbage ESSENTIAL PHONE was.

We, on this forum, must EAT the PIZZA.

We, on this forum, must EAT the PIZZA without the PINEAPPLE because we know that doing so is PIZZA BLASPHEMY

No headphone jack, no AOD, limited to no water protection, no sale, regardless of how "pretty" it is.

I agree that the absence of the 3.5 is disappointing, but the transition hasn't been as bad as I thought it would be. I am not sure I care so much about the AOD as many seem to do. The screen turns on with a double-tap or whenever a notification arrives, so why exactly do I need it on 24-7? Seems like an excuse for burn-in and very little gain. OnePlus didn't pay for the IP rating, you are correct, but teardowns have shown that all the water-resistant gaskets and whatnot are very much in place. Even the pop-up camera has a water resistant gasket, which is nice because the general consensus up to release was that it would be where water damage occurred. I actually transitioned from my endlessly faulty S10+ (edit: third S10+ with hardware issues) and haven't looked back, aside from Samsung Pay. The battery is smaller, but software optimization and higher quality radios have resulted in the OnePlus 7 Pro outlasting the S10+ by leaps and bounds in my personal experience. I love the notch (and cutout)-less display, which is Samsung originated (ironic, kinda). My only issue with the display is that I feel the calibration leans a bit heavily on the reds and blues with some occasionally annoying color shift happening at certain angles. Thus far the device has been an all-around more positive experience than the S10+ and that is coming from a stone cold Samsung user over the years. Truly, I have few overarching major complaints. OnePlus put forward what amounts to a simply solid bit of hardware. To each their own, though. EDIT: One word of caution about the OnePlus 7 Pro, now that I remind myself. I did do a few exchanges in my initial 14 days to find a screen calibration that was least annoying to me. The display lotto is alive and well because OnePlus went with an OLED screen this time. This is more of a personal thing rather than an actual manufacturer defect per-se. You have to go with what makes you happy. I prefer a cooler screen, but not too cool.

I was of the same mindset of you regarding AOD when I had the 6T. But as time went on it just bugged me more and more that any time I was away from my phone (like at work) and came back to my office I had to double tap to see the screen. Now I have it laying on my desk and without so much as a touch I can see what time it is, see that I have emails or text message waiting, also see how much battery I have left. It seems silly to worry about such a thing but it's so much nicer having AOD. I wasn't too upset about the headphone jack but there were times when I was at work and wanted to listen to some music and realized I left the dongle at home. So that annoyance plus the others made me take the leap to the LG G8 since I have the One Demand upgrade with TMO and they gave me over $300 to trade in the 6T for the G8. Win win for me. Now I have more usable features and a solid phone as a daily driver.

Whats the big deal about phone colors? It seems most people put them in cases anyway.

The OnePlus 7 Pro comes with a surprisingly nice branded clear silicone case so you can show off those purdy colors. I can confirm the case also comes with the T-Mobile model as well.

It always cracks me up when reviewers comment on how gorgeous a phone is. I don't think I've every in all my years had someone tell me how gorgeous my phone looks. Plus as has been said before, everyone uses a case.

Not everyone uses a case.

True and if you like Almond, which I'm sure is nice and in the market and doesn't cost extra go for it. Choice is good. This phone isn't cheap and get the option you want. As in a previous post it came out a few days after my order. And actually preferred the blue color. If for the same spec's one was cheaper than the other, I would have bought the cheaper of the two.
My concern is the phone over color, and usually prefer black (yeah I'm boring.) . Blue in what I want was the only option. Great phone, if Almond is what you want go for it.
Only thing I don't like is special editions with co-branding with likes of Marvel etc.. Most if not all of the added software can be found and added to your OP if needed. Guess I'm a senior (62) and try to keep it simple. Good luck with what ever choice you decide.

Who cares about the color of the back of any phone....they all look the seem from the front?? I cannot remember seeing anyone use a cell phone in recent times without a case on it....most of which are black, while I do see some colorful cases from time-to-time. Glass backs are stupid, and whatever color they may make them is irrelevant.

My feelings too, most put a case on it and at that point the color means nothing. But the bigger question is: Do people really sit around and think about how pretty a phone is? I don't know a single person that's EVER made a comment on the looks of their or others phone. I just find that phones are so ubiquitous these days nobody even pays attention to them unless they're being used for their intended purpose.

Totally agree, and would be happier with some high impact quality plastic back over glass, less breakage, But sadly it's us the consumer who pushes glass back idea's to companies like Samsung, OP etal. To bad they didn't add wireless charging.

One Plus have been killing the color game for a while now. This color is stunningly beautiful in it's simplicity.

tonos123.com with xiaomi SMS I have just download this ringtone

I got the mirror grey color because I knew I wanted to customize mine. I have a red DBrand skin on it and it looks and feels great. I would only get special colors of I was going to only use clear skins or the case that.came in the box.

Have the Karbon case on mine, DBrand or SopiGuard has nice skin's if in the market. J. Williams on YouTube has a nice video on it.

I have the OP7 Pro 12/156 version in blue, the Almond was offered several days after I ordered, not a big color person when it comes to phones, in the end would have stuck with blue. In the end I case my phone. But more color options are a good thing.

12/256 sorry for the typo.
Android Central Newsletter
Get instant access to breaking news, the hottest reviews, great deals and helpful tips
Thank you for signing up to Android Central. You will receive a verification email shortly.
There was a problem. Please refresh the page and try again.