OnePlus 5 has a new 'Soft Gold' color, 8GB of RAM model now comes in grey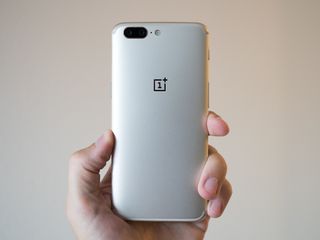 For a third consecutive version, OnePlus is releasing a limited edition "Soft Gold" color option of its flagship phone — this time just over a month after the original launch in black and grey. Starting today, you can buy a soft gold OnePlus 5 for the standard $479 / £449 / €499 price and with the usual 6GB of RAM and 64GB of storage — that is, while supplies last.
See at OnePlus (opens in new tab)
OnePlus isn't saying exactly how many soft gold OnePlus 5s are available, but we have to guess it isn't that large of a number. Previous limited-edition OnePlus colors were available via flash sales and pop-up stores, so the fact that these are selling right away online shows us there may be a few more than usual. But we wouldn't count on this exclusive color lasting more than a few weeks at most.
Keeping with the color announcements, OnePlus is also expanding the "Slate Grey" color option to be available with the higher-specced 8GB of RAM and 128GB model. Previously, grey was tied to the standard 6GB/64GB version. Even still, in order to get the "Midnight Black" color you have to go with the 8GB/128GB model. This new color option on the high-spec model is also immediately available at the same $539 / £499 / €559 price as before — this color, however, is not a limited edition.
A new color option obviously isn't worth trying to sell or trade your current OnePlus 5 in order to switch, but for someone who didn't like the locked-down limited color options of the phone before this could open them up to making a purchase. But if you want a soft gold one, be sure to act fast (opens in new tab).
Andrew was an Executive Editor, U.S. at Android Central between 2012 and 2020.
Still very interested to see the probable One+5T as it creeps closer.

I can't imagine what else hardware related they would improve, except maybe a higher resolution display.

Bigger battery and I'd be sold. My fingers are crossed that this happens at the end of the year. If we see an OP5T with 4000+ mAh battery, I'm sold. Pixel who?

I don't think there's room for a bigger battery.

There is if the phone is made thicker. Nobody asked for thinner phones.

I'm sure someone must have... I don't think there will be a 5T at all, but if there is the chance of it being thicker is very... erm... slim. It would mean a redesign, albeit a minor one one, and that design would be more expensive, and all for not much benefit...

3T had a bigger battery then the OP3.

So what? It any any thicker. Might happen, might not. But I'm guessing not.

Screen brightness, proper orientation of screen mounting, OIS, nominal increase in battery size,water resistance. Some, none, or all of the above. 😉

"For a third consecutive version" Pardon?

Hmmm I like this one much better. Looks less like an iPhone.

So many iFone models this year - some anniversary

Do I want a thinner phone for less battery. Who ever had a dream about that is an idiot. A little thicker & a 4000mamp battery now That's my cup of tea. Let's get with the program this is 2017. The honor8pro, the s8active both have 4000mamp batteries. To me that's the name of the game! Don't OEM'S realize the phones with larger batteries have much better sales.......

Looks more like a platinum gold to me, but it does look nice.

Seems more like a platinum gold to me, but it does look nice.
Android Central Newsletter
Get the best of Android Central in in your inbox, every day!
Thank you for signing up to Android Central. You will receive a verification email shortly.
There was a problem. Please refresh the page and try again.