Official Priv by BlackBerry images get shown off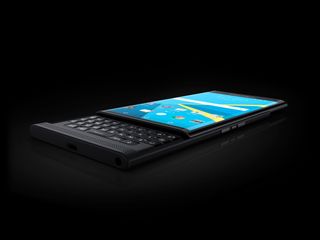 BlackBerry has revealed images of the Priv by BlackBerry for the first time, giving us an official look at the upcoming Android smartphone. While we have seen it in a number of leaks already, and even a hands-on video from John Chen, it's always great to see official photos from the company.
Unfortunately, no new details come along with the images, BlackBerry does give us a look at some different angles of the phone. Shown are a profile view with the phone both expanded and collapsed, as well as a shot of the phone with the screen on and the keyboard out. Hopefully BlackBerry continues to reveal official information about the smartphone in the coming weeks, most importantly a release date and pricing.
Source: BlackBerry
Jared started off writing about mobile phones back when BlackBerry ruled the market, and Windows Mobile was kinda cool. Now, with a family, mortgage and other responsibilities he has no choice but to look for the best deals, and he's here to share them with you.
This actually looks like a decent phone. Posted via the Android Central App

Come on already. We Need $$ and date it is available...

Seriously, we all know it's coming. That way people can decide if they are going to wait for it or not. I wonder if illiterate people get the full effect of alphabet soup

Goodness gracious - that is a mighty attractive phone. Makes me miss my Pre. Now I'm nostalgic for WebOS. Now I'm crying a stream of memories onto my Zenfone 2. Get it together... There's new Google in 2 hours.

Maybe they'll show this off at the Google event?? Posted via the Android Central App

Seriously doubt it...that is quite a stretch.

It's Google on the software front in the same way it is on Motorola, for example. It's still BlackBerry's name over the door Posted via the Android Central App

I know I know. One can hope though! I know that won't happen. Posted via the Android Central App

Although there was a recent partnership between BlackBerry and Google to do with enterprise solutions so this phone could possibly show up today. You never know. Posted via the MATERIAL AC App

The question is, how effective will BlackBerry's security features be, and how will Android affect Blackberry's propensity for awesome battery life? The Torch was my first smartphone, and I loved the fact that I could easily go a day and a half on battery and still have 40% left, which would take me into the evening. I have my doubts about the stamina of this one. Posted via the Android Central App

LOL...you are going to compare battery life on a Torch to todays smartphones? Impossible. It was a low resolution 3" screen. You might as well compare it to a flip phone.

John Chen said he would not make a Android device if BlackBerry could not secure it. They have to get this right testing these waters. My BlackBerry Passport and Z30 both get two full days with 5 active email accounts 300-400/day in running my business. In addition to social media, news, etc (I am not a gamer) BlackBerry 10.3.2 however is not a heavy OS. I am most interested to see how the Android BlackBerry Priv performs and if it's on top of QNX or Linux. Posted via Android Central App

This thing looks pretty cool - has BlackBerry actually reinvented itself and come out with a possible winner? Who would have thunk...

said no one ever. It is another bomb..

If I were a betting man, my money would be on this phone actually being pretty good, but still selling almost nothing.

Thats right where I see it as well. I think it will be well built and looks good but a bomb

I agree. There is a whole generation out there whom have never used or seen a physical keyboard before. BB needs a huge marketing campaign, but I do not think they have it in them. I think the younger generation will perceive it as old tech, wright or wrong. We will see. Posted via the Android Central App

and there are 3 generations that have.. so 3 to 1. :)

And they have moved on Posted via the Android Central App

Not me lol I'm all about the keyboard life Posted via the Android Central App

Wait, is that an EDGED DISPLAY?!

Okay, I'm intrigued. Probably won't come with edged-screen features like the S6 Edge, but hey, it looks slick.

It is rumoured to have some features but to what extent it has not been confirmed.

If it didnt have that keyboard I would agree that it is a good looking phone.

It still has a vkb if physical is not your thing. In a sea of identical candy bar phones, they needed to do something to standout. Security alone wont cut it. Posted via the Android Central App via VMedia TV

But it would be there and it breaks up the edges/lines of the phone. It doesnt even standout, closed it is a S6 edge They do not even have security as a standout anymore, just government contacts that will dry up in a few years.

...and when it is open, it looks like nothing else in the Android marketplace. It will probably sell more than the 800K BB10 units sold last month. ;). Posted via the Android Central App on my BlackBerry Passport

Err, make that quarter, not month. lol. Posted via the Android Central App on my BlackBerry Passport

Some good looking thing from Waterloo. I hope the performance will be as slick.

Snapdragon 808 @ 1.8Ghz
5.4" Display @ 1440x2560 pixels
3 GB RAM
32 GB internal storage w/MircoSD up to 128GB
18MP Rear / 5 MP front Cameras
Touch sensitive keyboard.... Need anything else?

Thanks for that, but if the software on top is wonky, it might still be laggy.

Specs are good, but performance is something else. If it ain't smooth and fast...reviewers will abort the baby too early. BlackBerry can do without bad press right now.

Are we going to get a halfway decent ad campaign or is it going to be word of mouth again like the classic and passport? Posted via the Android Central App

they do not have the money for anything close to half decent.

they are 5x the size of HTC.. there will be marketing behind it. A good marketing campaign would cost around 500 million, last time i looked BlackBerry had 3.2 billion dollars cash that is still growing.

Pricing will be key. If Chinese OEM's can use the latest 810 on a 200$ phone, BlackBerry better price aggressively. I think 300$ unlocked would be great, if they follow Amazon's business model. Sell the phone at cost and make money off the additional services. Posted via the Android Central App

I agree, they need to be aggressive and price it at or below $400. But, knowing their past pricing strategy for new phones, this will probably end up being $700.

Blackberry needs profit(whole lot of it) . No way they can sell at cost. Posted via the Android Central App

This isn't the phone for me. I have a Q10 for work and absolutely hate the physical keyboard. But I'm so glad to see someone taking chances and doing something just a bit different.
I hope this is successful.

It comes with an on screen keyboard. Posted via the Android Central App

I can't wait to see what this phone offers, I feel I may be one person in a long line of Android users who seriously wants a keyboard. I think the hub and BBM integration will be nice as well. I have a lot of international friends and BBM our main means of communication. I'm am optimistic that Blackberry has finally done the right thing.... As long as that camera and software perform well. LG G4 today... idk tomorrow.

I could never go back to a physical keyboard again

I thought that too until i tried the passport.

Damn this phone looks amazing. If camera, battery life, and software are good, I will buy it!

What a beautiful design but I wonder if it have the same traditional endurance as other Blackberries.
Nevertheless, it's nice to see a Blackberry that you may actually want to use.

Great phone out there Blackberry!!! Love the Android integration with better security too!! You can be a worthy opponent for Apple and Samsung! Hope you get back to your good old days again!! Posted via the Android Central App

I never thought I would say this but the BlackBerry Priv (I personally prefer to call it BlackBerry Venice instead) looks and sounds far more interesting than the new Nexus smartphones Google announced today in my opinion. My biggest concern is how will the price turn out. Other than that, this device looks fantastic and has potential to lure some buyers (assuming if BlackBerry actually tries and does a good job of marketing/advertising).

This looks a lot like the old Dell venue pro for WP7

And BlackBerry Torch 9800 Posted via the Android Central App on my BlackBerry Passport

It does look quite sleek but I'm kind of curious to see how sturdy that slider is. Such a large, expensive screen...you'd hold it like fine glass.
Android Central Newsletter
Get the best of Android Central in in your inbox, every day!
Thank you for signing up to Android Central. You will receive a verification email shortly.
There was a problem. Please refresh the page and try again.