OfficeDrop refreshes Android app, releases tablet version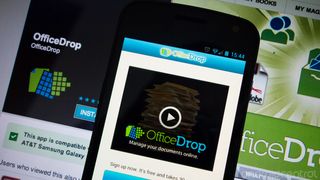 OfficeDrop, a service -- and accompanying apps -- that helps you organize documents electronically by scanning them in via your device's camera, has released a tablet app and refreshed its Android phone app (the iOS app was refreshed as well, for those of you who use those kinds of things). The premise is simple but has plenty of potential. Whenever you have a document or something important that you'd like to keep electronic record of, you can open the OfficeDrop app and scan in the document, which is then uploaded to your account. With the latest version, document scanning has improved, with proper trimming and improved image quality. Once imported, OfficeDrop will perform OCR (optical character recognition) on the document, making it easily searchable not only by file name but by content. Documents in your account can be quickly shared thereafter in PDF form, which is convenient and platform agnostic.
Hit up the full press release after the break, and find the OfficeDrop app at the Google Play Store link above.
Source: OfficeDrop
OfficeDrop Announces Major Image Quality Update for Android
CAMBRIDGE, MA--(Marketwire - Sep 7, 2012) - Today, OfficeDrop is announcing a brand new version of its Android scanner app that makes scanning documents to the cloud much simpler. It's always been easy to snap a photo of a document and upload it to OfficeDrop's online cloud storagesystem, but now the Android app's scanning function is even more powerful.
The updated Android phone and tablet app includes a major image quality upgrade to make documents more searchable, plus automatic cropping to save time and keep documents nice and neat within OfficeDrop cloud storage accounts. In addition, users can save documents into their "Favorites" folder and they will be backed up to the cloud plus saved locally on all of their devices for offline access.
"It's critically important for OfficeDrop to have as high of an image quality on a mobile phone as you would on a scanner," said Prasad Thammineni, CEO, OfficeDrop. "Many of our small business customers are capturing paper on the go and do not have access to a scanner as often as they'd have a tablet or a phone handy. OfficeDrop's updated Android app lets them capture documents wherever they are and still get the same searchability as they would from a PDF they capture from a desktop scanner."
For example, if an OfficeDrop for Android user wanted to snap a picture of a contract on the go, the new version of the app would automatically detect the edges within the document, cropping it and making the uploading process much faster and easier for the user.
The automatic image quality enhancement would then make the image sharp and clear (not to mention much more searchable within the system). Once the document is uploaded into OfficeDrop's cloud, a user can search for it quickly using OfficeDrop's file search engine and cloud OCR technology, and the document is ready for file sharing as a PDF.
OfficeDrop is a complete cloud solution for small businesses, from digitizing documents for the cloud to storage accounts that are sharable with teams. OfficeDrop's smartphone scanner appsmake digitization and sharing on the go fast and easy. To learn how OfficeDrop makes digital life simple with its scan-and-capture apps and services, visit www.officedrop.com.
About OfficeDrop
OfficeDrop's productivity apps and desktop scanning software make it easy for small businesses to scan paper to the cloud and access files from anywhere, at any time, using any device. OfficeDrop's searchable online cloud storage platform gives paper new life and makes documents collaborative. Headquartered in Cambridge, MA, OfficeDrop was founded in 2007. For more information, visit www.officedrop.com.
Andrew was an Executive Editor, U.S. at Android Central between 2012 and 2020.
Android Central Newsletter
Thank you for signing up to Android Central. You will receive a verification email shortly.
There was a problem. Please refresh the page and try again.