NVIDIA Shield TV vs. Apple TV 4K (2021): Which should you buy in 2021?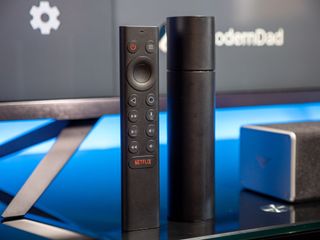 (Image credit: Phil Nickinson / Cordcutters)
NVIDIA Shield TV 4K
NVIDIA has been owning the Android TV streaming box segment for years with the same NVIDIA Shield TV hardware. In 2019, NVIDIA gave us a new look with an upgraded processor that delivers all the features required to keep pace with the newer competition.
NVIDIA Shield TV 4K
New look, same great performance
Tube design is compact and easy to set up
Best support for Google apps and services
Expandable storage via microSD
Support for 4K and HDR
AI-upscaling
Only 8GB of internal storage
Doesn't ship with an HDMI cable
Apple TV 4K (2021)
Apple is known for making top quality tech products that are perfectly suitable for practically anyone. tvOS is easy to navigate and supports the most popular streaming services with output that supports 4K HDR and Dolby Vision.
Apple TV 4K (2021)
Best support for Apple apps and services
Great for mirroring content from Apple devices
Media looks stunning on 4K TVs
Optimized to be easy to use
New remote is much better than previous models
No way to expand storage
Doesn't ship with an HDMI cable
Two of the biggest players in the platform game are Apple and Google and both have excellent options when it comes to streaming content. Apple's got the updated Apple TV 4K, while Google's best Android TV box for years has come from NVIDIA. Now that NVIDIA has finally upgraded the NVIDIA Shield TV 4K hardware, the best Android TV box has gotten sleeker without sacrificing performance.
So which should you get? Let's break it down.
NVIDIA Shield TV vs. Apple TV 4K (2021) Need to consider more than just the specs
For the most part, NVIDIA Shield TV 4K and Apple TV 4K (2021) do the same things in the same ways. They suck in digital signals, process them, and spit 'em out to your TV. Each has a remote control and does Wi-Fi, Ethernet, and the rest of the basics.
Swipe to scroll horizontally
| Category | NVIDIA Shield TV 4K | Apple TV 4K |
| --- | --- | --- |
| Processor | NVIDIA Tegra X1+ | Apple A12 Bionic |
| Operating System | Android TV | tvOS |
| Storage | 8GB | 32 / 64GB |
| External storage | Yes | No |
| 4K resolution | Yes | Yes |
| HDR10 | Yes | Yes |
| Dolby Atmos | Yes | Yes |
| Dolby Vision | Yes | Yes |
| Voice Control | Google Assistant / Apple Siri | Row 8 - Cell 2 |
| AI Upscaling | Yes | No |
| Price | $150 | $179 / $199 |
With the NVIDIA Shield TV 4K, the only glaring difference in the specs is the internal storage. Its 8GB of storage may seem paltry, but let's be real — most people are going to be streaming content from apps like Netflix, YouTube, or Disney+. If you do need extra storage for binging your own media library, you can load up a microSD or mount that extra storage as internal storage for your Shield to use to download apps and games. This is something you can't do with the Apple TV, which offers no ways to expand the 32GB or 64GB of internal storage.
Another noteworthy addition to the NVIDIA Shield TV 4K arsenal is Dolby Vision, which was missing in previous versions. In comparisons between Apple TV 4K and the older Shield TV, Dolby Vision was one of those features that gave Apple an edge over its Android competition, but now not only is it a level playing field but it's easy to argue that the new NVIDIA Shield TV offering the most impressive visual features.
I'm referring to the new AI-enhanced upscaling that's made possible by the new NIVIDA Tegra X1+ chipset. We've got an explainer on how it works but essentially NVIDIA used machine learning algorithms to teach the Shield to know what 4K should look like and use that knowledge to fill in more detail on HD video. Rather than upscaling the entire frame, the Shield focuses on facial features, textures, and other details that pop when upscaled.
NVIDIA Shield TV vs. Apple TV 4K (2021) Which platform does your home already rely on?
Of course, the decision between Apple TV 4K and the NVIDIA Shield TV will come down to the content and services that you and your family are already using. Given the site you're reading, we'd hazard a guess that you're bought into that Android life, but that might not be the case for everyone in your home who wants to stream content.
The good news is that most streaming services are pretty much ubiquitous at this point. Services like PlayStation Vue, Sling, Hulu, Amazon Prime Video, DirecTV, Disney+, and more are available on both Android TV and Apple's tvOS.
But then there's the fact that Apple content isn't available on Android TV, and that might be an issue if you or others in your house are keen to check out the Apple TV+ subscription service. While it's available on most streaming platforms, Android-based streaming boxes are the exception. You could always go down the right of casting from the Apple TV app on your phone to the Shield TV, but you can't download the app directly to the Shield. That's the case for any of the best streaming devices using Android TV, save for the Chromecast with Google TV.
However, if having Android TV is the name of the game, there simply is no better way to get it than with the NVIDIA Shield TV 4K. You'll get expandable storage via the microSD card slot, an arguably more ergonomic remote, along with having built-in Google Assistant to control your smart home. It's a no-brainer here.
Best Android TV streaming box
NVIDIA lets you stream just about everything
The NVIDIA Shield TV is a powerful and sleek solution that offers an all-in-one entertainment console for your living room.
Good for almost everyone
Apple's latest TV box is compatible with all the latest and greatest 4K TV technologies
Apple TV is a great investment for those who rely on iTunes and other Apple services, especially with Apple TV+.
Be an expert in 5 minutes
Get the latest news from Android Central, your trusted companion in the world of Android