NVIDIA Shield Tablet and Shield Tablet K1 won't be updated to Android Oreo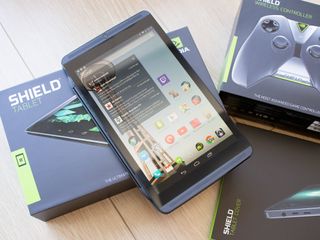 Android tablets (and honestly, tablets in general) aren't anywhere near as popular as they used to be a couple years ago. The tablet craze has all but died, and it was recently confirmed that two of the better affordable Android tablets won't be getting updated to Android 8.0 Oreo.
Manuel Guzman, a software quality assurance worker at NVIDIA, confirmed via Twitter that neither the Shield Tablet or Shield Tablet K1 will be seeing any sort of Oreo love. An update based on Android Nougat is in the works for the K1, but any hope of Oreo coming to these tablets is gone.
This might come as a bummer to anyone who owns either of these devices, but we're honestly not surprised by this news. The Shield Tablet K1 was released back in November of 2015, and the original Shield Tablet is even older (originally launched in July of 2014).
Confirmation for the end of life for devices is never cheery, but in some cases such as this, it just makes sense.
Joe Maring was a Senior Editor for Android Central between 2017 and 2021. You can reach him on Twitter at @JoeMaring1.
I'd say they did pretty well. From lollipop to nougat on such old hardware with another update coming. Though it's really only one set of hardware with minor differences.

The original Shield Tablet was released with Kit Kat. The fact that it got Nougat makes me very secure in the support i'll get for any Nvidia Android product I buy.

Yep. Excited to see the supposed phone they'll be releasing!

Wait what? I knew Razer was likely to be announcing a phone soon, but Nvidia, too?

Think he had it mixed up with Razer. They're both green... lol

Yeah they did great. I still use mine OG shield tablet. I was hoping it would get Oreo but I'm sad it's not but how can I be mad. This tablet has gotten so much support that I knew it would reach EoL eventually. Hopefully something decent is out when I make the switch sometime next year probably

Yeah I feel like convertible Chromebooks that run Android apps just officially marked the end of hope for Android tablets

Um, no.
I don't want some 11" monstrosity (just did a quick search for 'Chromebook' and a scan of the results showed everything this size or larger) to haul around. I want a 7 to 8 inch tablet that's perfect for reading anywhere, maybe playing the occasional game and watching YouTube or an MLB game. This was an excellent device (the K1) and it's unfortunate that nVidia chose not to update the device itself. Things like the Kindle and other Amazon offerings are much too limited to be useful as anything but eReaders, and you're lucky to see ANY OS updates once you purchase a Samsung tablet.

Definitely a good point about size and portability. Would be nice to see Google make a pixel tablet around that 7 inch size for that type of stuff.

8" is really the sweet spot especially for playing games and portability. I find my self using my tablet more than my phone since I got it 3 months ago since I can carry it around more comfortably than my old 10 inch tab that now just serve for the occasional binge watching and for guests to play around. To be fair to Nvidia, they did support the tablet better and longer than any android tablet from other manufacturers outside of Google's offering.

Yeah, Chromebooks aren't what killed Android tablets. Popular and inexpensive Android phones with 5.5" and larger screens are what did it.

I think the larger format phones aren't helping the tablet market any either. I loved my Nvidia tablet got a lot of use out of it but if I am being honest at this point I would rather have a convertible Chromebooks with Android app support. I feel I would get more use out of it on the daily.

Meanwhile Windows 10 tablets get 10 years of security update from the original windows 10 release date.

Kinda hoping that it means that a new Shield Tablet is coming.

I'd buy it on day one. The original Shield Tablet is the best bang for your buck Android device I've ever bought.

That's disappointing. This tablet is similar, only more powerful, then the 2013 Nexus 7. The Sheld Tablet is a few years old now, so it's nearing the end of support . Hopefully, Nvidia will come out with a new version of the tablet.

The Sheild tablet was a great device but with its age, any high-end smartphone will give you a better performance so this news seems like we all knew it already. I just wonder if Nvidia feels it would be worth making a new model with the Android tablet market being almost dead feeling at this time.

Damn. I would still like a tablet to kind of give my phone a break when I'm home.

Time to make it a digital picture frame

Sadly my K1 only lived long enough to Outlast the warranty.

With 6"+ phones, I don't feel like there is a point in owning a 7-8" tablet. They don't feel much bigger than the phone, and tend to have worse connectivity options and hardware (i.e. Cameras) while losing access to certain apps that require a phone for various reasons. I would never "game" on an Android device, anyways, unless it was something like Hearthstone, Lol.

Also, the end of the line for Android tablets came when it became evident that most Android developers are basement hipsters who know nothing about UI design - especially when it must be done for multiple form factors. The reason why the iPad is where it is, is because the Android Tablet apps are terrible. Google made it that way by default when they made it too easy to just upsize a phone app and call it "final version." The iPad had upscaling, but the result was fuzzy so while it was good as a stop gap while you finished your tablet app, it basically forced developers to do a real tablet app for that device. Google made it too easy for bad developers to release bad products and barely (if ever) improve them. This basically gave Android tablets a bad reputation out of the gate, and it doesn't matter how cheap they are... They have to be "usable." I have a Kindle Fire 8" and it's "okay," but these Android apps don't hold a candle to what's on the iPad. If all you want to do is surf the web and access your Google services, then they're totally usable, though. For some games, they're also totally usable. Those tend to be full screen so layout and UX is not a big issue.

I haven't had a problem with upscaling on an Android Tablet since 2012 and believe me, I've owned a tablet since the Nexus 7 was released. Currently, I have over 400 apps installed on my Nvidia Shield K1 with adopted storage with no problems. The tablet market is dead because of Amazon and their ultra competitive pricing. This is something not even the iPad has weathered.
Android Central Newsletter
Thank you for signing up to Android Central. You will receive a verification email shortly.
There was a problem. Please refresh the page and try again.