The Nubia X is a new Android phone with two displays and no notch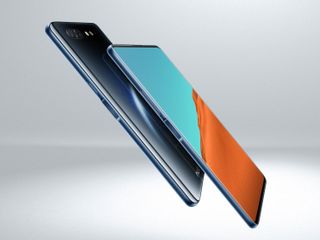 It can be easy to say that smartphones have become boring and are no longer interesting, but a quick look at devices being released in other parts of the world will quickly prove you wrong. Most recently, ZTE's sub-brand Nubia released a new phone that has not one, but two full-sized displays.
The phone in question is the Nubia X, and in addition to a 6.26-inch LCD 2,280 x 1080 display around front with extremely tiny bezels and no notch, there's also a second screen on the back that's an OLED panel with a resolution of 1520 x 720.
You'll notice that the front of the Nubia X doesn't have a front-facing camera — one of the reasons Nubia was able to cram in such a large screen-to-body ratio without succumbing to the notch trend. Instead, your selfies are taken with the dual 16MP + 24MP rear cameras with the secondary display acting as your viewfinder.
That's not all the second display can do, however. It can also be used to showcase animated wallpapers, add additional controls for certain games, and allows you to do pretty much anything you'd do with the main screen.
Other specs for the Nubia X include Qualcomm's Snapdragon 845 processor, a 3,800 mAh battery, and Android 8.1 Oreo.
The Nubia X is available in China for ¥3299, and as we see with a lot of these unique phones that are launched in the East, it likely won't ever see a proper release in North America.
RED Hydrogen One review: The cinephile's dream phone ... some day
Get the Android Central Newsletter
Instant access to breaking news, the hottest reviews, great deals and helpful tips.
Joe Maring was a Senior Editor for Android Central between 2017 and 2021. You can reach him on Twitter at @JoeMaring1.
WTF? damn, that's different.

THIS. This is what I been wanting to see and been saying with a full front display screen. A secondary screen on the back for selfie or video calls. I been saying since the full screen I'd like to see a phone do a full front and have a secondary screen like the Meizu Pro 7. This is awesomely done IMPO.

Wow a very interesting phone and to bad it's not coming to the US

Ok yeah. That's actually pretty cool. It also answers the question of how we'd still have video calling or selfie's with no front camera. I also throws up a new dilemma though. How do you protect that all glass phone other than a clear case?

I like it except for the permanent blue tint you're gonna get from that back panel display. This would work better with a black phone so the back panel isn't compromised.

It would have to be a case with a cut-out for the back display.

I replied to dov1978 but somehow my comment is showing as a reply to myself smh. Fix this AC.

Even a clear case is no option since it'll cover the rear display and that's bye bye touch...

Much nicer implementation of the 2 screens than I expected. Is there a fingerprint reader? Also, I don't love in the US so this will be available though I bought a Huawei Mate10 and P20 in the US, no problem and at a great price. But still it's too bad carriers won't have these because the Chinese brands are doing all the fun innovations.

As long as lobbyist dictates what happens in America, don't expect this to change anytime soon. It is a shame. I'd be willing to import this to the US.

I've reported your comment accidentally, sorry..
Answering your question, i've heard that it has screen fingerprint sensor in both screens, really cool.

I think dual FP might be overkill.

Now this is creative thinking to solve the notch trend. Next year Apple will announce these exact features as their new trend, and it will sell by the billions.💩🤬😂

This would sell well here if these companies would actually support their phone and release updates. This is reason why apple sells so much. And one reason why one plus is also doing well.

Only close to 500 us dollars? This is a steal if it ever came to us.

Now this is a creative approach, especially for those that don't use the selfie camera much. Watch Mr. Mobile complain about the REAR bezels now!

By the way, I could think of some really cool things you could do with two-player games where you both hold the phone between you.

Creative. Wonder if the secondary display has an inscreen finger print sensor?

I am worried about the battery pwrformance

It's clever to have that screen on the back, but to be honest I am struggling to think about how I would use it. I'm sure that second screen add a considerable cost, I am just not sure it would be worth it aside form the cool factor.

I'd rather see a second screen in e-ink so I can dump my kindle. One device to rule them all! This is just a toy.

That's been done and nobody cared

It's too bad these companies never release in usa and almost never release an update.

Well who are "those" companies?
Nubia do release upgrades. OnePlus do, Huawei do ...
Just in case you are referring Chinese companies with "those".

Battery is way TOO SMALL! Otherwise it is interesting.

That second display is damn cool! and hiding under a coloured glass back so it doesn't look like its there when not in use is such a fantastic idea. More companies need to adopt this idea in the pursuit of a bezel free main screen but keeping a selfie ability.