Nuance unveils Swype Living Language -- brings crowd sourcing for the keyboard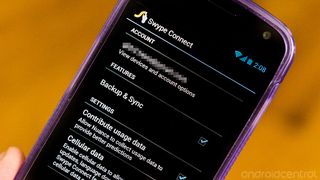 Nuance, the folks behind Dragon voice recognition, and of course the Swype keyboard, has announced a new version of Swype beta, complete with a new feature you'll want to check out. They are calling it Living Language, and it takes auto correction and word prediction to a new level with crowd sourced data.
First, let's talk about a few other important, but not quite as flashy, updates to Swype. The correction engine has gotten an upgrade, and the new Smart Editor now analyzes your entire sentence, flagging any errors for correction or suggesting the best substitution based on the context of what you're saying, not just the word order. And now, it can do it in 12 new languages, including Catalan, Croatian, Czech, Greek, Hebrew, Malay, Romanian, Slovak, Turkish, Thai, Vietnamese, and Ukrainian. I'm not a keyboard engineer, and I didn't stay at a Holiday Inn Express last night, but I have a feeling building a keyboard that is as complex as Swype for completely different character sets is no small feat. These features and upgrades won't get the glory a new way to personalize the auto correction and prediction experience will, but they are pretty damn important. Especially if it was your native language that was missing.
Those features tie in nicely with the new Living Language feature. How it works is that you can connect to Swype online through a service they're calling Swype Connect, and share your usage data to help improve prediction and auto correction. You can also elect to let Living Language auto update with new crowd sourced words. Languages are funny, and often times you need to learn by listening and talking -- Swype does, too. Yes, people will question how much privacy this gives up (and we imagine it's a good bit) but the service is opt-in both ways. You don't have to contribute or receive updates unless you ask to.
So how's it work? Well, I'm glad you asked. I'm been fiddling with it, and I think you'll like it. The Swyping works as well as it ever did, or possibly better -- I'm not the biggest Swyper out there -- and the prediction and auto correction seems to work as advertised. While I've not had a long time to let it learn from me, I can see a bit of improvement in just a few short days. It's certainly something you will want to try yourself, and you should. My takeaway from using it is that you don't necessarily need to use the swipe, err Swype feature to love this keyboard. I'm going to continue using it for a bit and see how it matches up to the competition.
It's becoming clear that there's two "killer" features a good Android keyboard must have -- Swyping, and a great prediction engine. Swype's new beta offers both. There's a lot of big competition in this space, and Swype is an excellent choice. Hit the break for a handful of screenshots and the press release. You can download Swype by visiting https://www.nuance.com/mobile/mobile-solutions/text-input-solutions/xt9.htm (opens in new tab).
Image 1 of 13
Nuance Innovates Crowd Sourcing for the Keyboard; Swype Living Language Learns from Users around the Globe
Burlington, MA and Las Vegas (CES 2013) – January 7, 2013 – Nuance Communications Inc. (NASDAQ: NUAN) today announced a further evolution of intuitive and intelligent keyboards with the launch of Swype Living Language. An evolution of the Hotwords technology announced in September, Swype Living Language uses crowdsourcing to analyze new words and phrases in real-time, continuously updating our language dictionaries.
The Swype keyboard has undergone a rapid transformation in the last year. In addition to integrating the power of Dragon voice recognition, Swype has also been augmented by integrating with personalized, intelligent dictionaries that learn and adapt to the words and phrases that people use most. Now, Swype Living Language allows people who opt-in to share and receive trending words and phrases in real-time, creating an up-to-date, crowd-sourced language model. The result is a predictive input experience that is incredibly simple and fast, with relevant, trending words and phrases supported as you swype, write, speak or tap.
Swype now also features Smart Editor, which analyzes an entire sentence, flagging any potential errors for a quick fix and update, including suggesting the most likely alternatives based on contextual analysis.
Swype has also expanded dictation capabilities and now supports Dragon Dictation in a dozen new languages including Catalan, Croatian, Czech, Greek, Hebrew, Malay, Romanian, Slovak, Turkish, Thai, Vietnamese, and Ukrainian.
"Swype continues to be the best keyboard in the industry, leading the way with innovations that really work and that people really use – and Swype Living Language is yet another example," said Aaron Sheedy, vice president, text input, Nuance Mobile. "By leveraging the cloud and crowd-sourcing input from around the world, Swype provides users with a device that further humanizes interactions through touch—and changes the way our increasingly dynamic language is learned and used."
Availability
Download the Swype Beta for Android to any Android device including those with Swype preloaded, by simply visiting https://www.nuance.com/mobile/mobile-solutions/text-input-solutions/xt9.htm (opens in new tab). Nuance's Swype Living Language keyboard is compatible with the Swype Platform which is available for OEMs supporting the Android Platform as well as via an SDK for other operating systems.
Swype is a part of Nuance's portfolio of voice, touch and natural language understanding innovations that are defining a new generation of intelligent systems and personal assistant technologies, which include Dragon NaturallySpeaking, Dragon Dictate for Mac, Dragon Assistant for Intel-inspired Ultrabooks, Dragon Dictation, Dragon Go!, Dragon Mobile Assistant, Dragon Drive!, Dragon TV, Dragon ID, and Dragon Voicemail to Text. With Nuance technology, people experience more humanized interactions with the world's best phones, tablets, computers, cars, TVs, apps and services from leading manufacturers and operators. To learn more visit www.nuancemobilelife.com.
About Nuance Communications, Inc.
Nuance Communications, Inc. (NASDAQ: NUAN) is a leading provider of voice and language solutions for businesses and consumers around the world. Its technologies, applications and services make the user experience more compelling by transforming the way people interact with devices and systems. Every day, millions of users and thousands of businesses experience Nuance's proven applications. For more information, please visit www.nuance.com (opens in new tab).
Android Central Newsletter
Get instant access to breaking news, the hottest reviews, great deals and helpful tips
Senior Editor — Google Ecosystem
Jerry is an amateur woodworker and struggling shade tree mechanic. There's nothing he can't take apart, but many things he can't reassemble. You'll find him writing and speaking his loud opinion on Android Central and occasionally on Twitter.
I like the idea of crowd-sourced dictionaries and auto-corrections etc. but I'm not at all comfortable signing up for a keylogger shipping off everything I type to servers somewhere. Ekk! :s Surely less elegant, but couldn't there be a way to review a CSV of words and things we have used and ship that off to them ourselves after a little bit of our own filtering and review?

Seriously...why is Swype still "beta"?

The only versions of Swype not in beta are the versions the OEMs put on their phones. The reason is because the OEMs are Nuance's customers. We are not their customers. We are beta testing Swype so that Nuance can sell their keyboard to the OEMs.

I tried swipe and similar keyboards for three months. I figured they are all the rage and there has to be something to them. God bless those who can rock these things. I just found them so insanely slow for my typing style .

Is the new version available yet? Tried to install it, but it says I am already on the current version (1.4) even though in the Inputs settings menu, the device says its on v1.3

You have to download the installer again, it appears swype has removed the requirement to log in with this version. Then you will be offered v1.4

I uninstalled the 1.x version installer and it still said I had the latest version. So I uninstalled everything. not like it mattered much because Swype's dictionary function stopped working with the last major update so I wasn't losing much :D But on that note, its about damn time they fixed the dictionary problem... Gee, that didn't take two whole months or more to fix! Lastly, I still don't understand why they have not added in the backspace function that they used to have. EVERY other keyboard has some smart function behind holding backspace, or swiping with the trace beginning on the backspace key. COME ON NUANCE

Given the generally dismal quality of spelling and grammar found on the internet today, I'm not sure I want my predictions based on any kind of "crowd sourced" data. The idea that the crowd is right is probably not true in this case. Most Americans seem pretty much incapable of correct spelling. :)

Ok. Figured out a workaround: you have to delete v 1.3 first and the installer. Start over again with a fresh installer install and it works.

Tried it, liked it, had to uninstall it... :( Just as it happened after I upgraded my SGSII to ICS, Swype uses A TON of battery (no other keyboard even appears in the battery usage list until I use Swype). Same thing happened after installing the new beta on my GNote2 on Jelly Bean. I even restarted every log just to be fair and compared 5 minutes of using SwiftKey, 5 minutes on the Samsung Keyboard (still my keyboard of choice), and 5 minutes on Swype. The latter was the only one that shows in the battery use list and not only that, it ranked in at #2, with screen on-time being the top culprit. Yet, the only feature I miss seems to be MIA in all three keyboards: Custom shortcut words. :(

That's crazy, I never have that problem with Swype...

Well SwiftKey is running an open beta right now, so this would be a good time to give them feedback on wanting such a feature.

does anyone know if the normal pre installed version will sync will or back up with the beta or are they different?

Since the pre-installed version is OEM re-branded (they're only licensing Swype's keyboard) the beta and your version are different and will even show up as different apps. In my experience, the pre-installed version is seldom updated by the OEM albeit with an OS upgrade or patch, but never an update just for Swype (which is why I don't like Swype's decision to only sell to OEMs)

I've been using Swype nearly since it came out. The last 2 updates seemed to be a step backwards. I only kept using it since I was so used to that input method. I just downloaded the Swiftkey Flow beta last Friday and I'm seriously considering uninstalling everything Swype on my phone. The Swiftkey Flow beta works better than Swype ever has. I won't mind paying for a keyboard that works this well. I will try installing the Swype updates just to see how they are, but when Swype was locking up (until I disabled it's backup feature) I starting looking forward to Swiftkey Flow's offering.
Android Central Newsletter
Get instant access to breaking news, the hottest reviews, great deals and helpful tips
Thank you for signing up to Android Central. You will receive a verification email shortly.
There was a problem. Please refresh the page and try again.