Nougat is now installed on 7.1% of active Android devices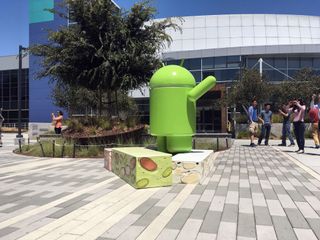 Availability of the Galaxy S8 and LG G6 in global markets coupled with the rollout of the Nougat update to older devices has contributed to the largest monthly gain for Android 7.0. Google's April distribution numbers show that Nougat is now installed on 7.1% of all Android devices, an increase of 2.2% from a month prior.
Specifically, Android 7.0 is now installed on 6.6% of devices — up from 4.5% in March, whereas Android 7.1 is now on 0.5% of active devices, a minor increase of 0.1%. Marshmallow is holding steady at 31.2%, as with a 32% share, Lollipop is the most widely-used version of Android globally, albeit by a slender margin.
KitKat's share declined from 20% to 18.8%, and Jelly Bean — versions 4.1 to 4.3 — lost a percentage point and is now at 9.1%. Ice Cream Sandwich also saw a minor decline to 0.8%. Oddly enough, Gingerbread gained a tenth of a percentage point, and now has a 1.0% share.
With affordable Nougat-based devices like the Moto G5 Plus gaining momentum and older phones finally receiving the update, Android 7.0 should see a similar uptick in the coming months.
Harish Jonnalagadda is a Senior Editor overseeing Asia at Android Central. He leads the site's coverage of Chinese phone brands, contributing to reviews, features, and buying guides. He also writes about storage servers, audio products, and the semiconductor industry. Contact him on Twitter at @chunkynerd.
Still waiting patiently for my S4 to be updated. I have sent umpteen emails to Samsung customer care and all they do is fob me off with lame excuses. Shame on you Samsung I am never going to buy a phone of them again

The s4 already had 2 major updates. KitKat and Loilpop, which is also the standard for every other manufacturers. Don't get why you are complaining.

Some company in California still updates their phone from the same year the S4 came out. If Samsung wants to charge premium prices, they should provide premium support.

You should buy their phones. They are easier to code because they do less.

Surely you could go third-party for an updated ROM?

Just got updated today on me Galaxy S6 on AT&T

I'm glad my Fairphone 2 just got Marshmallow.

Hurray for Gingerbread! 2% soon!

I feel like the Gingerbread ones are just old devices that weren't on Google Play getting updated to have it on them.

I think Nougat is half baked. You only have to look on the forums and see the number of people complaining. Some just don't like change, but many have legit issues.. I prefer Marshmallow.

But Android is half baked. That's the beauty of it, it keeps getting better.

After all these years it should be fully baked by now.

Good cake takes time to bake. Lol

So 60+% of the Android user base is on a version of the OS from 2014 and 2015 respectively. Yeah that's progress. /s I know Android is built that way but it's still laughable. Now when O comes out the cycle will start all over again.

From late 2014 and late 2015, nearly the next year for each.

It's worse than that. 60% are using Lollipop or earlier. Lollipop came out in November 2014.

Still waiting for Moto X Pure Edition to update.

Same here. The update has been released but my phone hasn't received it yet.

Wow, impressive numbers, ha.

@finbaar that is a good point! :-)

Comparing the adoption rate for Marshmallow at the same time, this is a better sign. http://www.androidauthority.com/april-distribution-numbers-marshmallow-6... Since the Galaxy S7 was released on in March as well, it looks like it's a bit better. Android, in this case, still needs work, but at least it's a bit better.

For those complaining about lack of ROM updates, go buy a device that has aftermarket support. I'm enjoying 7.1.2 on all my current devices thanks to aftermarket support. Yay for being part of the less than 1% crowd. :)

While I appreciate this ability of Android, users shouldn't have to go to third parties to get updates on a device they bought last year.

"Nougat picks up massive gains in latest distribution numbers"...LOL. Kinda over selling it aren't you ? 7% is pathetic and a new version is right around the corner.

No problems running Nougat on both my Xperia X Compact and One Plus 3t. I don't see the point in older firmware.

92.9% of all Android devices are on an older Android OS and 7.1% on Nougat is not a celebration. It's just increasing the fragmentation to an even more ridiculous level. Mark my words, the reason big phone makers like Samsung are acquiring voice assistant companies, messaging companies, and developing own apps and app store is because they will ditch Android. People are sick of fragmentation now.

I share your sentiment. What's the point of releasing a new version every year that just increases the fragmentation. I blame Google. Their timing is of that of new phone releases.

I loves me some Android! Wut?

This just shows how fragmented Android is....
Android Central Newsletter
Get the best of Android Central in in your inbox, every day!
Thank you for signing up to Android Central. You will receive a verification email shortly.
There was a problem. Please refresh the page and try again.