Nook Touch root instructions now available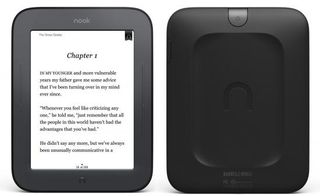 Looking to root your new Barnes & Noble Nook Touch? (And maybe play a little Angry Birds?) Instructions are now available for us mere mortals. You'll need the Nook Touch (of course), a microSD card (128MB or larger) that you're willing to sacrifice to the rooting process, a computer, Wifi connection and a program to write disk images. In other words -- it's pretty much the same as rooting the Nook Color, eh?
This will most definitely void your warranty, of course. But you're not exactly the type of person who worries about that, are you? (And for $139 a pop, it's not that big a deal.) Full deets are at the source link.
Instructions: Nook Devs; via The-eBook-Reader; Thanks, Xenowolf!
Anyone who has done this care to share a video of the Nook Touch running the Kindle app?

Don't have a video but I followed these instructions and Kindle works really well, including Amazon synchronization.
http://reviewhorizon.com/2011/06/how-to-root-nook-touch-and-side-load-ap...

I'm more curious about what the Simple Touch looks like after rooting. The current layout is simple but appealing.

I am just waiting for this to come to Best Buy, got some gift cards I need to use. I have been holding off on getting an e-reader, my wife also wants one (even though she flip-flops and talks about how they are destroying the publishing industry... or something like that). With it rooted and able to support the Kindle app, it should be a nice simple and robust e-reader.

Nook touch + root + http://www.maximumtech.com/bookeen-solves-e-ink-refresh-issue-software-u... = win.
Android Central Newsletter
Get the best of Android Central in in your inbox, every day!
Thank you for signing up to Android Central. You will receive a verification email shortly.
There was a problem. Please refresh the page and try again.