Nokia dominates Android updates with 96% of its phones running Android Pie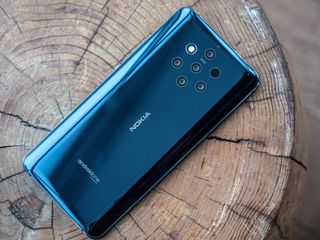 What you need to know
Nokia ranks first out of the top 10 smartphone manufacturers in updating its phones.
Since Q3 2018, 96% of Nokia phones have been updated to Android Pie.
The rest of the top five include Samsung, Xiaomi, Huawei, and Lenovo.
A new report from Counterpoint Research shows that, when it comes to Android updates, Nokia leads the pack. However, it's important to note this report only covers the top ten Android manufacturers. As such, brands like OnePlus, Essential, and Google are left out — despite all of them having good track records when it comes to updates.
The findings of the report found that nearly 96% of Nokia phones sold since Q3 of 2018 are running Android Pie, putting Nokia in first place. The rest of the top five is rounded out by Samsung, Xiaomi, Huawei, and Lenovo.
Unfortunately, LG is sitting all the way back at 8th place with an embarrassingly low 16% of its phones running Android Pie.
Not only is Nokia number one when it comes to updating its phones, but it also ranks as the fastest to do so. The Counterpoint Research graph shows that Nokia has moved faster than any other of the top ten brands at pushing out the Android Pie update.
The graph also places Lenovo in second for speed and Samsung comes in third. Even so, both brands fall far behind Nokia when it comes to the number of phones they updated within a year of Android Pie's release.
The reasons other brands lag behind Nokia come down to a couple of main reasons — one of them being that the other brands have a larger portfolio of devices. Another factor is that these brands focus more on supporting flagship models, while often leaving the mid-range or entry-level phones behind when it comes to updates.
That is one area that Nokia has excelled, but it's also important to note that many of Nokia's phones are part of the Android One program which guarantees two years of updates.
Updates are becoming more and more important these days, with most of us having our entire lives on our phones, including sensitive information like our financials. It's important that we have the most up-to-date security, and this shouldn't be reserved for only flagship or even mid-range phones. Security is important for everyone at all price levels, and it's nice to know that at least Nokia is doing what it can to offer top-notch software support for all of its phones — regardless of price.
Android on a budget
(opens in new tab)
Fast updates, affordable price
Nokia is making a name for itself by offering affordable quality phones with one of the best update records on Android. The Nokia 7.1 is one of those phones, with a Snapdragon 636 processor, a 5.84-inch HD+ display, 4GB of RAM, 64GB of storage, and a $300 price point.
Get the Android Central Newsletter
Instant access to breaking news, the hottest reviews, great deals and helpful tips.
Its sad they have good phones with the most consistent updates and yet very low market share

Shouldn't google be at 100%? All pixel phones have pie since it released.

I definitely get where you are coming from; however, notice what it says in one of the first paragraphs of the article: "It's important to note this report only covers the top ten Android manufacturers. As such, brands like OnePlus, Essential, and Google are left out — despite all of them having good track records when it comes to updates."

I'm sorry. I was reading very quickly so must have slipped past that.

Sounds like Nokia will be very high on my list, once they come out with an X55 5G modem model. My phone is my internet.

Indeed Nokia and by extension HMD Global have been on point with all the OS updates as well as the security patches. Compared to the experience I had with the previous manufacturer and brand of phones I used, it's like night and day. Having once again purchased a Nokia handset and used it now for a few months, brought up some good memories from a few years back when Nokia was my main and only brand for nearly a decade and a half. Solid, reliable, well designed handsets with a killer battery life. Same is true today (so far anyways), the durable hardware, coupled with the Android One programme, which for me, and my own needs as a consumer, have been a life saver in many ways.

I told myself that I was NOT going to laugh if someone posted that!
I failed...

..... and how has their market share changed since implementing this policy? If consumers really cared immensely about faster updates theirs should have increased. Obviously it's not so or Google phones would be much more popular

Google increased sales by over 80% year over year. The Pixel 3A's are selling like hotcakes. that really put them on the map and I think a lot more people will buy them. Thinking the next couple years are going to see them break that bubble.

Agreed. I myself don't care about software upgrades (anything after Nougat is usable on many phones) and don't need the latest software features. Hardware is what counts for me. I'd rather have a great value Pie phone with all the latest camera and screen tech than some outdated clunky feature-less phone that gets 2 major updates.

It's not about market share or popularity, for me, it's about what works for me, I like my Android software clean and free of any ugly and bloated skins with gimmick features that get in the way and slow down updates. I like my Android pure, secure and up to date, basically I like my Android as Google intended. Android is all about choice, so it doesn't matter if Android One and Pixel phones aren't as popular as a Samsung, Huawei or whatever other brands because it's still Android that runs on all theses phones regardless. And my preference is for Android as Google intended and while we are in a minority, there's still enough of a fanbase for Android One and Pixel phones to exist.

And this is why I chose Nokia, because of Android One and because of their excellent track record with updates. Nokia puts all the so called "big name" OEMs to shame. It's a pity the US didn't get the Nokia 8.1 (my phone) a very good phone that's plenty fast and reliable.

If you're from another country and you got the phone you yourself like, then why the hell do you care if another country got the same phone or not? WHO CARES!

Well it makes it a bit easier for them that it really only is a couple of hundred handsets combined, a 1st year student could do that for them in an afternoon :-)

I think you read the chart incorrectly. From what I can see it's Nokia 1st and Xiaomi 2nd.