Nokia 7 Plus vs. OnePlus 5T: A close contest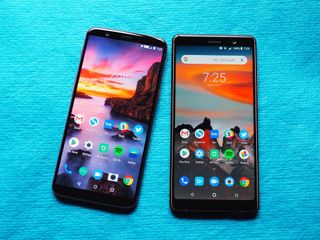 HMD Global revived the Nokia brand last year, primarily focusing on the budget segment. After a relatively quiet start, the Finnish manufacturer saw increased momentum in the fourth quarter of 2017, where it managed to sell 4.4 million phones, outpacing the likes of OnePlus, HTC, and Google.
HMD is adopting a more aggressive strategy for 2018, with the company rolling out a slew of handsets aimed at various price points. The most interesting of the new additions is the Nokia 7 Plus, which is the first phone — and the only one thus far — from the manufacturer to feature an 18:9 panel.
There's a lot to like in the Nokia 7 Plus: it is powered by the Snapdragon 660, offers dual cameras at the back, and has a 3800mAh battery. The camera part is particularly interesting, as it is using the same sensor arrangement as the Pixel 2 XL for the primary camera. In fact, the phone itself is akin to a Pixel 2 Lite as it were, based on the overall design and the specs on offer.
Meanwhile, the OnePlus 5T is on its way out, with the phone on sale for just five months. The OnePlus 6 is scheduled to make its debut imminently, and while its predecessor isn't available in most countries, it is still up for sale in India, the company's largest market. India is also a key market for HMD as the Nokia name still carries a lot of weight here.
With the Nokia 7 Plus set to go on sale later this month for ₹25,999 ($400) (opens in new tab) and the OnePlus 5T retailing for ₹32,999 ($505) (opens in new tab), there isn't much to separate the two phones in terms of pricing. It's time to find out if the Nokia 7 Plus can hold its own in this category and take the fight to the OnePlus 5T.
Nokia 7 Plus vs. OnePlus 5T: Specs
Swipe to scroll horizontally
Category
Nokia 7 Plus
OnePlus 5T
Operating System
Android 8.1 Oreo
Android One
Android 8.0 Oreo
OxygenOS 5.0.4
Display
6.0-inch 18:9 IPS LCD 2160 x 1080
Gorilla Glass 3
403ppi pixel density
6.01-inch 18:9 Optic AMOLED 2160 x 1080
Gorilla Glass 5
401ppi pixel density
Chipset
Octa-core Qualcomm Snapdragon 660
Four Kryo 260 cores up to 2.20GHz
Four Kryo 260 cores at 1.80GHz
14nm
Octa-core Qualcomm Snapdragon 835
Four Kryo 280 cores at 2.45GHz
Four Kryo 280 cores at 1.90GHz
10nm
GPU
Adreno 512
Adreno 540
RAM
4GB LPDDR4
6GB/8GB LPDDR4X
Storage
64GB eMMC 5.1
64GB/128GB UFS 2.1
Expandable
Yes (up to 256GB)
No
Battery
3800mAh
3300mAh
Charging
USB-C
Quick Charge 3.0 (9V/2A)
USB-C
Dash Charge (5V/4A)
Water resistance
No
No
Rear Camera
12MP (f/1.75, 1.4um) + 12MP (f/2.6, 1.0um)
Dual Pixel Autofocus
EIS, Carl Zeiss optics
4K@30fps
16MP (f/1.7, 1.12um) + 20MP (f/1.7, 1.0um)
EIS, PDAF
4K@30fps, 1080p@30/60fps
Front Camera
16MP
16MP
Connectivity
Wi-Fi 802.11 ac, FM radio
NFC, LTE with VoLTE, Bluetooth 5.0
GPS/AGPS/GLONASS/BeiDou
Wi-Fi 802.11 ac MU MIMO
NFC, LTE with VoLTE, Bluetooth 5.0
GPS/AGPS/GLONASS/BeiDou
Security
One-touch fingerprint sensor (back)
One-touch fingerprint sensor (back)
SIM
Dual Nano SIM (hybrid)
Dual Nano SIM
Dimensions
158.4 x 75.6 x 8mm
156.1 x 75 x 7.3mm
Colors
Black/Copper, White/Copper
Midnight Black, Sandstone White, Lava Red
Weight
¯_(ツ)_/¯
162g
Where they're both equal
OnePlus' insistence on a clean software experience with OxygenOS allowed it to stand out in this category, and HMD Global is going one step further by partnering with Google on Android One. All HMD phones going forward will run Android One out of the box, as the Finnish manufacturer commits to Google's vision of pure Android.
OxygenOS is one of the best skins around because of its clean interface interspersed with OnePlus' own tweaks — such as face unlock and gestures — and although HMD also has a clean interface, it is missing the customizations that give OnePlus phones an edge.
Both phones also have a headphone jack, and there's no water resistance or wireless charging.
What the Nokia 7 Plus does better
The OnePlus 5T has a fairly utilitarian design that sees a unibody aluminum chassis with antenna lines at the top and bottom of the device. There's not a whole lot to get excited about on the design front, but the limited edition Lava Red color variant definitely makes the phone stand out. That's the case with the Sandstone White/Star Wars option as well.
Meanwhile, the Nokia 7 Plus has much more flair. The copper accents at the front along with the inserts at the back and the midframe make the phone stand out, and the ceramic coating at the back makes it easier to hold than the OnePlus 5T.
Although both phones have widely varying designs, the unifying factor is the build quality. Both phones have top-notch build quality, and you get the feeling that they're built to last from the moment you pick up either device. That's particularly true of the Nokia 7 Plus, which is machined out of series 6000 aluminum — this phone is built like a tank.
And while HMD doesn't officially list the weight of the device, it doesn't feel significantly heavier than the OnePlus 5T.
Image 1 of 5
If there's one area that HMD excelled at last year, it's rolling out updates. The company ensured it rolled out monthly security patches and platform updates to its portfolio of devices — often beating the Pixels to monthly patches. It doesn't look like that will change this year. If anything, partnering with Google over Android One will allow HMD to offer updates at the same time as the Pixels. If you care about timely updates, there isn't another phone out there that can come close to the Nokia 7 Plus in this category.
The Nokia 7 Plus wins out in two key areas: camera and battery life. With hardware being largely commoditized, it's often the camera that serves as the differentiator in this category. And on that front, the Nokia 7 Plus has the edge over the OnePlus 5T. The 12MP primary camera takes stunning photos in daylight conditions, and is just as capable in low-light scenarios.
Nokia 7 Plus on the left, OnePlus 5T on the right.
The Nokia 7 Plus takes photos with accurate colors, whereas the OnePlus 5T tends to oversaturate images. Low-light photos taken on the Nokia 7 Plus have much more detail to them as well. It'll be interesting to see what the OnePlus 6 offers on the camera front, but for now the Nokia 7 Plus is the outright winner in this category.
The Nokia 7 Plus also destroys the OnePlus 5T when it comes to battery life — the 3800mAh battery manages to easily deliver two days' worth of usage from a full charge. And yes, it has an FM radio, just like Nokia phones of old.
What the OnePlus 5T does better
The OnePlus 5T continues to be a performance monster. The hardware on offer combined with the uncluttered OxygenOS interface makes the OnePlus 5T one of the fastest phones in the market today. The 6.01-inch AMOLED panel is also marginally better than the IPS LCD display on the Nokia 7 Plus. You get much more vibrant colors, excellent contrast levels, and the OnePlus 5T is calibrated to the DCI-P3 color profile.
The OnePlus 5T also has UFS 2.1 storage, whereas the Nokia 7 Plus is using an older eMMC 5.1 storage module. Without getting into the technicalities, the eMMC standard uses a half-duplex system — wherein it can undertake either a read or write operation, but not both at once — whereas UFS can handle read and write tasks simultaneously.
As such, UFS storage modules can hit a higher bandwidth, and are ideally suited for multi-tasking use cases. There isn't a noticeable difference when it comes to day-to-day usage between both standards, but if you're installing a lot of apps and trying to use the phone at the same time, you will see a few stutters on the Nokia 7 Plus, but not on the OnePlus 5T.
Which should you buy? Nokia 7 Plus
This is an easy one to answer as the OnePlus 5T is no longer on sale in most parts of the world. The phone is still up for purchase in India — OnePlus' largest global market — but it's clear that potential customers are now waiting to see what's on offer with the OnePlus 6.
Sure, the Nokia 7 Plus doesn't match the OnePlus 5T in terms of sheer performance, but it does offer a lag-free software experience that's a delight to use. And crucially, it has a camera that beats out the OnePlus 5T, and it delivers much better battery life.
The Nokia 7 Plus is set to go on sale in India from April 30, with pre-orders kicking off on April 20, and is slated to hit the UK on May 2. HMD's strategy of offering phones across various price points will allow the brand to get more momentum in 2018, particularly in markets like India.
The main downside is U.S. availability — although HMD has stated that a few of its devices would make its way Stateside, there's no indication yet if the Nokia 7 Plus is on that list. That's a shame, because the Nokia 7 Plus has all the ingredients to be one of the best phones in the $400 segment.
See at Amazon UK (opens in new tab)
Get the Android Central Newsletter
Instant access to breaking news, the hottest reviews, great deals and helpful tips.
Harish Jonnalagadda is a Senior Editor overseeing Asia at Android Central. He leads the site's coverage of Chinese phone brands, contributing to reviews, features, and buying guides. He also writes about storage servers, audio products, and the semiconductor industry. Contact him on Twitter at @chunkynerd.
Oh cool, review a phone no longer sold...in most of the world...nice...

India accounts for over a third of OnePlus sales, and it's still available here.

Yeah, for example France is not a big mobile phone client in the world... https://www.androidcentral.com/e?link=https2F2F...

5T is clearly the more premium of the two. But I love what HMD is doing with Nokia lately and can't wait for their next 6" high end flagship to hit the states! I'd love to see the Nokia brand end up dominating the market again the way it was 10 years ago. How awesome it would be to see stock Android be so much more popular 👍

Nokia is the new flagship killer?
Interesting phone and what I think LG should be doing.

I sure hope the Nokia 7 Plus comes to the USA. I'd love to get my hands on that phone.

Nokia has to stop the mid-range thing... they've been doing it with Windows Phone and failed, still doing it today.. I don't get it. They need real flagships with real specs

Not sure I agree. Already outselling HTC, Google and Oneplus.
Their flagship wouldn't threaten Samsung or Apple so why not build the brand first?
Windows phones are a completely different and it's not the hardware's fault the phones didn't sell.

Windows Phone popularity aside, it's not that Nokia was in the mid-range, it's that they had too many mid-range devices on the market at the same time. No other company did/does that, because it leads to your own products cannibalizing marketshare from each other. Hopefully Nokia won't repeat that mistake, but...

Well, the high end segment is a contested battle between Apple, Huawei and Samsung. HMD is focusing on building the brand with midrange options in portions of the globe that are developing and even some developed parts of the world before going all-out with a flagship. Believe it or not, consumers don't buy based on specs. They buy based on branding. That's part of the reason why Galaxy Js sell quite well even though there are significantly better options out there

The Nokia 7 plus demonstrates the extent that Qualcomm is overpricing their flagship snapdragon 800 series soc. The processor is the only main difference between the Nokia 7 plus and OnePlus phones. However I don't think we will ever see another OnePlus phone or any other global manufacturer sell a phone with the flagship 800 series Quallcomm processor for under $400. This is because Qualcomm have an effective Monopoly at the high end with neither apple, Samsung or Huawei suppying their soc to other phone OEMs. Furthermore, it is seen as unacceptable to launch a flagship phone without the latest and greatest processor that Quallcomm offers despite the majority of people being unable to notice the difference between them and snapdragon 600 series processors.

So is there any difference in performance between 800 soc and 600 SoC??
And it's true that Flagships devices are abadoned once you buy them

I really hope Nokia brings a flagship phone to the US that is compatible with all carriers soon.

Ditched my LG G6 which ran like a brick and bought a Nokia 7 Plus this Saturday. Couldn't be happier. It's extremely snappy and atm I have 39% battery, last full charge - 2d 2h 29m ago and screen on time 3h 41m.
I have Android 8.1.0 and security patch April 1, 2018 The moment I decided to buy the Nokia was the moment I said to myself why should I throw money at Samsung, LG, Huawei or any other big name brand if their update policy is lackluster. The moment you buy a new flagship at that same moment they "abandon" you. Ok maybe Samsung is better than the rest but still.
What good is the latest CPU if the phone is badly optimized?

Yes and the fact that OnePlus updates their phone every 6 month is ridiculous

You should consider this a good thing. It allows you to buy a newer model without waiting a lot longer for it to be released.

Agree apart from 2nd hand values I don't worry about a new phone being released.
It doesn't effect my phone at all.

So it's a choice between specs and screen quality on one side and camera/design on the other side. The best would have beenna mix of both :) Though on looks they are quite similar, and which is better is subjective. I tend to prefer the 5T. But the issues OnePlus had with personal data should make anyone avoid them

Honestly, Nokia 7+ is my pick. HMD has had a very solid update track record thus far and I really feel that despite "only" having a Snapdragon 660 (which runs about as well as an 821, sometimes closer to an 835) and eMMC storage, I really feel that it won't be much different than the flagships I've been used to. And the battery life will be a huge plus.