Android One Nokia 7 Plus with 18:9 display and dual-lens ZEISS camera surfaces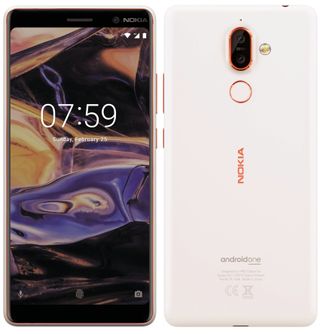 HMD Global Chief Product Officer Juho Sarvikas revealed earlier this year that the manufacturer had something "awesome" to showcase at Mobile World Congress. One of the devices slated for an unveil include the Nokia 7 Plus, and now we have a first look at the phone courtesy of Evan Blass. The leak shows off a phone with an 18:9 display, white color scheme interlaced with orange accents around the camera module, power and volume buttons, and the fingerprint sensor.
The phone has Android One branding at the back, similar to what we've seen from the likes of the Mi A1 and the Moto X4. The latest rumors out of China's Tieba messaging platform suggest the Nokia 7 will be a China-exclusive model, with the Nokia 7 Plus destined for global markets with Android One in tow.
The leak also reveals possible specs, which include a 6-inch display with an FHD+ resolution of 2160x1080, Snapdragon 660, 4GB of RAM, and 64GB of storage. Round the back, the Nokia 7 Plus is rumored to feature two ZEISS-tuned 12MP + 13MP camera sensors, with the secondary sensor enabling 2x optical zoom. Other specs include a 16MP front shooter (also tuned by ZEISS), USB-C with Quick Charge, and a microSD slot.
There's a grey version as well, which also has orange accents:
In addition to the Nokia 7 Plus, HMD Global is said to be launching the Nokia 1, which will run Android Go, the lightweight OS designed for devices with 512MB to 1GB of RAM.
With MWC just a few weeks away, we don't have to wait long to find out what HMD Global has in store. What do you guys think of the design of the Nokia 7 Plus from the renders above?
Harish Jonnalagadda is a Senior Editor overseeing Asia at Android Central. He leads the site's coverage of Chinese phone brands, contributing to reviews, features, and buying guides. He also writes about storage servers, audio products, and the semiconductor industry. Contact him on Twitter at @chunkynerd.
You're going the wrong way Nokia. Show us some real flagships. It's like Windows Phone all over again flooding the market with budget handsets like the Lumia 430/530

Let me guess, you never used Windows Phone? It was the low-end phones where WP really shined - my low-end Lumia 520 offered performance like no Android phone in that price range could. They 5xx series were the most popular Lumias for a reason. Yes, Nokia was overflooding the market, but it wasn't the low-ends to be blamed, rather the 6xx and 8xx series, not offering enough of a difference.

You guess wrong my friend - Lumia 800, 920, 925, 1020, 1320, 1520, 950, 950xl, 650 from 2011-2017 I just think they've started at Mid-range to lower end flagships and working their way down. I'm all for starting off the way they did last year with the 6,5 and 3 but I'd love to see a high end flagship like the Nokia 9 that was rumoured or even better to really make their mark.

Okay, my bad.
It's true, now Nokia concentrates on mid-end. But I'm pretty sure they have their reasons. Even carrying the name of Nokia, I don't think many people would buy an 800 euro phone from them. Any potential error (of which chances are huge) will cause the flagship to fail.
I also still don't agree with the comparison of WP Nokia to now - back then they had the enormous variety, low to high end, now they don't. And like I said, they shouldn't attempt to recreate that variety, or else they'll get spread too thin. Again.

The Nokia 7 is a far better device than this 7+ since it's not oversized.
Keeping it China-exclusive makes no sense. Neither does call this one 7+ if you don't intend to release the 7 elsewhere. Specially when the Western world prefers smaller phones and it's Asia that loves phablets. Curious to see it supposedly with Android Go, though. I was under the impression Google only certified Android Go phones that had the low end specs it was designed for.

Nokia 7+ is Android One. Nokia 1 is the Android Go device.

Wait, isn't Android Go just the re-branding of Android One (the simpler Android for developing countries)? I've lost track of that to be honest so I admit I might be confusing everything (and, well, since I hate stock Android I admit I don't pay close attention to it).

Hahaha. It does get confusing. Android Go is pared down in terms of features, and will primarily target the sub-$50 segment.

The Western World prefers smaller phones? Since when? Everyone I know has switched to larger phones in the past few years always choosing Plus sized iPhones or larger Galaxies

I think he meant 5-5" inch devices as 'smaller' (there isn't much choice below 5" anymore) and 5.5"+ as phablets. Which makes you on point, actually. If he considers this big of devices 'smaller', it proves how much the world loves big phones.

All phones over 5" are phablets. I think that answers your question.

So... Your friends now know more than OEM representatives? Everyone you know switched to larger phones because they had no choice. And when your choice is between a phone you can't use with one hand and a plus version of a phone you can't use with one hand... Well, the choice isn't hard.
And yet the fact remains that smaller versions outsell the larger ones, and if you don't think people prefer smaller phones, start talking to representatives who deal with customers. You'll soon get a surprise.

Do any of these Nokias work on Verizon?

I don't think so, no. Verizon uses outdated radio tech that one uses anymore (CDMA) so they normally have to pay OEMs for that to be built into the phones.
And since they didn't and the US isn't a priority for Nokia, they spare the costs of adding CDMA to the phones

We won't know for sure yet, but there's a good chance they will, IF it's slated to hit the US. A lot of phones are coming equipped with radios that work on most CDMA/GSM/LTE frequencies, like the Nexus/Pixel lines have for years. If it's slated for only international markets, though, probably not.

I like it. Wish it would support Fi.

They need to improve their camera's - they are no where near the levels of my 5 year old Nokia 920.
I returned my N8 because the camera is so bad, I know they are not the same Nokia but I hoped their camera's would be decent especially with the Zeiss seal of approval. It's a shame because I loved the N8 and sadly Nokia's previously strong point is now it's weakest.

They have the Zeiss branding because the lenses are from Zeiss. But Zeiss did NOTHING on the camera (unlike with the old Nokias). It also doesn't help HMD hasn't licensed a single patent from Nokia in regards to camera tech.
My advice for people buying these Nokias is to sideload immediately the Google HDR+ camera from XDA.

I know its just my nostalgia kicking in but any hardware just look so good with a nokia branding on it.

Glad to see more Android One devices. Google killed the Nexus and this seems like it a good alternative to it.

I don't know if I'm glad or sad to see them do this crap.
Everyone said it was Windows Phone that was the problem, and how Nokia should have just gone with Android from the get-go. Well.. now they're making literally worse devices than what they used to make 3-5 years back. The only thing that's good is the design. Specs are almost garbage, especially the camera where they used to leave everyone in the dust. Now they're following the latest stupid trend (2 crap cameras instead of a single good one), selling it for an unreasonable price, and I see that's bringing them all the money they missed in the WP days.
I hope they come to their minds one day and start making quality once again.

I think I'd rather buy the Nokia8. Amazon prime members can pick it up for 406.00 dollars USD. And it's a flagship with the 835 processer!
Android Central Newsletter
Get the best of Android Central in in your inbox, every day!
Thank you for signing up to Android Central. You will receive a verification email shortly.
There was a problem. Please refresh the page and try again.