Nokia 2.1, Nokia 3.1, and Nokia 5.1 are now official: Here's everything you need to know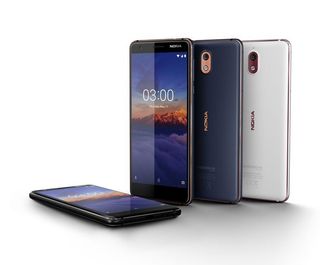 HMD Global unveiled the 2018 refresh to the Nokia 6 earlier this year, and the company is now doing the same for the rest of its budget lineup. The Nokia 2.1, Nokia 3.1, and the Nokia 5.1 slot in at the same price points as their predecessors, offering key updates that make them competitive in the latter half of 2018.
The key change for 2018 is that the Nokia 3.1 and Nokia 5.1 are making the switch to an 18:9 form factor, much like the mid-range Nokia 7 Plus. The Nokia 3.1 continues to be powered by a MediaTek chipset — like the Nokia 3 — but this time around HMD is using a MediaTek SoC in the Nokia 5.1 as well, touting significant gains in performance.
What hasn't changed is HMD's commitment to timely updates. The Nokia 3.1 and 5.1 are based on Android One, and will receive two platform updates as well as three years' worth of security patches.
The Nokia 2.1, meanwhile, is becoming a part of the Android Go initiative. The phone comes with lightweight versions of popular Google services, including Search, Gmail, Assistant, Maps, and YouTube, and will also receive fast updates. Here's everything you need to know about HMD's latest phones.
Nokia 2.1, Nokia 3.1, and Nokia 5.1: Specs
Swipe to scroll horizontally
Category
Nokia 2.1
Nokia 3.1
Nokia 5.1
Operating system
Android 8.1 Oreo (Go Edition)
Android 8.1 Oreo
Android 8.1 Oreo
Display
5.5-inch 16:9 720p (1280x720)
Oleophobic coating
5.2-inch 18:9 HD+ (1440x720)
Oleophobic coating
Gorilla Glass
5.5-inch 18:9 FHD+ (2160x1080)
Gorilla Glass
Chipset
Quad-core Qualcomm Snapdragon 425
4x1.40GHz Cortex A53
Octa-core MediaTek MT6750
8x1.50GHz Cortex A3
Octa-core MediaTek Helio P18
Up to 2.0GHz
GPU
Adreno 308
Mali-T860 MP2
Mali T720 MP3
RAM
1GB
2GB/3GB
2GB/3GB
Storage
8GB
16GB/32GB
16GB/32GB
MicroSD slot
Yes
Yes
Yes
Rear camera
8MP
13MP
16MP
Front camera
5MP
8MP
8MP
Battery
4000mAh
2990mAh
2970mAh
Charging
MicroUSB 2.0
MicroUSB 2.0
MicroUSB 2.0
Security
Passcode
Fingerprint sensor
Fingerprint sensor
Connectivity
Wi-Fi 802.11b/g/n
Bluetooth 4.2
OTG, 3.5mm jack
Wi-Fi 802.11a/b/g/n
Bluetooth 4.2, NFC
OTG, 3.5mm jack
Wi-Fi 802.11a/b/g/n, Bluetooth 4.2, NFC
FM radio, 3.5mm jack
Dimensions
153.6 x 77.6 x 9.67mm
174g
146.25 x 68.65 x 8.7mm
138.3g
151.1 x 70.73 x 8.27mm
Colors
Blue/Copper, Blue/Silver, Grey/Silver
Blue/Copper, Black/Chrome, White/Iron
Copper, Tempered Blue, Black
Nokia 5.1: Same great design, now 40% faster
Like last year's Nokia 5, the chassis of the Nokia 5.1 is milled out of series 6000 aluminum, and the phone is one of the most durable in this category. The phone sports rounded edges and a "satin" finish at the back, and the fingerprint sensor has been moved to the back of the device. The unibody design eliminates the need for antenna lines, resulting in a cleaner look.
The switch to an 18:9 form factor has allowed HMD to fit a larger 5.5-inch display — up 0.3 inches from the Nokia 5 — in a body 2mm narrower than last year's model. The Nokia 5.1 also comes with a FHD+ panel with a pixel density of 443PPI, significantly higher than the 5.2-inch 720p panel used in last year's model. There's also 2.5D curved glass along the sides, and Gorilla Glass protection.
Under the hood, the key change is that the Nokia 5.1 is now powered by a MediaTek Helio P18 chipset, with HMD saying the octa-core SoC delivers 40% more performance over last year's Snapdragon 430.
We haven't really seen the Helio P18 on any mainstream devices yet (MediaTek's website doesn't even list it), but it comes with eight CPU cores clocked up to 2.0GHz and a Mali T720 GPU. Elsewhere, the Nokia 5.1 features 2GB of RAM with 16GB of storage, or 3GB of RAM along with 32GB of storage, microSD slot, 8MP front shooter, FM radio, NFC (in select markets), Bluetooth 4.2, and a 2970mAh battery (30mAh less than last year).
The rear camera has been upgraded, and is now a 16MP unit that has PDAF and dual-tone flash. The Nokia 5.1 will be going on sale from July, with the 2GB version available for €189 and the 3GB variant retailing for €219. You'll be able to choose from three color options: Copper, Tempered Blue, and Black, with the last variant launching a few weeks later.
Nokia 3.1: 18:9 display and double the number of cores
HMD said that the Nokia 3 was its most successful model on Android, and the company is rolling out key upgrades for 2018. The Nokia 3.1 is picking up a 5.2-inch HD+ (1440x720) display and is powered by the 1.5GHz octa-core MediaTek MT6750 chipset. HMD is touting a 50% boost in performance from the quad-core MediaTek MT6737.
The design sees an aluminum mid-frame with chamfered edges and a polycarbonate back, much like last year's model.
Other specs include 2GB/3GB of RAM, 16GB/32GB of internal storage, microSD slot, 13MP camera, 8MP front camera, Bluetooth 4.2, and a 2990mAh battery.
The phone will be sold in three color options — Blue/Copper, Black/Chrome, and White/Iron — and you'll be able to pick it up starting June. The base 2GB variant will retail for €139, and the 3GB option will set you back €169.
Nokia 2.1: Huge battery paired with Android Go
With the Nokia 2.1, HMD is making the switch to the Snapdragon 425, which offers four Cortex A53 cores clocked up to 1.4GHz. Like the rest of the new launches, the Nokia 2.1 delivers vastly superior performance when compared to the 2017 model — up to 50% faster, according to HMD.
The phone itself is larger, thanks to a 16:9 5.5-inch 720p display, but the polycarbonate design is largely identical to last year's model. One of the main differentiating features of the Nokia 2.1 is the 4000mAh battery, which should easily deliver two days' worth of usage from a full charge.
You get 1GB of RAM along with 8GB of internal storage, a microSD card slot, 8MP camera, 5MP front shooter, and Bluetooth 4.2. Oh, and there are stereo speakers up front.
Last year's Nokia 2 came with a full-fledged version of Android out of the box, and while HMD rolled out Android Go's memory management tweaks to the device in a subsequent update, the device was laggy even during everyday tasks. A lot of that had to do with the hardware, and HMD is making the right move by switching to Android Go.
As we've seen on the Nokia 1, Android Go runs great on low-powered hardware, so the Nokia 2 should have no issues handling day-to-day tasks. The phone will go on sale starting July for $115, just $15 more than the Nokia 1.
More to come
We'll have much more to share on HMD's latest devices in the coming weeks and months. In the meantime, let us know what you think of the Nokia 2.1, 3.1, and the 5.1 in the comments below.
Get the Android Central Newsletter
Instant access to breaking news, the hottest reviews, great deals and helpful tips.
Harish Jonnalagadda is a Senior Editor overseeing Asia at Android Central. He leads the site's coverage of Chinese phone brands, contributing to reviews, features, and buying guides. He also writes about storage servers, audio products, and the semiconductor industry. Contact him on Twitter at @chunkynerd.
Hmm those naming system though. I'm sure we'll be encountering some problems in just a few years...

Yep, that was the first thing I thought. I loved old Nokia's naming scheme. Brilliantly simple. Now, I'm sensing a Nokia 8.2.1 Sahara+ coming within two years, lol

Still quite logical i would say. There are worse out there.
I still love the Lumia naming scheme. Just missed a L950XS or a L820 successor with reasonable screen size.

Not really. It will just be Nokia 5.1, then 5.2, 5.3, 5.10, etc.

Ridiculous price. Honor and Xiaomi will instantly kill it. Heck even Moto is better in this case.

Nokia buyers look for sturdiness, non cluttered interfaces, good SW support and user friendly UI. No Honor nor Xiaomi (except Mi A1) comes with Android One, they just don't receive as many security updates, and never mind the lack of commitment for OS updates.
Moto is even worse these days, they can't commit to competitive prices nor OS updates anymore. I'd gladly take the Nokia 5.1 over the G6 Play and G6. It sports a greatly improved processor, clean and up to date OS, arguably better build quality and durability, while it also undercuts both in price.
The Nokia 3.1 is also better bang for the buck than the Moto E5 family

Android One, regular updates, build quality and battery life are EXACTLY why I chose the Nokia 8.

Xiaomi MiA2 WILL kill these, and there is rumour of an additional Android One devices slated to be released alongside it. The prices are too high for what they are and the designs butt ugly. I have a Mi A1 and chose timely updates and pure Android AND a nice design and low price. No sacrifice needed. I love Nokia as a company, but they can do better. Also, there is really no point offering a white phone if only the back is white. The back that will be covered by a case.

EMUI and MIUI. The Samsung of China You are seriously hilarious.

Yet Nokia use Launcher 3, the default launcher that ships with Android. I don't look for a cluttered gimmicky UI as I want something that just works!!!!

Sales seem to disagree with you.

I've been a big fan of the Moto phones. Had them all up to the 5.
Swapped to Nokia this year with the 6 .1
Better made faster and cleaner UI.
(I like to add features myself)
Good phone all round.

I tend to buy into the mid tier segment a bit higher up than the 5.1 but what a lovely looking phone. I'm really itching to buy a Nokia but there hasn't been one released yet that quite fits within my spec bracket.

Was hoping for an X6 world wide availability announcement

We don't need that notched crap spread around the world.
Besides, there's already the Nokia 6.1 which is the good version of the X6.

Man, all the midrange phones look so much better than the flagships this year.

Micro-USB in 2018. Hard nope.

These phones are probably not for you. People don't mind it, only tech enthusiasts really care.

I'd gladly trade the USB-C on my S9 with a micro-USB.
It gives me nothing but headaches every time I need to connect it to something (something which is never the charger by the way).

Really? Never had an issue with USB C on any device.

Processor wise the Nokia 3 uses the same MediaTek chip set as my Alcatel A7 as well as the same amount of RAM (3GB), there's definitely a lot of similarities with A7 and these phones.

I'm not sure picking MediaTek processors for the 3.1 and 5.1 was a smart move.
Actually, considering they sell the phones on the basis of "fast updates" and that MediaTek has constantly been a problem and delayed the updates to the existing Nokia 3, adding more phones with MediaTek SoCs in it seems like an amazingly stupid decision. So, absolutely in line with all that Sarvikas and his team have done.

That's probably why the Nokia 3 is still waiting for Oreo.

Oreo is available on the Nokia 3. But version 8.0, not 8.1.
And yeah, that's exactly why the updates for the Nokia 3 are constantly delayed. Which makes the decision even stupider.

Don't knock phones with MediaTek SoCs as they've proven to be just as good as a Qualcomm SoC if not better in a lot of areas.

Yeah, I will knock them. Because I've seen how sh*tty MediaTek support for their SoCs is.
The original Nokia 3 has a MediaTex SoC and because of it, unlike all other phones, it constantly has its updates delayed.
These phones use 2 and 3 year old MediaTek SoC's...so yeah, you can bet they're crap.

The MediaTek SoCs are much much better than their Qualcomm Snapdragon counterparts while not perfect, real world performance wise they blow away the Snapdragon counterparts. The only reason why MediaTek don't support their chips well right now is probably down to the OEM as well.

A bunch of overpriced phones. Are these ones the result of the 100 millions invested by HMD in Nokia? Phones to fool people without tech knowledge? Be ready for the upcoming models, Nokia 3.5.2, 5.6.7, 6.4.4 alpha, 8.5.4 beta, etc. And then decode what is the right one. I've seen phones for $65 better than the Nokia 2.1. Hey look at my phone, is a Nokia, wait don't watch the specifications, don't touch it, it's only lagging half of the day but it has an amazing 1Gb RAM and the photos are plety or artifacts and noise, very cool. What matters is read the logo mate! I've a Nokia....! Interesting move for special buyers... sure.

Yet no one says the same about Samsung devices that actually DO lag due to the crap and gimmicks they pile onto it. Not to mention the over saturated crappy photos they take!!!!! Don't let the above get in the way of your blind fanboyism though!!!!

You're forgetting about key things: • HMD is barely 3 years old, their goal is to expand to markets where the Nokia brand was previously strong first.
• They have actually opened up an R&D lab a few weeks ago for camera imaging.
• Why would there be a Nokia 8.5.4? The naming scheme just adds an increased .x every year, not .x.x.
• The Nokia 2, which has 1GB RAM, runs Android Go which is specifically made for devices with 1GB of RAM or less.

"100 millions invested by HMD in Nokia" Those 100 millions where invested in HMD by third parties. Nokia had nothing to do with it. That said, I can't really disagree with the rest of what you've said. So far HMD has proven itself to do nothing but bank-in on the Nokia brand. 'cause between bland uninspiring low-to-mid range phones to the absence of a single real flagship, they have failed to deliver a real Nokia phone. The only thing they have going for it is the build quality.

I think Nokia are doing it the right way.
Flagship phones are really hard to make and even harder to sell.
Mid and low range phones are quite often ruined by poor UI's that the hardware struggles to run.
Building a well made usable phone with simple software for the masses as well as all those millions of "work phones" makes sense to me.

Great, but the 2017 Nokia 3 is still waiting for Oreo!!!!!

C'mon...have they just completely ditched the idea of a PROPER flagship or what? Churning out budget and midrange handsets that are hard to tell apart. Nokia 8 Scirocco is as good as it gets right now and it's a long way off being a top end phone. Please please please release a killer flagship or just a flagship killer soon. I'm dying to get back on board with Nokia but they're giving me zero reasons to yet

18:9 form factor is spreading like a disease among Android phones. It's maddening.

Agreed. A 16:9 phone with One Handed Mode built in was perfect. All 18:9 displays have done is move buttons at the top and bottom even further out of reach

I honestly don't have a problem.
Bottom of the phone rests on my little finger and my thumb can reach all the way across and half way up the screen.
Much harder to hold with a wide phone.

I assume Quick Charge is our of the question with a Mediatek chipset?