Nintendo Switch Protip — Get discounts on game pre-orders!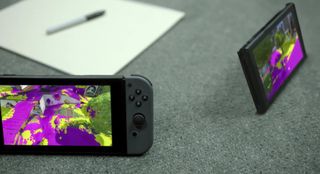 Not everyone likes pre-ordering games, especially launch games for a new console. Many people wait for game reviews to decide whether they want to participate in the excitement, and those aren't always available as the first wave of games come out for a new console.
If you're already planning to get a Nintendo Switch, and you know you're going to want at least one or two of the games, you should pre-order those games now. Even if you aren't planning on getting the console the day it is available to everyone, pre-ordering Nintendo Switch games will save you a considerable amount of money.
Amazon pre-orders
Did you know everyone with an Amazon Prime subscription gets 20% off the cost of a game (opens in new tab) when you pre-order through Amazon? It's a feature Amazon has offered for a while now, but it's not something you see on the site unless you go to a specific game and look at the final price.
Under the listed price of the game, you'll see a Prime Savings flag. That tells you the price at checkout, which is 20% lower than the listed price. For Nintendo Switch games, it means the $59.96 price tag is lowered to $47.99.
Even if you don't think that's a huge savings for a single game, when you add up the savings across the new Legend of Zelda (opens in new tab), Mario Kart 8 Deluxe (opens in new tab), Splatoon 2 (opens in new tab), and that crazy new ARMS punching game (opens in new tab) you almost have a free game in savings!
Best Buy Gamers Club Unlocked
The gaming service at Best Buy has offered exclusive rewards certificates and points towards discounts from every purchase for a while now, but the $30 every two years upgrade to that service quickly pays for itself when a new console is launched.
The Gamers Club Unlocked subscription (opens in new tab) gives you 20% off pre-orders for any games, 20% off the e-guides for those games, and a 10% increase on your trade-in value if you decide you're done with the games you currently have.
Best Buy includes a sign-up form on its website, and if you've never had an Unlocked subscription before you get special coupons towards your first purchase as a thanks you for joining. Not only is this great for your wallet now, but the points you earn on purchases can be used to take the price down on your next console as well!
Russell is a Contributing Editor at Android Central. He's a former server admin who has been using Android since the HTC G1, and quite literally wrote the book on Android tablets. You can usually find him chasing the next tech trend, much to the pain of his wallet. Find him on Facebook and Twitter
Best buy gamers club - "if you've never had an Unlocked subscription before you get special coupons towards your first purchase as a thanks you for joining."
Any idea what the coupons are good for in this scenario? Any discounts on console prices?

It looks like the coupons aren't always the same which is why I wasn't specific. There seem to occasionally be discounts on console prices, though.

Nice to see some switch content outside of iMore. Might be a bit late to pre-order for launch, but the Amazon prime discount is a good idea. Big Nintendo games tend to retain their value well over time (to the chagrin of cheapskates like myself lol) so these are probably as good as you'll get for a while. As an aside, I'm in that group who ordered within a minute of it going live... ONLY ONE WEEK TIL SWITCHMAS!

Well I can't order a Switch, but I can order games. So I'll be staring at games with nothing to play it on. Way to tease myself. :P

I just pre-ordered Breath of the Wild. I have no pre-ordered for the console. So hopefully it has an interesting manual with the game.

Try getting a Switch on release day without one.

I thought iMore had Nintendo and you guys have PlayStation?

Damn, I came here to post the same comment. I'm surprised Android Central is allowed to cover the iSwitch too.

"iSwitch"... If I could slap your face with my glove, I would.

I used the recent $8+ dollars off at Amazon for a $50 eshop card.

I've been using the Gamers Unlocked subscription from Best Buy since it's inception. It REALLY pays off in the end. The points you get for buy discounted games adds up. That's how I paid for my Switch. All those games I preordered and bought last year added up. I have Amazon Prime and I've only bought 2 games from them with the discount. But when you add the free 2 day shipping, you usually get your order on release.

Protip: wait. Imo the launch seems like a rush job

I love anonymous internet comments with absolutely no supporting backup.

Cool that it's discounted but there won't be a really compelling reason for me to get a switch til probably Christmas. Gonna wait and see what happens. Mostly cause launch titles are sparse and most the games I want won't be out for a while. Not to mention no classic games. Imo it's a pretty lame launch for Nintendo
Android Central Newsletter
Get the best of Android Central in in your inbox, every day!
Thank you for signing up to Android Central. You will receive a verification email shortly.
There was a problem. Please refresh the page and try again.