Nikon Coolpix S800c preorder at B&H for $349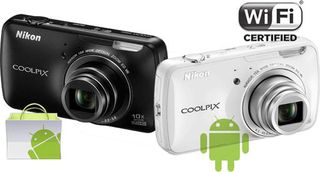 We don't yet have a sale date on the Nikon S800c, the camera manufacturer's first Android-powered point-and-shoot announced last night, but we're starting to see the first pre-orders be made available. New York's B&H Photo has the Gingerbread camera (that feels really weird to type, by the way) listed for $349. It mentions a shipping time of seven to 10 days, but that almost feels as more of a placeholder. The sooner the better, we say, because this 16MP shooter needs to be put up against the likes of the HTC One X, Samsung Galaxy S3, and everything from Sony in the past year. This is gonna get good.
B&H has both the white and black version up for preorder.
More: B&H Photo (opens in new tab)
it costs $350 and they put GB on it?!?!?!?!?! PASS!!! gimme ics, at the very least...then I'll start thinking about whether I want it or not. I won't even consider any device with gb anymore. and if that's how they're gonna be updating it they are in for the shock of a lifetime!!!

Sure, we geeks won't buy it cuz we want the latest and the best (JB right now). But think about the common Joe buying a camera. On "normal" camera he sees an OS that is proprietary, but here he sees something that looks like it has a support for apps, dropbox sync, facebook upload.. He will not care what version of OS it is running. It has more features than the camera next to it, and that's what counts.

don't get me wrong...the IDEA of android on a camera is a good one. I also thought that when they announced it at E3. But honestly, they've had plenty of time to get something better than GB on there. hell, it wasn't even announced until ics had already been out for 6 months. and for $350, they'd better step up their android development game!! You'd better believe companies like sony, lg and samsung who already have their hands in both smartphones and cameras are gonna be right on their heels. and they all have already got plenty of android experience...not to mention sony and samsung both now have devices in the AOSP category. This will be the guinea pig for testing the waters with an android camera, but I'll give it two months before we see at least ics on a competitor's camera for $200...nikon is screwed if they don't do something, IMO

I suggest you read JBQ's comment here: https://plus.google.com/115963387846188704264/posts/2pGatZfP89L?gl=US&hl=en-US He kinda knows what he's talking about.

Apparently the whole point is being missed entirely. The fact that Nikon stepped out on the limb and is offering this is fantastic. A camera that's running android...outstanding! So what if it's not ICS/JB...what's wrong with GB? Thanks Phil...a step forward in the evolution...baby steps people.

The point is totally being missed! Camera companies have the worst software on their cams! Enter android on a viable point and shoot!!! We got sumtn!

I def fall into the geek group but.. I honestly don't see the point of these gimmick cameras... I prefer my real camera. All that this extra software does is get in the way of the quality of the camera, all that processing power can go to awesome image processing instead of being wasted on running an OS/apps. Can you imagine taking a once in a lifetime pic and having it force-close lol.. I prefer my Canon Powershot and Fuji FinePix HS30EXR to this gimmick of a camera.

I have little faith this even gets ICS. For that price, I can go with a Canon S100 or S95 and get top quality. Sorry Nikon. Too gimmicky for the price.

Well, if you want top quality you wouldn't go within a mile of a point and shoot. I don't get the point of this, if you want to take barely average pictures on a device with android why not just use your cell phone?

I hoping the use of the Android Market logo rather than the Play Store logo was an intentional bit of comedy related to Gingerbread rather than just a big-assed oversight. As for the operating system, I don't think the target market for this device gives a flying flip which version of the OS it's running. 16MP plus real lens is infinitely more important. As long as it runs Facebook and Instagram, the teens, tweens, and parents will be happy. The fact that it will also run Angry Birds is just a bonus. If you understand the meaning of "rooting", "side loading", or "boot loader", you're not the target market for this device. Is anyone really going to pretend that they would have rushed out and bought one if only it were shipping with Jelly Bean?

I know it's not the same but my wife got her Samsung wifi camera for like 160 bucks or something. This is not going to sell well at 349 in my opinion. I'll be looking for these on the clearance isle after Christmas.

It would be a dream come true… imagine a Galaxy Nexus which is 2-3x in thickness with a REAL camera, micro SD, a decent battery to last at least a full day, etc… it would fly off the shelves…

I don't know if I would get this. But, I've long thought Nikon should partner w/ a phone manufacturer for a point and shoot. I've ditched my point and shoot and only carry my S2. But, I would love to pull out a legitimate point and shoot some day. I like the direction Nikon is headed in this. I hope they go all in one day and make it a smartphone (or team w/ another manufacturer like HTC or Asus to make one).
Android Central Newsletter
Thank you for signing up to Android Central. You will receive a verification email shortly.
There was a problem. Please refresh the page and try again.