Nexus 5 now available from Canadian carriers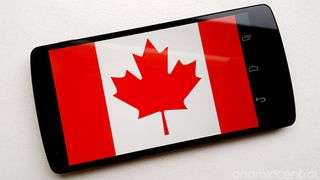 If you're in Canada and weren't able (or willing) to pick up a Nexus 5 from the Google Play Store, you can now buy the phone directly from six of the major Canadian carriers. TELUS, Videotron, Rogers, Fido, Bell and Virgin are now offering the LG-made Nexus phone subsidized and on-contract, with prices starting at $99.
All six will sell you a Nexus 5 outright for within a dollar of C$500, while TELUS, Rogers, Bell and Virgin will give you one for a little under C$100 on a two-year plan. On Fido you'll pay a little more on-contract — C$200 on a two-year plan. On Videotron it's just C$49.95.
Picking up the KitKat-powered handset from any of the Canadian carriers will certainly be more expensive than buying it from Google directly. However with Nexus 5 orders placed from the Canadian Play Store today not expected to ship for several weeks, it might be the best option for Canadians who don't want wait around.
Source: TELUS (opens in new tab), Videotron, Rogers (opens in new tab), Fido, Bell (opens in new tab), Virgin (opens in new tab); via: MobileSyrup (opens in new tab)
Alex was with Android Central for over a decade, producing written and video content for the site, and served as global Executive Editor from 2016 to 2022.
Robelus (Rogers, Bell, Telus) is part of Canada's organized crime government supported. What a bunch of thieves.

No, actually they're 3 companies which decided to go with the American way of running their wireless business rather than the European way. This resulted in higher operating costs driving the subscription cost higher than it should be. Unfortunately they can't change overnight. If they did, thousands if not millions of people would be negatviely affected. I'm not standing up for them, as it's their own fault. But there are many Canadians which work for these comapnies that don't deserve to be put down the way they are. I'm not a mobility employee, just stating the obvious.

Agreed, but they need to figure something out before the federal government steps in and makes it a whole messy situation. We need more choice, but no American/European company would dare dip their toes into our mobile market. That was completely our government that mucked it up for us. Now we need somebody to repair this for us. Who? Not a clue! These companies will always be on top of nickel and diming us to death. Charging us for some services that are free with monthly subscriptions in other countries. Bell, Telus and Rogers should be ashamed to consider themselves honest businesses. Funny, if I was stealing from somebody. I'd get jail time. BUT in this country, as long as its done through a corporate entity and lining big government officials pockets. Its 100% legal!!! AND that's the end of my rant. Thanks for reading.

Utter nonsense. The American way? These carriers have some of the highest ARPUs in the world. They aren't being impacted negatively in anyway. As for employees getting turfed. I won't shed a tear. Guess how many jobs in other sectors of the economy are being impacted by high wireless prices and the attendant cost in economic productivity? The added economic impact of improving rates and service in what amounts to a utility sector will more than make up for these employees losing their jobs. And guess what, only in Canada is the situation so bizarre that each of the three carriers has to maintain 2-3 stores in every mall in the country just to pretend they compete. Talk about inefficiency. Once real competition comes, these companies will finally slim down and you won't have Rogers running Rogers, Chatr and Fido outlets anymore.

Well said and I couldn't agree more! Posted via Android Central App

Do Nexus devices purchased from carriers have any bloatware added? I am thinking of waiting toget mine from my carrier, as US model is not compatible with LTE bands in Brazil, but bloatware might change my mind.

I don't known for certain, but it's highly likely these models are the same LG-D820 being sold from the Google Play Store, with the same untouched Google software. That was the case with the Nexus 4 last year, anyway.

If it is so, it will be worth waiting a couple of months, so I can get it ith LTE working and on-contract pricing.

In the case of Canada, here the Nexus phones dont have bloatware. In my case when I had the Galaxy Nexus it had some wonky version of android on it (built by Samsung) but soon after that I decided to flash stock yakju on it and it worked as if it was from Google themselves. So to summarize dont worry about the bloatware on it. If it has any you can just flash stock android on it to get the google experience you probably want.

My Nexus 5 from Telus is completely stock. Not a single sign of Telus on it. In fact you rarely see more then the Telus account app on phones anyways. But even that is missing here. I paid 100$ on a 2 year contract. They tried forcing me to get this new 75$ share plus plan that comes with 250mb of data. And something like 60$ more fun for 3 gigs. I already have 6 gigs as it is and pay a total of 65 including voice and text etc. I ended up having to add a feature to reach the 75$minimum before tax to keep my current plan in place. What a joke. How are prices going up for data? What a scam Posted via Android Central App

I'd assume Alex is correct. If I get into a store this weekend I'll try to check and shoot Alex a message on G+ if there is bloatware. Posted via Android Central App

I appreciate that. It doesn't mean it will be the same in Brazil, but it's at least a hope.

None on my Telus Nexus5 Posted via Android Central App

None on my Telus Nexus5 Posted via Android Central App

Retarded prices. A phone that sells for $350 on the Play store yet you pay $100 with contract, what the hell, normally a phone that costs $100 on 2 year contract are usually $650-750. I'm on Telus and I wouldn't even buy any phone outright from them. I bought the Moto X outright from Fido then unlocked it for Telus. I've been with Telus for 10+ years, I'm actually thinking of defecting to Bell since they have better plan features to price ratio than Telus does.

Canadian carriers will always find a way to rob their customers. I'd rather wait than owe any of these companies anything! I'll stick it out with my Nexus 4 till I can order it from the Google. Thanks, but no thanks to those crooks!!! Posted via Android Central App

Yeah, if you get a 2 year contract with a GS3 or any "new" phone, the lowest price you can get is 70 or 75$ per month !! It isless expensive to buy it off contract and take a month-to-month contract for maybe 45$ ! But you have only 200mb per month...

I went with Wind Mobile and their pretty great about data usage. 10 gigs a month. They don't get coverage anywhere outside their zones. But, I'm a Niagara resident so its great for this area. Luckily Nexus phone work on this network. Posted via Android Central App

If you have to increase your monthly plan to anything more than $10 per month to get this on contract for $100 up front, then it's cheaper to get it from Google.ca.
$10 more per month * 2 years = $240
$240 + $100 = $340 over 2 years Or keep your current plan and get it for $350 plus shipping from Google.ca, save yourself the monthly increase. It's only worth it to get it from a carrier if you can't wait or if your monthly bill won't go up more than $10 and you can't get a cheaper plan.

Yeah that was going to happen to me when I wanted to get the Moto X from Rogers. They needed to change my plan to 2 years (still on 3 year plan) so my plan was going to change completely plus add that 10 dollar charge on it too. So I left it the way it is and then just waited for the Nexus 5 to come out to use.

Same for me! Rogers requires a $60 monthly plan minimum for Moto X, and I calculated the difference between my current $32 plan and a new plan, add in $160 for the phone, and it was over $800 over two years. I was saving $200 to buy the Moto X outright for $600. Not to mention you can only get a $60 plan in Quebec. You're stuck with $70 minimum in Ontario. That would have been over a $1000 difference.

Unfortunately they suckered me in because my credit card is maxed for apprenticeship costs. Had to go there way and add on 7$ for device insurance. Which is a scam in itself for a nexus since the deductible is probably more then half the cost of the phone. Best thing you can do with Telus is watch for better short term offers and force them to give you them. I'm also goona try and manually take away that 7$ add on and see what happens. Posted via Android Central App

Canadians get ripped off! You can get a Nexus 5 on a 2 year contract for $100 BUT you need to commit to a minimum plan of $70/month which only gives you 250 Mb of data Posted via Android Central App

I'm hoping that my moms $20 per month corp. plan will be eligible for the $100... If so I think I may grab one from TEC today.

Too bad this isn't the 32GB, I would've picked one up if it was.

Canucks should totally trade Luongo for Byfuglien and Setoguchi.

$500 retail price, Are they crazy? Google is selling it for $350.

I just got mine from Videotron and was actually able to get it for free with a contract.
Android Central Newsletter
Thank you for signing up to Android Central. You will receive a verification email shortly.
There was a problem. Please refresh the page and try again.