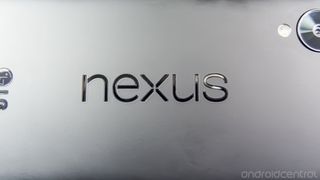 Answering the most common questions we're getting about Google's new Nexus 5
Whether you have you new Nexus 5 in hand, or are covering all your bases before you decide to dust off the credit card, you've got questions. The most rewarding part of our job here at AC is answering those questions, and we always give it the old college try.
Hit the break, and see what the top ten questions we're getting are, and their answers. Plus one bonus mystery question that we just have to get the real answer to.
Have a question you need answered? (Preferably about Android, but we're flexible.) Hit up our Contact Page to get in touch!
Q: Will the Nexus 5 work without activating on a carrier?
A: It certainly will. You can use Wifi for a data connection, and with the right setup or app you can even use a VOIP service to make and receive phone calls. When going through the setup on the Nexus 5, it will remind you that you don't have a SIM card in place. Skip right past this section.
Q: Does the Nexus 5 support Qualcomm Quick Charge 2.0?
A: The short answer — it doesn't appear to. In theory, the Samsung Galaxy Note 3, the LG G2, and the Nexus 5 can support Quick Charge 2.0, because they use the Snapdragon S800. The reality is that this is another feature that OEMs can use or choose not to implement.
The long answer — it looks like the Nexus 5 uses a Texas Instruments BQ24192 chip for battery charging and power path management, which does not work with Qualcomm Quick Charge. This means that even with a firmware update and a special charger you're still out of luck.
Q: Can sprint activate the 32GB Nexus 5?
A: Yes. They won't offer TEP for it, but they can activate it the same way they activate the 16GB version.
Q: Is there one speaker or two on the bottom of the Nexus 5?
A: One. The other "speaker grill" covers a microphone, just like the G2.
Q: Does "OK Google" wake the phone from sleep?
A: Nope. You'll need to have the screen on, be looking at the home page, and have US English as your default language to use OK Goggle to talk to your Nexus 5.
Q: Does the Nexus 5 work on Verizon?
A: No. Verizon and Google could get together and make a Nexus 5 that does, but that doesn't seem likely. Do we really want them to?
Q: How do I know what model I'm buying when I order from Google Play?
A: It's location based. If you're buying from North America, you'll be ordering the D820, which has LTE bands for AT&T, Sprint, Rogers, Telus, Wind and T-Mobile (as well as other, smaller carriers). If you're ordering from any other supporting country, you'll be buying the D821, which has LTE Band 1/3/5/7/8/20 support.
If you're not sure what we're talking about here, have a look at this post explaining the differences.
Q: Where is the zoom setting on the camera?
A: Pinch with two fingers in and out to zoom. This wont work in HDR+ mode.
Q: Does the Nexus 5 support USB OTG?
A: It sure does, exactly the same way the Nexus 7 supports it. That means removable storage is not allowed to auto-mount and you'll need an application that can access it. If you're rooted, use Stickmount (opens in new tab). If you're not, use Total Commander (opens in new tab) and the USB mount plugin (opens in new tab).
Q: What kind of warranty do i get with the Nexus 5 from Google?
A: Officially:
The little book that came with the Nexus 5 that none of us read says there's a "limited" 12-month warranty for the original purchaser only.
Q: What's the big black ring around the camera for?
A: Honestly, we don't know for sure. We think it's just an decorative way to funnel the light in, but some are more magnetic than others.
Therefore, Aliens.
Jerry is an amateur woodworker and struggling shade tree mechanic. There's nothing he can't take apart, but many things he can't reassemble. You'll find him writing and speaking his loud opinion on Android Central and occasionally on Twitter.
1 more question jerry, I'm intrigued by the moto x after your guys podcast yesterday, which would you go with, the nexus 5 or the 32gb moto x Dev edition? Posted via Android Central App

+1 I would love for the next comparison to be Nexus 5 vs Moto X. Please include comparison camera pics.

Moto X vs. N5 is coming. Want to take our time on them and focus on one phone at a time. I may talk Phil into doing Moto X, because I'm biased as hell.

Ur awesome jerry. Keep it up. As for the podcast, will you guys be going to the moto g unveiling in Brazil? Even though the specs seems low, this is totally different for motorola to go out and broadcast to the world. Posted via Android Central App

Thanks Jerry, can't wait for it, if the moto x comes up top dog the N5 will be gone, I was going to go with the moto x until I got wrapped into all the N5 hype, I love this N5 but the moto x is an itch I need to remove Posted via Android Central App

So true! I have both phones and the Nexus 5 is nice but other phones have closed the gap on the Nexus and the Moto X may be at the top of the list! If the Moto X had Google Wallet it might be over. I do like the larger screen on the N5 though...

I hope you do the Moto X versus Nexus 5. I really liked your Moto X review and I would be most interested in your analysis.

No, you do it. Your nexus 4 moto x was great. Want to see the same for N5

You may be biased as hell, but your previous review had shots from both sides that made the argument exciting. At the end of the article you stated your opinion, and the opinion is something that makes sense. Not like these other amateur like publishers... cough... phonedog ...cough... Who spends one-month saying the same crap as day 1 to finish a review without their opinion of the phone? gah... I can't even think of that publisher anymore.. gives me a headache... Anyways, give yourself more credit Jerry because I looked up that article, read it, and liked every statement you have made. Plus, since you are a hardcore nexus fan a review between the Moto X and Nexus would be fitting to you.

I wish I could have both my Nexus and a Moto X. I don't think the wife would go for that, unless I talked her into selling her GS4 for the Moto. :-) Posted via the awesomest of awesome Android Central App

Why not use both? That's what I do. Nexus battery life isn't as good, but I love the size of the screen on the N5. Posted via Android Central App

Man, if they put a larger screen on the Moto X I'd probably be inclined to give up my N5.

No no no no. The screen size is the biggest reason why I want a moto x Posted via Android Central App

It's a very personal very relative thing, but I'm with you... I actually have a Nexus 5, but if the Moto X was available for the same price and worked across three carriers (and Sprint's tri-band Spark) I'd probably pick it over the Nexus 5 and it's size would be one of the top three reasons. I don't even like AMOLED displays, though active notifications are kinda cool... The market sorely needs more high end yet compact models tho.

from the podcasts theyre all leaning moto x by the sounds of it. I would have went moto x if Telus had it. But since its not I went nexus 5 on contract. Regarding the camera bulge. I think they were too cheap to make the camera sensor fit inside the overall width. And if thats the case you cant have just the lense sticking out, it would break, get scratched or whatever. So they made an oversized portion stick out to protect that narrow lense spot. This is the worst part about the nexus 5, I hate the look of it, and I hate that the phone rocks back and forth when siting on a table.

Yeah, I'm selling my Nexus 5 and getting a Moto X DE. Battery life on this phone is not doing it for me. Posted via Android Central App

I am sure the Moto X de is awesome. But how many days have you have the nexus 5. I feel like you need to give the battery more of a chance. |❌_❌|

I'm gonna give it a little more time, but even just the fact that the blacks look horrible from any angle except straight on is bugging me (I'm used to AMOLED). We'll see if the qi car charger I have on order can make up the difference. I have like everything turned off though, and I'm running Greenify. They should have at least stayed with the 2610mah on the international G2. Posted via Android Central App

What kind of battery life are you getting versus what you're expecting? I got my N5 on Monday and let the battery fully die every night so far. The first 2 nights I got like 8 hours but with 4 hours screen on because who doesn't play with their new phone all day. On the 3rd day I found myself staying up late trying to kill the battery before going to bed. Now I didn't even bother doing that last night -- I have 32% left right now at 26 hours on the battery and 2.5 hours screen on time and I've played ingress a bit and played a lot of music. Maybe I just don't know any better, but I'm very satisfied with my battery life so far. I also just got a 5600 mah jackery external battery that I'm hoping changes my life :)

Yeah, I'm starting to get better battery life now it seems. I turned off Google Now completely today. I don't care what anyone says, Google now drains battery, even when in "battery saving" mode (GPS off). I'm on track to hit about 3.5 hrs screen on. About an hour more than yesterday. I'll have a better indication once I go back to work tomorrow, where I have fairly consistent use. I'll probably turn Google now on again on Tuesday. Just to confirm. Posted via my Shnexus 5

I have no doubt that Google Now does drain some battery life, but you might be jumping the gun a bit here. A lithium polymer battery (like the kind in *all* of these mobile phones) takes about twelve full charge cycles before it reaches its full charge potential. You need to bear with it for about two weeks before you will really see how long the battery can last on a single charge. One of the biggest culprits to check for (besides having your screen permenantly on 100% brightness) is if you're in a low signal area all day. That ends up being a problem many times when I talk to people who are having battery life problems that do not match other's (not to say that the battery on the N5 is super, I'm fully aware of many negative comments on the subject). Go into Settings, Battery, then click the graph at the top. On the next screen, under the (now larger) graphic, it will show 4 bars. Screen On is exactly what is says, Awake shows times when the phone was awake and working, even if the screen was off (too much on this bar could also indicate an issue), WiFi shows when it was connected to WiFi (duh ;)), and Mobile Signal shows the general signal strength over time. Green = good, yellow = fair, red = bad, gray = no signal. If this bar is largely red or gray, that will definitely cause a marked drop in battery life, since the phone is *constantly* searching for a better signal, causing the internal radio to draw far more power.

I hit 4.5 hrs screen on today, even with cell standby reaching 37% in battery stats because of T-Mobile's horrible coverage that I'm trying. Luckily I have a month left on Verizon as backup before I move to AIO. Posted via my thumb(s) and the submit button.

I was really disappointed with the look of my N4's screen at first - coming from the N1's AMOLED. Now that I'm used to it, though, I think I like it better. The only problem is that some apps are built assuming more saturated colors, and on the N4 it's hard to tell the colors apart. Examples:
1. Scramble with Friends - I sometimes don't notice the color-higlighted multiplier tiles.
2. Chat app. The two sides of the conversation are in subtly colored blue and gray chat balloons, and it's hard to tell the difference between them. At first, I blamed it on the phone - and even spent some cash for a color tuner app that didn't do much. But I actually *like* the overall colors on the N4 now. I do wish there were a setting in the OS to tweak the colors - in fact, it would be great to allow it on an app-by-app basis. I was hoping for this to appear in 4.3, but no dice. Does 4.4 have any such setting?

Samsung phones with AMOLED screens have this option ;) Sorry, for being a bit of a troll :)

I'd like to know if you guys are experiencing weak WiFi with the Nexus 5? I hope this is a fixable issue. Posted via Android Central App

Nope haven't noticed any Wifi speed or connection issues.

I've seen a few threads about it online so maybe it doesn't effect too many. Right next to the router I get about half the speed of my laptop, a few metres away and the speed completely drops. Do you think I have a faulty handset?! Posted via Android Central App

I would say if you phone drops Wifi a few meters from your router, that's a defective device.

After four days, I've not noticed any Wi-Fi issues with mine. Posted via the awesomest of awesome Android Central App

Yup. And better throughput than with my (recently retired) GNex!

The WiFi issues won't affect anyone using the 2.4GHz band, only people on 5GHz. That said, I had issues when connected to my Asus RT-AC66U on the 5GHz side and they went away when I switched over to the 2.4GHz.

Did the same with my ASUS RT-AC66R. Works great now! Thanks!

I actually had the *exact* same issue using the 5GHz mode on my Note 2, but my Note 3 has been *way* better, so I'm guessing this is an issue with the 5GHz antenna. Higher frequency is naturally going to be able to push more data, but also have "penetration" issues (meaning it cannot travel as easily through walls or even glass). My Note 2 would connect to the 5Ghz in my living room (about 15 feet from the router) but completely lose connectivity on my patio, or in my bathroom. Note 3 doesn't have this problem at all. I think that the 5Ghz antennas in phones are still just a little hit-or-miss, since the technology is not as widely used yet.

One thing that helped me with Android WiFi issues on the RT-A66U was disabling the 'Enable WMM APSD' option and setting a manual channel instead of auto. I haven't noticed any disconnects or other odd WiFi issues since the change on either band.

I face the same issue with my Nexus 5. My laptop caches the wifi, but nexus 5 "Not in Range".

The Aliens guy looks like Phil if a Looney Tunes-esque bomb blew up in his face. Posted via Android Central App

Ancient Aliens! Posted from my "CrackDroid" Nexus 4 via the Android Central App

I take it the stock camera doesn't have burst mode? I hope they bring that in on a software update. Posted via the awesomest of awesome Android Central App

The camera may be too slow for that. They could do what Motorola has done and let it take multiple shots at a very slow pace.

Q: Does the Nexus 5 work on Verizon? A: No. Verizon and Google could get together and make a Nexus 5 that does, but that doesn't seem likely. Do we really want them to? Answer to the answer - Yes. Yes we do. Those of us on the Verizon network should have this option to get a great phone for not much money.

The point he is trying to make as that Verizon would likely screw with it so much that it would not be the great device or great price you want. They would likely try to plaster logos all over it, fill it with bloatware, charge way more, and prevent new versions of Android from getting to it on time. See: Galaxy Nexus. Posted via Android Central App

Let's see how many AT&T logos AT&T puts on the AT&T Nexus 5 once AT&T puts it on AT&T's AT&T network. Posted via Android Central App

Your reply makes little to no sense, lol. AT&T may not be an official launch partner, for the Nexus 5, but the device is unlocked for their network and requires no carrier interference. There's no silly workaround required, to activate the Nexus 5 on AT&T. You know well, that Verizon will not allow unlocked devices on their network. So, any parallels that you're trying to draw to AT&T, in this regard, are irrelevant. Posted via Android Central App

Logos. Just logos. Posted via Android Central App

There are no logos on the nexus 5. Works on 3 carriers lol

This. No carrier logos, at least. Posted via Android Central App

Dude, you must be confused... After all, it was VERIZON that actually put a VZW logo on the Note 2 button. No other carrier did that, not too mention the faceplate logo, the battery door logo & the logo on the boot screen, the boot animation & all over the UI.

How is that different from any other Android phone? So because Verizon would delay updates, add two Verizon apps that are actually useful, might add their logo on it, and charge more, Verizon customers shouldn't get the option to buy one and should only buy phones with those same issues plus an ugly ass skin?

Not what is being said. Verizon won't get the phone because they don't want it. The comments are about Phil saying "do we really want Verizon to get it" because of Verizon's past actions with Nexus phones. Posted via Android Central App

I'm not an Android user, and I found the comment by Phil was stupid, dumb, etc.....

Q: How about conflict-free minerals and workers welfare?

Very, very, VERY good point. How about that, Jerry? Huh? What are you hiding?!?!

wat Posted from my pure Google Nexus 4 using the AC app.

The magnetic part should be looked into? (The ring on the camera is *on some models* magnetic) It appears anyhow? Posted via Android Central App

Maybe its an electromagnet that is only activated at certain times. Just a guess.... Posted from the awesome new Nexus 7

WRONG! Certain people have been preselected to have magnetic rings around their Nexus 5 lenses, for a very special application to be revealed at a later date. This magnetism will allow them to enter a special transport chamber ... who's there? What? Wait, I've said too much... No... NO! ... NOOOOOOOOOOO! ... AAAAARRRRRGGGGHHH!

Some people have found that the ring around the lens fits third party lenses perfectly. They snap right on and enhance photos depending on which lens you pick. http://www.reddit.com/r/Android/comments/1q6jv7/nexus_5_camera_has_magne...

Since you don't need to activate it with a carrier, can you use Google Voice for voip and sms over wifi? I use Google Voice now but it is attached to my current phone by the number assigned by the carrier.

Google Voice is not a VOIP service, it's a call forwarding service over the regular cell network. The only way currently to make VOIP calls with GV is to use it on your computer, with a third-party app (soon to be cut down in 2014) or in the latest build of Hangouts on iOS.

Actually, you can make VoIP calls on Google Voice with the Hangouts Extension from Google. In addition the iPhone version of Google Hangouts supports VoIP calls over Google Voice: http://www.androidauthority.com/hangouts-ios-app-voip-voice-calls-google...

You can also use sipdroid Posted via Android Central App

Well not the only way. You can use Talkatone or GrooveIP apps to do VOIP unis Google Voice.

I wonder why they changed the voice activation command to "OK Goggle". Posted via Android Central App

Because there was an influx in users requesting their phones to turn into swimming pools Posted via Android central app on my rooted LG Google Nexus 4

You're thinking of Goggle Glass. Posted via Android Central App

Giggle maps was the reason why they changed it. Posted via Android Central App

Why do people keep posting Google with incorrect spelling? Posted via Nexus 4 and Android Central App

Next article Nexus 5; train your dog and cook your dinner.......AT THE SAME TIME!!!

Hi, I get paid for posting so sometimes I have to pull something together really fast. -ZdNet author-

Awesome tip! After passing the paperclip test, I ordered a lens kit from FastTech!

Another app that can work without root for USB otg is nexus media importer. It will allow for reading and writing to the SD card. It just got updated to support 4.4 kit Kat. Will have to try out total commander to

Mine is slightly magnetic at various ares of the back especially at the lens and the lower right. I just think the metal ring is picking up the magnetic field being generated behind the cover.

Just got me what the metal ring is for..... Magnetic camera lenses!!! Posted from my "CrackDroid" Nexus 4 via the Android Central App

When is the Nexus 5 review coming? via Android Milkshake 5.1

This question may have already been answered elsewhere, but does anyone know if the N4 wireless charging puck works with the N5? Posted via Android Central App

It does work. It just sits lower than the nexus 4.

What is "TEP" that Sprint is not providing? I Googled it but got 75 different possibilities for that abbreviation....
Thanks. Posted via Android Central App

Total Equipment Protection - Sprint's protection plan.

Thanks :-) Posted via Android Central App

Why does the nexus get more attention than any other phone? Yes its great value and yes no doupt a great device but so so much attention is focused on this like there aint anything else to talk about. Im guesing as its the last device with great specs to be released before the holiday season? Posted via Android Central App

Ok perhaps a bit harsh in saying there aint been reports on various other techy things, but alot of attention is in the Nexus 5, and maybe rightly so as its price point is great as are the specs. However a few niggles are creeping up, sound, camera, wifi connection, screen, so not a polished product but no doupt software updates will cure and end result a cracking device that will bring joy to many. Posted via Android Central App

Every device launch includes its share of consumers that end up with lemons. Anyone that says otherwise is a blind fanboy (not referring to you, lol). Posted via Android Central App

Yeh very true Mercdroid i tend to be as impartial as possible and as stated by you and i concur that most devices at launch have niggles but so many expect all round perfection and thats just not going to happen, there will always be things that need optimized and no doupt the Nexus will have the main issues sorted via updates. Bit of honesty comming Mercdroid about my Note 3 i was experiencing wifi niggles getting booted off wifi constantly and then re-connecting but it seems to have sorted itself to a degree, still happens on occasion. But the Note 3 is sublime even the bloat lol :-p I like many inteligent what will i use blogger or poster and not of the billboard type lol erm tech enthusiast there thats the one will keep an open mind in regards to tech and be level headed. I tend not to write outwith my tech knowledge which i dont claim to know everything but many do and its very noticable, suppose some is funny and some is just annoying. Sorry off topic this thread or write up is Nexus FAQ's. Posted via Android Central App

Hey, it's all good, brother. I hear ya'. Posted via Android Central App

A Nexus launch for us is like an iPhone launch for Apple fans, or a new console launch for gamers.

It's brand new and was basically the most anticipated phone of this quarter. Plus it's one of Google's own, which means that many of the features it introduced will trickle down to other Android devices.

You've actually touched on one of the *big* reasons: a new Nexus phone pretty much always means a new version of Android. So, between those that love Nexus phones because they come with a "pure Android experience" and (at least) decent hardware at a great price point, even the rest of us get to look at all the cool features that we will hopefully inherit over the next few months :)

Besides the fact that it is Google's flagship device for Google's Operating System, it serves as a guideline for every other manufacturer, developer, and consumer to look at and understand the direction that Google is taking the OS. You could say that Nexus device launches are equal parts software and hardware as far as novelty goes, unlike pretty much every other device which usually ends up being at least one android version behind the latest and skinned by each manufacturer beyond recognition. (I guess the new Motorola is the exception to this rule)

A few things I have noticed on my N5: I am still getting system beeps and alerts over the speaker when a wired or bluetooth headset is connected. In Settings/More/Mobile Networks/Network Mode will not 'remember' being set to 3G. 4G and 2G is remembered and works but not 3G. I have to keep it set to 4G to get a 3G signal. When the screen is cranked up full there is some shadowing around the bezel margins.

OK Google_
So your 440+$ I bought. Can not be on a call on LTE and search the web at the same time on sprint network.?
Ain't that some KitKat shit?
Now this is a topic!
Posted via Android Central App

No, it's not a topic. You're either trying to find something wrong with it, or you don't know what you're doing, lol. If you're truthfully using the Nexus 5 on Sprint's LTE network, then you should be able to make calls and surf the Web, simultaneously. Posted via Android Central App

Now, I know you have no clue.
I have two nexus5 and both have the same issues.
In Austin tx, 32gig I bought from play store and 16gig from sprint..lol
I spent over 700$ for both and have to time to bs. Ask some one you know on sprint to try is out with you..
Posted via Android Central App

Not new TriBand phones...from what many are reporting. Maybe a future update will fix that. Posted via Android Central App

See that's what I am hoping. Some Dummy telling I don't know what am talking about
I spent over 3h talking to sprint/Google support.doing all kinda stuff to phone and neither of them had an answer
Posted via Android Central App

That's fine, I can admit when I'm wrong. But, you have no class, if you have to call someone out of their name. You can correct me, without being disrespectful about it. I certainly meant no disrespect, hence the "lol" at the end of my comment. Posted via Android Central App

Well, maybe if you drop the arrogance then we can try to help. Anyway, I've heard of this issue before. As far as I know, its an issue with Sprint's network. They just don't want to admit it.

Actually a very heat topic on Sprint forums since the say it will do data and phone at the same time. S4GRU reports no Tri-Band phone will do this. My own experience with my N5 and wife's S3 side by side is she can and I can't. SignalCheck shows her phone in both modes and mine in LTE only. Love the N5 except for this flaw. Posted via Android Central App

Is this just inherent for CDMA devices? I'm able to call and surf just fine with the N5. Posted via the awesomest of awesome Android Central App

Kind of. Some of Sprint's phones have two chips for the CDMA/LTE radios, like the GS4 or the Note 2 etc... Those can do it. The newer phones going forward like the G2 and the Nexus 5 and probably most of Sprint's newer phones have one chip but that chip uses all three of Sprint's LTE bands. Those phones cannot do it. That means the rtriband phones have better LTE support but the older phones can do LTE on one band but can do voice at the saem time. This is really bad in certain areas though because Sprint is releasing these triband phones and they are not compatible with their current network equipment but the older phones are due to having two chips rather than one for the radios. Sprint is going to get a lot of bad press for this in the coming days I would imagine... Mostly because their newest phones can not connect to LTE in a lot of large areas that their older phones can and the fix is along and expensive.

Sort of, up until a few years ago 100% of CDMA devices couldn't do simultaneous voice and data (this was before LTE, so we're talking 3G/EVDO here). Technically it was always a possibility in the EVDO spec, VZW & Sprint just never really implemented it... When Wimax (and later LTE) came to CDMA networks it wag usually usable along voice though. At some point we even started getting devices that could do simultaneous 3G and voice on CDMA networks (SVEVDO), like the EVO LTE (Verizon had one or two models too, even earlier), though it didn't always work and it was still a rarity. I think it was mostly possible because those phones had multiple radios and rather than being wired for GSM the extra bands were used to keep two CDMA connections open (super crude simplification). In any case, if simultaneous voice and LTE isn't possible that is indeed a regression from how LTE has usually been handled on Sprint devices (or even Wimax)... I haven't looked too much into it so I dunno if it's just bugs/fixable or if it's a result from the wide number of carriers/bands that the Nexus 5 supports. Frankly, to me it's a worthwhile tradeoff even if it's the latter, but I don't really make a lot of calls (<350 minutes a month) and almost all my longer calls are from home. I can see how it'd irritate others tho. These kinda things have never been terribly well documented, in fact the only time I remember it being big news was when AT&T touted their iPhone/network as being the only one capable of simultaneous voice and data during an ad campaign a few years back.

You're not wrong, but a little misguided on a few points. Simultaneous voice/data on CDMA is not possible due to a limitation in how CDMA (Sprint/Verizon) works vs GSM (AT&T/TMobile). GSM does allow for simultaneous voice/data by design, which is something that AT&T was, as you said, using as a selling point for a while (mostly when their network was so congested you'd be lucky to be able to use data at all, but I digress). Sprint and Verizon being able to do simultaneous voice/data was not exactly by design, but simply a bonus of implementing LTE (and Sprint's WiMax before that), since LTE is technically a "GSM" technology (it even uses SIM cards, which CDMA does not), which means they needed a separate chip for the phones to be able to do both CDMA and LTE. Same for back in the WiMax days: there was a second chip that just did WiMax, leaving the main radio available for voice. Now that we're getting single chips capable of doing all of the different bands, this capability is going away, but nobody really thought to mention this to users who, over the past two years, have gotten used to simultaneous voice/data even on CDMA networks. The real problem here is that many of these users are going to find themselves disappointed, and not understand why.

Just use gsm carrier and you will not encounter crap like this. Posted via Android Central App

Men I love this phone. But I just feel like this should not be an issue, my evo 4g lte can do this.....and if it is then make people aware of it. OK Google Posted via Android Central App

That's really not a valid answer, since my only other options are to pay more and/or having bad coverage. The only real issue, here, is that no one made any effort to warn users that this was going to happen.

If only Google now would respond to this question (ok Google?) Posted via Nexus 4 and Android Central App

Now now he wasnt making that assumption that your wrong it was in jest. And read the latter part of Mercdroids post and you should get that and if you dont then your the dummy lol Posted via Android Central App

Lol Posted via Android Central App

No quick charge ? That was a important feature I was looking forward to..

Quick charge isn't so much different than normal charging anyhow - may reduce charging times but most part it is more of a placebo effect, so you might not feel much difference when charging the phone on a day to day basis only when your watching it charge..... Posted via Nexus 4 and Android Central App

Lol at the Texas instruments battery chip.Hope they dont use that as a excuse to stop updating N5 like the galaxy nexus Posted via Android Central App from Nexus 7 2013

I can verify the best buy (sprint model) will work on at&t I picked mine up on Friday it does have some sprint branding on the back of the box and paperwork inside but mine works no problem. I bought this one so I could trade in my iPhone 5 to offset the cost and avoid the backorder. You just need a small Sim tool to eject the Sim tray as a paper clip is too large. Posted via Android Central App

Pre-release leaked manual indicated the Nexus 5 would have FM radio. Does it? I must be one of only 5 people who care, but I like FM on my phone. It's useful when there's no wifi and I don't want to consume precious data listening to radio. I missed FM on the Nexus 4 and enjoyed getting it back with my SlimBean HTC One thanks to mikereidis and his amazing work on his Spirit FM app. https://www.androidcentral.com/e?link=https2F2F...

On a Nexus 5, how can I select which Google Now cards show up? On my Nexus 4 I could select them from a list, but I can't find that list on the Nexus 5. For instance, there was a card for parcel tracking if the delivery imformation was received via gmail. This worked on my Nexus 4, but doesn't appear to on the Nexus 5 and there's no way to switch this card on or off...

Scroll down to the bottom of Google Now; there's three buttons. The middle one is the customization screen; it should be there!

I can only select sports teams, stocks, places and 'everything else'. That last option has 5 questions about weather and one about how I get around. There's nothing in there like the previous options to select cards.
I remember there being cards about parcel tracking, showing two time zones when travelling, alerts for photo opportunities and several others.
I can no longer check, because (optimistically) I also updated the search app on my Nexus 4, which now no longer has these options either :(

I think the newer versions of Search (Google Now) actually just shows you cards, and then you have to say "don't show me this card again" if you don't want it, rather than having to turn on individual cards. At least, that's what seems to have happened for me recently. Seems like an "easier" design, to me, since it doesn't require an intervention from me for new features to start working. And I can still dismiss those cards, if I decide I don't need/like them.

Ummm, where can one buy that chrome finished "Nexus" letting shown on the main page for this article?

That's just a black Nexus with bright lights making it look grey.

I am currently in US. I want to buy D821 version of the phone since I will be moving outta US in Jan !! Please advise how to buy D821 version of the phone.

FOLLOWING I want to know if there's any way to buy D821 from USA.

Buy it when you move. It won't work until January anyhow. Lol Contact Google. There might be a way the can help. Posted via Android Central App

this answer all my questions about this phone, thanks AC.

Hi, I'm going to get AT&T's Internet-only home plan which is 45 Mbps for $65 a month. I'm a heavy online gamer and heavy computer user so I was curious to know if 45 Mbps was a good enough download speed? I chose the highest Mbps plan possible currently on AT&T because I knew I needed it but I wanted to know exactly where 45 Mbps stands in usage? Any information is welcomed, thank you guys. Posted via Android Central App

I had AT&T, speeds are terrible. Switched to Xfinity and speeds doubled. Chicago area. Posted via Android Central App

Well, there are really several answers and a question to your question: 1) yes, 45 mbps *would* be plenty for gaming, assuming the rest of this matches up. 2) understand that that 45 mbps is likely the "maximum" you *might* get, and not what you will likely see in real-world usage. Check the fine print, and see if you can find a "guaranteed minimum" speed. If not, contact AT&T and ask them. 3) your "ping" rate is *far* more important for online gaming than just through put (download speed). Online gaming generally doesn't transmit or receive a ton of data, but you need that data to be transmitted very fast and get a response just as fast. Try to find out what the average ping times are in your area for the ISP that you're looking at getting. This is another one that, if you can't find it online, call. Anything above about 60ms is going to be a "not fun" gaming experience, and anything over about 90ms is going to be downright unplayable no matter how fast you can send data. 4) another important factor to consider is "ping jitter". This, unfortunately, is not something you will likely be able to find out about until after you get the service installed. Basically, as I explained "ping time" in #3, "ping jitter" refers to how much those ping times change, when the data is transmitted over and over again. If the first ping comes back in only 43ms, but the second ping takes 72ms, that shows a really high ping jitter that will cause inconsistent online play. To check your ping jitter, use go to www pingtest net. So, hopefully this helps. Just understand that the "45 mbps" part doesn't mean much in terms of online gaming. What you really need for online gaming is for the round-trip of tiny packets of data to happen quickly, and that's where "connection quality" plays more part than just the connection speed.

Does it have an IR blaster?

What is it with being able to activate a phone by a carrier? Don't you guys just insert a SIM and enjoy the phone??? America... Posted via Android Central App

This. Posted via Android Central App

Some things are different here in the US... for instance, we go to dentists..

Unfortunately, the cell carriers have managed to establish a stranglehold on how the market works here in a America. It's something that many Americans are fighting against right now, and some companies (such as TMobile) seem genuinely interested in moving towards something better. But it's hard to move the massive companies that are so deeply entrenched. There's also the issue that not all carriers in the US use GSM. For the GSM carriers, it is a lot like that, but CDMA carriers don't use SIM cards, so it's a matter of going to a carrier's store and getting the phone activated on their network.

Q: Can sprint activate the 32GB Nexus 5? A: Yes. They won't offer TEP for it, but they can activate it the same way they activate the 16GB version. Can someone tell me what is TEP?

Total equipment program...basically insurance for damages etc... Will not be covered. Next time ask sprint or Google is your friend. Posted via Android Central App

http://techphreak.tumblr.com/image/66622479572

Yes the magnet on the back of the nexus 5 is for wireless charging. Unlike the nexus 4 which has wireless charging but no magnet. So that the nexus 5 can be positioned more quickly and easily on the charging pad and stay put better. But most companies don't place magnets on the pad or device due to the fear of damaging the sensitive sensors inside the device. Samsung Galaxy S3

dunno about anyone else, but my battery charges so much quicker than any phone i've ever had. like, shock and awe quick. up until now i thought it was the quick charge feature. weird..

Maybe the combination of a 2A charger (I'm guessing) with a smaller battery than other phones which typically use faster chargers (e.g. G2/Note). Pure speculation, I haven't even looked at the charger on mine and I've only used HTC's 1A chargers over the last three years.

Is there a way to add quiet hours? Also separate volume control for ringer and notification?

When I came in this morning, the woman who works next to me had a N5 on her desk. I got to hold it a bit and was very impressed with the overall form factor. Seems the perfect size/weight. However, she is using P-Tel prepaid and the 3G data isn't working (voice and wi-fi only). Anyone else on a prepaid having data issues?

Nope. Works just fine with mine. I'm from India though.

why is the power button wobbly

Hi, i was just wondering if if the nexus 5 will work with wind and mobilicity. I honestly checked 100 times and i know they both run AWS 1700/2100 and i heard that WCDMA band 4 is the same as AWS but honestly im not 100% sure. And ive tried calling mobilicty and wind and the service center is completely useless. SO PLEASE, i beg you i know it says it works with wind on your site here but i want confirmation, will it work with wind and mobilicity and im located in Mississauga ONTARIO which is basically toronto, so any replies would be great! :D Also, if in chance it does work with these two, will the data only be 3G speeds or 4g? Because im pretty sure that these two carriers only go up to HSPA or something like that.

Q: Is there wireless (inductive) charging possible? A: ??

Q: will there ever be a Nexus 5 review? A: Alex Dobie loves the device too much and has fled to Brazil

Can I use USB-OTG to make my Nexus 5 into a USB audio player.....say for use, in a car??

If I get the Nexus 5 will it be easy to set up if I have the iphone 4 with AT&T?

The 4.4.1 update actually added zoom in HDR+ mode too.

Love the article. However, for USB I prefer the Nexus Media Importer app.
Android Central Newsletter
Get the best of Android Central in in your inbox, every day!
Thank you for signing up to Android Central. You will receive a verification email shortly.
There was a problem. Please refresh the page and try again.