Newton email app returns under Essential ownership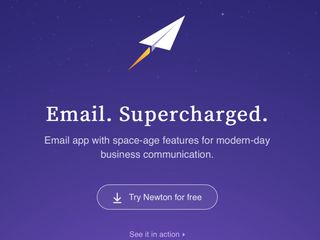 Remember Newton? The best email app to ever be a thing? Yeah, it's back.
Back in August, CloudMagic (the company behind Newton) announced that it was shutting the app down. Essential came out of nowhere and a few months later in December to buy the company, and now on February 5, Newton's relaunching with a heap of new features to boot.
Some of the new feature highlights include being able to delete a single email in a thread, the ability to copy a GIF URL and have it pasted directly in the email, and the option to add your mail to OmniFocus, Things, 2doapp, and Bear.
Just like before, Newton is a paid app. You can sign up for a two-week free trial, but from there, you'll need to pay $49.99/year in order to keep using it.
If you were a Newton subscriber before, do you plan on signing back up for it? Let us know in the comments.
Download Newton ($49.99/year) (opens in new tab)
Joe Maring was a Senior Editor for Android Central between 2017 and 2021. You can reach him on Twitter at @JoeMaring1.
Maybe they went out of business in the first place because there are an abundance of free email apps out there.

but can you trust them? they burnt me the first time around without refunding the unused portion of my subscription fee. I have no plans to go back to them because of that. Essential is not doing so well so who knows how much longer they will be around.

thought I was the only one, I was waiting for my refund and nothing never came

Is this a decent replacement for Inbox? Have to keep my personal gmail and work g-suite separate....

when I had it, it was one of the best. they are still offering a two week free trial. when you did the free trial in the past and let it expire, you will get several emails offering discounts. eventually you got one at 50% off. not sure if if Essential will do it but...

Thanks! Sounds like there's no risk, and maybe even a reward, for trying it.

It never stopped working, so I never stopped using it. I am so happy it's officially back, I will gladly play $50 a year to use it. You get what you pay for, and when things are free, you should not expect much.

PS. Best email app ever if you use multiple platforms.

wish I knew that . I dumped them early thinking they would stop working. I wanted to make sure my accounts were deleted. I really like the alexa skill that went with it. wonder if it is still supported.

Well I originally got it during black Friday of 2017 for $25/yr. But considering how every other email app I've tried for Android has an ugly design, I'll gladly pay for this. I love the snooze feature, works on my Mac and surface too. It's been terrible trying to get used to a new email app with a horrendous UI.

Being a huge fan of the Essential and it's phone (especially), I will be giving Newton a good trial as my go to app because of them (Essential).

I had this before they shut down and after that tried 2-3 free email apps. None came close to Newton in terms of features and GUI. Managing multiple accounts is very easy in Newton and hence have subscribed again. Hoping that it will have a better run under Essential... Don't want to see it bite the dust, again!

Already subscribed again.

BlackBerry Hub is the best email app on Google Play IMO.

I agree. Multiple accounts are easy to manage in it for me.

I never got my refund either, but I cannot deny for my blackberry and Pixel 2 XL it was the best email client, I actually began liking it more than the Blackberry Hub for Android. That said, I will only sign back on if they have added in the ability to file your emails into folders on the email server. I still file my emails and it was an issue to file emails and search emails in the folder.
Android Central Newsletter
Thank you for signing up to Android Central. You will receive a verification email shortly.
There was a problem. Please refresh the page and try again.