News360 now available for Honeycomb tablets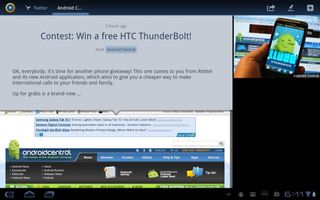 News360, the popular cross-platform news aggregator, is now available for Android tablets running Honeycomb. News360 takes a bit of a different approach, combining 1,500 global sources (yes, Android Central is in there, so no worries) and a beautiful visual style. If you're not familiar, the "360" view is a special treat, with article images floating in a spherical feeling cloud, hence the 360. The application makes great use of the new API's with the action bar and fragments, both in the search view as well as the article view. The developers have taken the time to really make a great example of a quality Android app, and we appreciate (and enjoy) that.
Besides the normal use of searching for tags, users can customize their own "feeds," and the developers say that future versions will analyze a your Facebook, Twitter, TripIt, and Evernote accounts to offer automatic personalization. That sounds like quite the feat, and I for one am very interested to see the result. In its current state, the application connects with your social accounts (Facebook, Twitter, ReadItLater, Instapaper, and TripIt) to share articles, and can filter results based on your location. Things are well on the way to a personal news channel.
And the best part of it all -- News360 is free. This makes it available for everyone with a Honeycomb tablet, and makes for a very easy way to download and evaluate the app for yourself. We've got the full press release, a series of pictures, and the download link after the break.
360 view
Article view
Dossier
Local view
My stories
Search
News360 Launches on Android Tablets, Brings Real-Time News, Personalized Feeds to Fastest Growing Mobile Platform
San Francisco, Calif., May 24, 2011 - News360, the next-generation news delivery platform that is changing the way people discover, consume and interpret up-to-the-minute information from the world around them, today launched News360 for tablets running Android Honeycomb 3.0 and up. News360 aggregates intelligent, personalized news from a multitude of sources in an intuitive format in real-time, using advanced semantic analysis and natural language processing technology developed over the last decade. News360 is available as a free download from the Android Market.
Android is the latest platform launch for News360. The app is also available for iPhone and iPad, Blackberry Playbook and Windows Phone 7 devices. Since News360 for iPad debuted in March 2011, the app has maintained a 5 star rating average on more than 1,300 reviews in the App Store.
News360 delivers a comprehensive, holistic view of the latest news--local, regional and from around the world--from every point of view. The app:
· Analyzes news content from more than 1,500 top media sources globally;
· Uses qualitative analysis of text and images to filter out noise and produce fresh, credible and relevant results;
· Gives instant access to all viewpoints and showcases natural media bias by presenting each story from a variety of different sources in cluster form;
· Provides rich background data by automatically identifying and linking more than 700,000 companies, people, brands and locations with stories, and creating encyclopedic, wiki-style dossiers accessible with a single tap, without ever leaving the article;
· Engages readers with an interactive, highly intuitive graphic interface
In addition to top news stories, News360 users can create custom feeds to follow the people, companies and topics that matter most to them. Upcoming releases of the News360 application for Android will include sophisticated personalization features and built-in analysis of the reader's preferences and personal interests, gathered from integrations with Facebook, Twitter, TripIt and Evernote, among others. Automatically generated profiles will enable users to instantly discover the content that is relevant to them with one click of the News360 icon.
"We're committed to building the best possible news aggregation platform with an emphasis on technology first," said Roman Karachinsky, co-founder, News360. "News360's robust feature set and analytic approach to newsgathering have made it a favorite among users across platforms, and we're confident Android users will agree."
About News360
News360 is a next generation news delivery platform that is changing the way people discover, consume and interpret up-to-the-minute news from the world around them. News360 uses advanced semantic analysis technology and natural language processing to identify the day's top stories from more than 1,500 global sources, analyzed for relevancy and credibility, and delivered alongside personalized newsfeeds tailored to each user based on individual preferences, reading patterns and social data analysis. News360 is available for Android Honeycomb tablets, iPhone and iPad, BlackBerry PlayBook tablet, and Windows Phone 7 devices. News360 is privately held. For more information, visit www.news360app.com.
Android Central Newsletter
Get instant access to breaking news, the hottest reviews, great deals and helpful tips
Senior Editor — Google Ecosystem
Jerry is an amateur woodworker and struggling shade tree mechanic. There's nothing he can't take apart, but many things he can't reassemble. You'll find him writing and speaking his loud opinion on Android Central and occasionally on Twitter.
well this could be very interesting...I am tired of new youk times lol

Been checking this out for a few. So far I am very impressed. This is the caliber of app that is going to make the tablet a truly goto device. My hat is off to the developer and I am looking forward to seeing good things to come.

Does it integrate google reader? No matter how awesome an app is, I wont use it for more than a "Oooh, that's cool" without syncing to other services.

Looking at this I have to say it really has nothing but gimmickry to offer over the Google News web site. Book mark that to your home screen and save the space on your Tablet. In fact, I call it news for 6th graders, and other people who only look at the pictures. The thumb nails need to be adjustable, because they are way too big on a 10 inch tab, limiting the number of stories you can see at once. Its probably sized about right for a 7inch tablet. The 360 view (from which the name came) is totally useless in my opinion, unless you are a celebrity stalker. Often the pictures in the 360 view are generic stock images, or images from ads which have little to do with the story. When you do tap the read more button you are taken to a web site via their built-in browser, in page over-view mode, with text so small that you immediately need to zoom in. If they simply invoked the standard browser, you would have more configuration options. It will integrate with Read It Later, but not Google Reader. In fact these integration options are all designed as outbound features, where you spread your ideas of what is important to others, rather than using any external sources to gather news. If you want to ADD a section, good luck with that. You can enter anything you want, but it will probably just reject it saying it couldn't find anything. All in all, I'll probably keep this for a while to see if it improves, and gains some configurability as to text and image size, and to see if it learns from my selections of stories. But those singing the praises of this app as if it were going to some how make the Tablet a more significant device have it exactly backwards. Its a hack, and not a particularly good one, appealing more to form than substance, more to comic book readers than true news hounds.

Does this do more than say Google News other than give you a new way to look and browse? Maybe not a lot more. But that alone can be a big deal to many people. The reference to the 6th grader who looks only at the pictures is not me, yet I like the app thank you. By the way, that came off a bit arrogant. I do not agree on the size of the thumb nails on my xoom. They look great to me. I will agree with you on the 360 view though. The text when you first select a story is good but often incomplete. Sometimes that is all of the story I need to see. Any journalist knows that you give the most important facts/info first and then prioritize down. So that works for me. If I hit read more I get a browser view that, again, looks great to me. I can see where some people might want the text just a bit larger her but it is just as large as the text is on my 21" computer monitor screen that I am using right now, so I don't really understand where the problem is here. This is not the same as a news reader; it is a a news aggregator. There are differences. Even so, we may well see better integration with readers in the future. I'm willing to give some growing room for an app that I see has made a very nice start. Yes, I am saying this is the type of app that will make the tablet a more significant device, precisely because they provide material in a visual context that is somewhat competitive with the desktop/laptop computer and yet is more convenient and portable. I stand my my original analysis and simply ask that people give it a look and decide if they like or dislike it. If you don't like it, it's free and easy to uninstall.

Where can I get that awesome Lloyd wallpaper featured on the Thunderbolt in the picture???
Android Central Newsletter
Get instant access to breaking news, the hottest reviews, great deals and helpful tips
Thank you for signing up to Android Central. You will receive a verification email shortly.
There was a problem. Please refresh the page and try again.