New OnePlus promo drops the prices on its sweet backpacks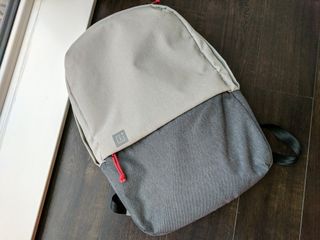 OnePlus has announced a new promotion because it's finally warm outside, at least in parts of the world where it was previously cold anyway. This springtime sale isn't for the latest OnePlus phone, but instead for the line of backpacks and messenger bags (opens in new tab) it sells with the OnePlus branding.
It's a decent little incentive for anyone previously planning on waiting a bit before upgrading. The backpack and two messenger bags OnePlus currently sells are actually pretty decent bags, and like OnePlus phones surprisingly well priced for the quality.
Is dropping $50 off the $100 leather messenger bag enough to get you to grab a OnePlus 3T this week?
Russell is a Contributing Editor at Android Central. He's a former server admin who has been using Android since the HTC G1, and quite literally wrote the book on Android tablets. You can usually find him chasing the next tech trend, much to the pain of his wallet. Find him on Facebook and Twitter
Good deal till Xiaomi announced a beast spec phone running with Snapdragon 835 for only $360.

But does it run on AT&T in the US?

Running on AT&T in the US on the 3t as we speak.

Reading comprehension is everything

Xiaomi looks like a good deal but no headphone jack? Only Apple is allowed to be that arrogant!

Yes! It is the phone that 007 will be using... If not all British agents..

Would not entice me unless I was already planning to buy a bag at least that price anyway. I don't care about having branded merchandise. Sure its nice to have but I wouldn't pay extra for a tech company logo on my bag. Now if they were throwing it in something for free that would. But that's another way that OnePlus and others can produce such high spec phones at a lower cost is they aren't including free stuff in promos for ordering like free Gear VRs, Google Home or others.

One nice thing about the OnePlus bags is they aren't like novelty giveaway bags used to promote the brand. They're actually really nice bags that have very subtle branding on them — like literally just a stenciled logo in 1 or 2 places on the whole thing.

I also don't care for branded stuff and I don't have a OnePlus phone, but I seriously considered getting their messenger bag awhile back. It's a really great design with some smart features, including a folding top flap that enables the bag to expand easily when you need more capacity. https://www.androidcentral.com/e?link=https2F2Fcrea...

Lately I've been enticed to buy a OnePlus 3T but seeing as it's very probable that OnePlus is going to roll out a new phone in the summer, I think I'll hold out till then.

I really like the look of their backpack. It wouldn't replace my Tortuga for actual travel, but as a commuter backpack, it looks great.

Anyone else wish that OP wouldn't bother with what is basically SWAG that they make people pay for? Put the effort into the phone, not into how to market them with stuff that ends up in the bottom of a closet.

Anything but Hangbiker, please … ahahha…. I just somedays take the long road to home , my agm x1 ( great rugged phone), some music and enjoy the afternoon :)
Android Central Newsletter
Get the best of Android Central in in your inbox, every day!
Thank you for signing up to Android Central. You will receive a verification email shortly.
There was a problem. Please refresh the page and try again.