On the new Nexus phones, Android 6.0 Marshmallow and Android Auto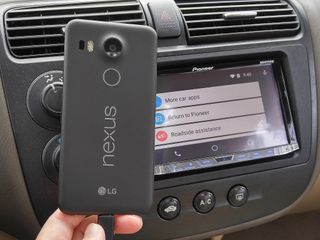 There's been a good bit of discussion in our Android Auto forums regarding Android 6.0 Marshmallow, the new Nexus phones, and how (or if) everything's working together. Well, we've got Android Auto. We've got new (and old) Nexus phones. And we've got Android 6.0 Marshmallow.
So here's a quick look at where things stand.
The good news? Everything works. That is, everything works for me. Occasionally we've seen threads from folks who are seeing a few odd issues. But I've used Android Auto on a Nexus 5, Nexus 6, Nexus 5X and the new HTC One A9 (for good measure), all running Marshmallow.
Probably the most important thing you need to know has to do with the Nexus 5X — in particular that it only comes with a USB-C to USB-C cable. That is, it will not physically be able to connect to your car out of the box. (That is, unless your car mysteriously comes with a USB-C connection.) So, you'll need a USB C-to-A cable or adapter for that. (Click here for some recommendations.)
The Nexus 6P, as you'll recall from our unboxing video, comes with a short USB-C to USB-A cable. (And that's actually the same length cable as what I've been using for Android Auto.)
We were a little curious as to whether the USB-C connection would interfere with Android Auto launching automatically once it's plugged in, but that's turned out to be a non-issue.
As for the software — Android Auto runs on your phone, with the video output to your vehicle's head unit — it's business as usual. The only difference we've seen is that when you're connecting a phone for the first time you're prompted to approve all of the permissions AA will need to run. Contacts, messages, location, calendar, phone calls — everything you'd expect. Because of the new runtime permissions in Marshmallow, your specifically asked to approve each one. And because each is pretty integral to the Android Auto experience, Google's made this the first thing you see — well, following a full-screen explainer.
And, well, that's it. The short version is that Android Auto works fine on Android 6.0 Marshmallow and with the new Nexus phones. Just make sure you've got the right cable, and that you approve all the permissions you see fit to approve.
Does the Pioneer head unit have any issues charging the Nexus 6p while its plugged in and running Android Auto? If not, How much is it seeming to charge up on a 15-30 minute ride?

Thanks, Phil! My 6P just shipped today and I'm glad to see it'll work fine with my car. To be honest, I assumed it would but you never know with Google. Posted via the Android Central App

My wife's 2016 Honda Accord has a head unit that does both Apple Car Play and Android Auto. It works great with both. She has an iPhone 6 running 9.1 and my Nexus 6 runs Android 6.0 .. works really well. The head unit itself runs Android 4.2.2 funny enough and is pretty nice. My wife has been jealous that Google Maps is just nicer that Apple Maps when connected to her cars head unit. Ah well. Pretty good stuff.

Funny you mention that. I have a pioneer head unit that does both Carplay and Android Auto and even though I use my iPhone more than Android, I think Android Auto just looks a lot better than Carplay.

"Because of the new runtime permissions in Marshmallow, your specifically asked to approve each one." That should be "you're".

wow congrats you are the first person on this blog to point out an error!!! WOW GIVE THIS PERSON A REWARD!!!!

It seemed the most obvious way to let him know. Settle down.

Great to know these are working with the 5X I have coming. Can someone recommend a good double DIN Android auto head unit? Posted via the Android Central App

I recently bought the Pioneer AVH-4100NEX and I love it.

Does anyone know of a website that lists all the current vehicles available with Android Auto? Google has the manufacturers that plan on offering it but not a list of the actual vehicles you can purchase today. My wife has a new Sonata that has Android Auto and we both decided we want this in any future vehicles. It would be helpful if a list of them existed.

apparently google(search) does, 5th result down with "cars with android auto"
http://bfy.tw/2VlZ https://www.cars.com/articles/which-2016-cars-have-android-auto-14206811...

it should be noted that the list right now is mostly cars that WILL BE COMING with it as most are not released yet (and list like that can change quick)

Deleted by commenter, repeat of previous comment

Is there any time frame for when android auto will be able to run without connecting via usb? I charge wirelessly in the car and dont want to go back to plugging in.
Android Central Newsletter
Get the best of Android Central in in your inbox, every day!
Thank you for signing up to Android Central. You will receive a verification email shortly.
There was a problem. Please refresh the page and try again.