On the new Nexus phones, Android 6.0 Marshmallow and Android Auto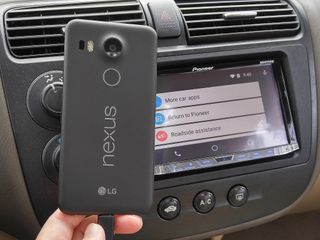 There's been a good bit of discussion in our Android Auto forums regarding Android 6.0 Marshmallow, the new Nexus phones, and how (or if) everything's working together. Well, we've got Android Auto. We've got new (and old) Nexus phones. And we've got Android 6.0 Marshmallow.
So here's a quick look at where things stand.
The good news? Everything works. That is, everything works for me. Occasionally we've seen threads from folks who are seeing a few odd issues. But I've used Android Auto on a Nexus 5, Nexus 6, Nexus 5X and the new HTC One A9 (for good measure), all running Marshmallow.
Probably the most important thing you need to know has to do with the Nexus 5X — in particular that it only comes with a USB-C to USB-C cable. That is, it will not physically be able to connect to your car out of the box. (That is, unless your car mysteriously comes with a USB-C connection.) So, you'll need a USB C-to-A cable or adapter for that. (Click here for some recommendations.)
The Nexus 6P, as you'll recall from our unboxing video, comes with a short USB-C to USB-A cable. (And that's actually the same length cable as what I've been using for Android Auto.)
We were a little curious as to whether the USB-C connection would interfere with Android Auto launching automatically once it's plugged in, but that's turned out to be a non-issue.
As for the software — Android Auto runs on your phone, with the video output to your vehicle's head unit — it's business as usual. The only difference we've seen is that when you're connecting a phone for the first time you're prompted to approve all of the permissions AA will need to run. Contacts, messages, location, calendar, phone calls — everything you'd expect. Because of the new runtime permissions in Marshmallow, your specifically asked to approve each one. And because each is pretty integral to the Android Auto experience, Google's made this the first thing you see — well, following a full-screen explainer.
Image 1 of 5
And, well, that's it. The short version is that Android Auto works fine on Android 6.0 Marshmallow and with the new Nexus phones. Just make sure you've got the right cable, and that you approve all the permissions you see fit to approve.
Sign up for Black Friday email alerts!
Get the hottest deals available in your inbox plus news, reviews, opinion, analysis and more from the Android Central team.