New Nexus 7 models now out of stock at Staples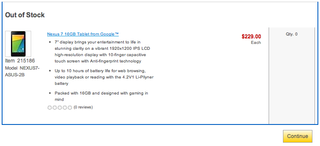 It seems that Staples's $30 off tablet promotion worked well for them, as both models of the new Nexus 7 are already out of stock on their website. They join the 32GB version at Amazon (opens in new tab), which now has a lead time of three to four weeks before orders can be filled.
Of course you can still try your luck at Google Play, or call around your local Best Buy and Walmart stores to see if they have any sitting quietly on the shelves.
We're glad to see the demand, but we sure hope we don't see a repeat of the last time.
Android Central Newsletter
Get instant access to breaking news, the hottest reviews, great deals and helpful tips
Senior Editor — Google Ecosystem
Jerry is an amateur woodworker and struggling shade tree mechanic. There's nothing he can't take apart, but many things he can't reassemble. You'll find him writing and speaking his loud opinion on Android Central and occasionally on Twitter.
Not surprised..who doesn't want the new Nexus 7? Its the most amazing 7 inch tablet out :D Posted via Android Central App

I am also not surprised. Not for same reason though. It's just another instance of google sucking at inventory management and distribution. If a hopeless product like Nexus Q would be out of stock if google sold it. Just shows that google really has no clue how to manage inventory, supply and distribution. How can Apple/Samsung manage this with 50 million device sales in a quarter? Google can't even manage 5 million yearly sales properly.

Here we go with Google's awesome supply chain! Posted via Android Central App

Google's supply chain or the fact they were on 30$ discount + pure awsomnes of new nexus 7. Posted via Android Central App

thats staples supplychain

Good thing I ordered mine from Best Buy early in the morning :P Posted via Android Central App

SOB did not know they had $30 off at staples.

That word spread like wild fire this morning when Droid-Life posted about it... And I'm sure everyone's hangouts blew up from there. Was only a matter of time. I was going to pull the trigger on it but like last years release, I am just going to wait for the Nexus 10. I have an S4 and that works perfectly fine.

Yeah, I'm not sure, whether to bite on the New Nexus 7 or to wait on the successor to the Nexus 10. I like my Note 10.1, but I don't really care for the S-Pen, as much as I thought I would. A higher resolution tab - running Pure Android - would be nice.

Honestly, I can't imagine how they'll be able to improve the Nexus 10 besides making it faster. The tablet already has one of the best screens around. Amazing resolution and brightness. Exynos quad-core isn't that slow either. Google will really have to WOW to get my money for their refresh.

It uses a rather power hungry dual-core, not quad. That's one way to improve it--stick an S800 in it.

Unrelated to the topic: Where the hell is the EDIT button?

The edit button only rears its head when it wants to, in my experience, like 10% of the time Posted via Android Central App

Am I the only one waiting on the new nexus 10? I have a 4.7 inch screen phone already and the 7 inches just isn't worth it in my opinion.

You can order them from gamestop.com. Stores should all have the 16gb early next week and the 32gb in select stores for now. Posted via Android Central App

My local Best Buy still has them. I picked up a 32gb and am very pleased with it. A big improvement from the original.

Picked up my buddies n7 this am at bb. I must say that I am impressed Posted via Android Central App

Would love this if it had an S-Pen. Loving my Note 8, it may be a little over priced but the S-Pen can be so useful and it really is at 8 inches the perfect sized tablet. Those who buy the Nexus 7 will love it, I have no doubts. Posted via Android Central App

I'm glad I picked mine up at Best Buy today. Posted via Android Central App

Glad I ordered my 32GB wifi version this morning on Amazon, I should have it by August 1st. Plus I got $18 off through amazon rewards.

There were still plenty of both sizes at the Best Buy I went to. I'm really loving the hell out of mine. Glad I got it.

Just curious if the Apple fanboys would give a shit, if the iPad Mini was 30 bucks off :D

Picked up a 16 Gb at Walmart this morning.. It updated on 1st boot to a newer version of 4.3.. all is well.. Nice little Tablet.. I posted some pics in the forum comparing it to my iPad Mini.. Big...Difference.. :-)

Picked up the new N7 at Best Buy today. They salesman said they put them out today and were almost sold out when I got there (two 32BG versions left after mine), so yeah, I'd say they are rather popular.

Google are making a habit of this.. Posted via Android Central App

Got my 32gb at Best Buy yesterday.

Just picked up a 16GB at Staples in 20 minutes ago.

Plenty of them at Staples and BestBuy stores. If you want one, stop sitting in front of your computer and get outside and pick one up :-) BTW, BestBuy in Boston didn't take the Staples $30 coupon..apparently, they'll match prices in their ads, but won't do coupons. I thought it was a stupid policy given that it's clearly on their web site, but technically, it's a coupon. They carry the 32GB in store. Staples only carries the 16GB one in store, so I had to settle for it. My current 16GB N7 still has 5GB free so I should be ok. Size is totally different, so the old cases do *NOT* fit :-(

I would get 16GB as well, but knowing how flash is getting alot faster with bigger size, (like USB's are) and when you get it full, it even further slow down (you need to have at least 25% free) you are down to like 10GB only usable space.

I was able to go to Bestbuy and get a 32gb model. They even honored Staples' coupon and price matched it for me! Im loving this thing! :-) Posted via Android Central App

Come join an awesome NEW Nexus 7 community on Google+! https://plus.google.com/communities/102840066366666223469

Staples $30 off coupon excludes the two SKUs for the new Nexus 7. The 16GB version is still in stock at many stores. I picked one up at the Union Square West store in Manhattan today. The coupon didn't work. But the supervisor was nice enough to take $5 off for me because she liked my HTC One i showed her. :)
Let's hope Android Central picks me in the N7 giveaway so I can spread my nexus love to a close friend in Houston. Posted via Android Central App

The staples I went to yesterday said oh we cant sell any until sunday. I was pissed and then I went to best buy. They said they had at least 100 of them. I get to the car to test it and it wont power on. It was doa. I exchanged and man this thing is awesome. Posted via Android Central App

Yeah went a staples today and they several of the 32gb in stock, but would not honor the coupon! There was no disclaimer on the couppon about the new Nexus tablet. Talk about about bad customer service.

My mistake. There are two item numbers on the coupon. Of course they both are for the new Nexus. My bad for not reading the fine print.

I wonder how many people say they got it but really didn't .,.. like when people say they picked up their friends, wtf is that? S4 via Android Central App
Android Central Newsletter
Get instant access to breaking news, the hottest reviews, great deals and helpful tips
Thank you for signing up to Android Central. You will receive a verification email shortly.
There was a problem. Please refresh the page and try again.