New leak suggests LG's 2018 flagship will be called the LG G7 ThinQ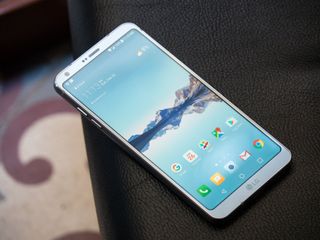 LG's 2018 flagship is slated to launch sometime this quarter, and if a new leak from Evan Blass is any indication, the phone will be called the LG G7 ThinQ. LG said earlier this year that it was ditching the G-series branding in favor of a new naming convention, but it doesn't look like the name will change all that much after all.
The South Korean manufacturer has been using ThinQ branding for its smart home products for some time now, but with the LG V30S ThinQ, it decided to bring phones into the fold. The ThinQ moniker in the V30S alludes to the phone's AI capabilities, with the camera picking up an AI-assisted feature that automatically switches to the optimal shooting mode based on lighting conditions.
The V30S also comes with the ability to control LG's smart home appliances, and the phone has exclusive Google Assistant commands. With the G7 set to sport a similar branding, it's likely we'll see a similar set of features on LG's upcoming flagship.
As for the hardware, recent leaks suggest the G7 will sport a notch at the top of the display, and the device is set to be powered by the Snapdragon 845. It could also feature an MLED+ screen, along with dual 16MP cameras, up to 6GB of RAM, 3300mAh battery with wireless charging, and a high-fidelity DAC.
Android Central Newsletter
Get the best of Android Central in in your inbox, every day!
Harish Jonnalagadda is a Senior Editor overseeing Asia at Android Central. He leads the site's coverage of Chinese phone brands, contributing to reviews, features, and buying guides. He also writes about storage servers, audio products, and the semiconductor industry. Contact him on Twitter at @chunkynerd.
Come on LG. Stick a 3800mA or more in there! Whys are so few of the old guard actually trying to improve the time a phone can stay on? This is one thing that Huawei get very right every single time. Samsung, LG and HTC need to step up. The HTC u11 + was actually the first hint that the old guard were getting it. The Samsung Active is getting it right, but is limited to USA only. A bizarre choice.

Got my G6 at launch. Battery still runs great. No need for 3800mah for the the minority who never turn off their screens.

The battery in the G6 never was that great when compared to,.. most flagships.
Mine technically will get me through the day, but it's hours behind other phones.

Getting through the day is more than enough in my opinion. Since we'll most likely charge it overnight anyways

I ThinQ I lost IQ points reading the name of this phone.

Well... the name is so stupid... ain't it?

I wanna hold my breath on this one. Loved pervious LG devices. Here's hoping.

No way I'm dropping flagship type money on another LG device with how bad they've treated us V20 owners as far as updates go, just pathetic, and I'm not even mentioning all the other issues they had because they didn't affect me personally. I do love the V20 with the Quad-DAC and removable battery so it sits on my desk for music duty. And after picking up a Mate SE for $220 I kinda see there really is no reason to spend upwards a grand. I didn't think I'd like it as much as I do but I benched my Pixel (1) XL to make it my daily carry.

Curious what you like about the SE over the Pixel?

Thinking about getting the Mate SE. Currently using an Honor 6. Worth it?

Comparing the SE to the pixal is like comparing a VW to a Mercedes! It's called no contest!

LG got pathetic battery life, they should put at least 4000mah, Huawei can do it, they can do it.

Your opinion is ok but think that huawei have 2 company helping their smartphone vivo and xiaomy lg just work with lg and another thing huawei dosent have weriless charging and

If you just base yourself on the numbers to say that it's pathetic, you're wrong. I have the G6 and it get me easily through a day with its battery. And I wouldn't call that being "pathetic" at all

I have the G6, but this is my last phone from LG. Since it came out it had no major update, and it's been a year already. Whereas the Galaxy S8 that came out after the G6 already has Oreo. Even the HTC 10 that came out 2 years ago has Oreo already. And there's no whatsoever communication from LG about it. I really love my day to day use of this phone, even though the phone's cellular reception is extremely terrible on it. But the lack of update is a serious no-no.

I'm going to co-sign this. The G6 was my first LG phone and while I have been pleased with the hardware, rear camera quality, battery life, UI and overall performance, the lack of updates bug me like crazy. It really is a great phone that at launch was available for 50% off (bill credits).

I have an HTC 10 and it has the Oreo update. While it is nice to have the latest and greatest, it really hasn't meaningfully improved my experience on the phone. Maybe battery life has improved but even that is only a maybe - difficult to tell. If there are other compelling user interface improvements, I am either not finding them or my use case makes them unimportant.

It continues to baffle me how all these Asian companies consistently have such terrible naming / branding strategies for the Western market. smh

I see we are moving back towards the ridiculous naming schemes of old. Come on LG...
Android Central Newsletter
Thank you for signing up to Android Central. You will receive a verification email shortly.
There was a problem. Please refresh the page and try again.