New leak says the Galaxy S20's display will run at 60Hz by default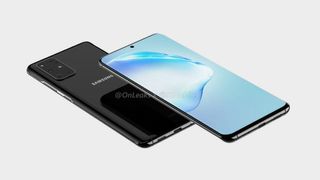 (Image credit: @OnLeaks / 91Mobiles)
What you need to know
A new leak suggests Samsung's upcoming Galaxy S20 series phones will be set to 60Hz refresh rate by default, instead of 120Hz.
It was recently rumored that the Galaxy S20 series phones might not support 120Hz at the highest Quad HD+ resolution.
The Galaxy S20 series is set to be announced at Samsung's next Unpacked event on February 11.
Last week, reliable leaker Ice Universe claimed that the Galaxy S20's 120Hz display may only work at Full HD+ resolution. Now, Max Weinbach from XDA Developers has come up with new information that suggests the Galaxy S20 series phones will ship with the display refresh rate set to 60Hz by default.
Out of the box, S20s will be set to 60hz not 120hzOut of the box, S20s will be set to 60hz not 120hz— Max Weinbach (@MaxWinebach) January 22, 2020January 22, 2020
To enjoy smoother animations and scrolling, users will have to go into Settings and manually change the display refresh rate to 120Hz. While it is certainly a little disappointing, we aren't shocked. The ASUS ROG Phone 2, which has a 120Hz display, ships with the refresh rate set to 60Hz by default. Google's Pixel 4 and OnePlus phones with Fluid AMOLED displays, however, ship with 90Hz enabled by default.
Since many buyers don't care about their phone displays being on the highest resolution or refresh rate, it is possible Samsung may be looking to prioritize battery life over improved smoothness. Prioritizing battery life is also the main reason why the displays on Samsung's current flagship phones default to Full HD+ resolution instead of Quad HD+.
Weinbach has also claimed that the Galaxy S20 Ultra will come with a stainless steel frame instead of aluminum on the standard S20 and S20 Plus. The most premium Galaxy S20 model is also expected to be the only one to feature a 108MP primary camera and a 40MP selfie camera.
Not an issue for me. I'll I'll by leaving my phones on the 60Hz setting.

Wish all these companies focus on making longer lasting batteries instead of all this new screen tech which the average user wouldn't bother about anyway.

Samsung has been increasing their battery capacity since they're far enough from the Note 7 issue. Creating new battery tech is happening, but it's not ready yet or economical.

All high refresh rate phones should have this feature along with dialing back resolution. Battery tech needs to catch up before we find ourselves carrying phones with 10,000 mAh batteries and weighing 400+ g.

I'm ok with this. Hopefully there will be a notification toggle to easily go to 120Hz without going through menu options.

Samsung is doing a major un justice with their 120hz display! The only reason they have added this 120hz display is to put it in adds and the side of the box so they can make more money off of it. You can't use it at full resolution, and it doesn't come as default. Why? Because it will kill the battery! I would say at least 80% of new phones are bought by people who could care less or know any better between a 60hz refresh rate vs a 120hz refresh rate. The phone can't come out of the box with the 120hz rate, for sure can't come with the higher rate and higher resolution. Because then those 80% of people who buy it would complain about how bad the battery is, and they wouldn't have a clue why! Instead they will sell a phone with all the new and top tech, but it won't be turned on when you buy the phone. Those 80% of people buy this expensive phone and think they are getting all this tech and never have a clue it is turned off out of the box. So instead of giving it a 90hz rate that could be used with the top resolution, and turned on out of the box, they give you a higher rate you can't use. All that just to say they have a higher rate then others.

Well... They will have it.
To much people doesn't know what they want/need, they just want the best and samsung is giving it to them the best way so stupid people won't talk bad about samsung's phones without knowing a thing.
They don't know that for a phone the best resolution for pixel density is 720p with normal use, and the best combo will be 720p & 120hz, but people will always talk bad about everything even in the comment section in a Android community website.

Why is 720p the best resolution for a phone? We keep our Note 10 Plus and U12 Plus set to WQHD+ all the time because it's easier on my eyes.

I would settle for 90Hz at WQHD+.

I would be fine with 90Hz at WQHD+ too, but there's not much difference between 60 and 90. When people were handed two phones, with one set to 60Hz and the other at 90Hz, they could not tell the difference.
Android Central Newsletter
Get the best of Android Central in in your inbox, every day!
Thank you for signing up to Android Central. You will receive a verification email shortly.
There was a problem. Please refresh the page and try again.