The new Google Assistant only speaks English and is exclusive to the U.S.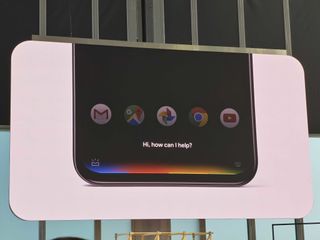 (Image credit: Android Central)
What you need to know
The new Google Assistant can run on your device locally, yielding a massive increase in performance
It'll first roll out with the Pixel 4 series.
At launch, the new experience will be exclusive to the U.S. and available only in English.
Alongside launching a slate of new products at its launch event earlier today, Google also showcased the new Assistant experience, which it first teased at Google I/O back in May. The revamped Assistant is going to start rolling out with the Pixel 4 series. However, it will, unfortunately, be restricted to the U.S. and can only handle English queries at launch.
Google's demo at I/O 2019 featured a near-astronomical leap in the virtual assistant's performance, as the company was able to cram the 100GB+ of algorithms and data that Assistant previously required to just 500MB. This means that Assistant can handle most tasks that previously required an internet connection and processing in the cloud locally on your device, yielding as much as a 10x increase in performance.
Alongside this, the new Assistant features a sleeker look, will integrate with Waze, and promises to include a Driving Mode to help make navigation while driving easier.
All that scrumptious goodness is precisely why the announcements may be a little bittersweet for those living outside the U.S. or those who prefer using languages other than English. No timeline has yet been given on when the new Assistant will make its way to non-Pixel phones outside the U.S., or when language support for the digital assistant will be expanded. Still, Google does have a good track record in this regard, so it'll likely be sooner rather than later.
All-new Pixel
(opens in new tab)
Google's latest flagship aims to impress.
The Pixel 4 was designed to be Google's best and most impressive Pixel yet. It has an all-new 90Hz display, Motion Sense hand gestures, powerful face unlock, and dual rear cameras. There's also a revamped design and upgraded internals, all of which come together to create an enticing overall package.
Get the Android Central Newsletter
Instant access to breaking news, the hottest reviews, great deals and helpful tips.
English only??? That's racist

How is it Racist? Especially since more than one race speaks English. You're an idiot dude.

Americans don't speak English. They speak American. Butcherd and nonsensical for a good portion of the general population. PS: I think he was joking.

I think they prefer to call it "Freenglish". I've often wondered if he was trying to be funny... after some observation, I suspect Eric is correct. You have no idea how amused I am that you misspelled "butchered" 🙃

Good call. Auto correct makes me lazy.

Me too, normally I wouldn't call it out, but the context made it funny!

Pathetic Launching a phone with Marquee features specific to one limited (where android is not the biggest player) market is just bad from Google.

How horrible! An American company offering a feature exclusive to America!

I was of the impression that it's an International Corporation making revenue from across the globe. My bad

Exactly. What an idiotic comment

What if they decide to keep this as a Pixel 4 or Pixel line exclusive? Or is this part of Android 10?

Other sites (9 to 5 google is the one I recall) are reporting that Assistant, as well as Astrophotography and the Recorder, are all coming to the 3/3a at the very least.

Yeah, English at first 🤨. Come the first app update and boom, Spanish, German, French, Russian, Mandarin, Korean, and so on... 🤑

"US only at launch" .... yeah like call screening and other useful Pixel features that are STILL US only.

Call screening works here in Canada on my wife's Pixel 2.

Verdammt nochmal, Google. Wieso spricht man hier nur Englisch?