Best apps to download on a new Android phone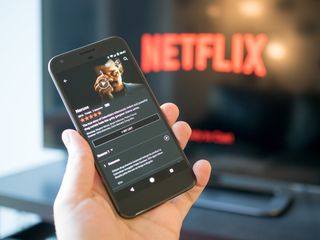 If you or someone you know just got their first Android phone, firstly… congratulations! Regardless which make or model you're using, you've got a very capable and customizable device, and it all starts with the apps found in the Google Play Store.
Google includes the full suite of very valuable apps which include Gmail, YouTube, Google Play Music, and Google Photos, but that's really just the tip of the iceberg. We've compiled a list of some of our favorite apps that we think you should consider when you're just starting out.
Authy 2-Factor Authentication
Securing your devices and accounts is very important, and no one does two-factor authentication better than the folks at Authy.
If you're unfamiliar with the process, two-factor authentication adds another layer of security by creating six-digit tokens that expire every 60 seconds. This extra layer of security will keep you safe from hackers and account hijackers and, best of all, Authy is free and supports most major multi-factor authentication accounts including Facebook, Dropbox, Amazon, Gmail, and thousands of other providers.
Gboard - The Google Keyboard
There are a bunch of great keyboards available for Android, but the best of the best is currently Gboard, Google's own keyboard.
Gboard is completely free, supports gesture typing for both individual words and entire sentences, a bounty of languages, and a modest choice of themes.
Gboard employs Google's own speech-to-text engine for voice dictation, and while it might not be the best at predictive text, it does learn from your typed data across Google's apps and services. Gboard has pretty much every feature you'd want from a touch keyboard, including the ability to quickly search Google from virtually anywhere in your phone. It's fast, reliable, and minimalist, with theme options to tweak in the settings.
Download: Gboard - The Google Keyboard (Free)
Kindle
Book lovers who have made the switch to digital materials already know about the eponymous e-readers, but Kindle's app for Android lets you access all your favorite books from Amazon's e-book catalogue right from your phone, without having to lug another piece of tech around with you everywhere.
There are millions of titles available via Amazon, which include magazines and newspapers. There are thousands of public domain classics available, and you may even be able to check out e-books from your local library. Take advantage of reading in the digital age and customize your reading experience by adjusting font sizes, screen brightness and background color, while searching and dictionary functions built right into the app are perfect study tools for students working on essays and book reports.
Netflix
It's ubiquitous in our culture these days, and an absolute must-have for pretty much any device you own. In short, Netflix has come to exemplify how millions of people unwind and keep themselves entertained.
The Netflix app for Android lets you watch all your favorite shows using your phone data or when connected to Wi-Fi, with a recent update allowing for offline viewing of a large swath of the service's content. You'll also find full compatibility with Chromecast, allowing you to use your phone as a remote to control things while casting your favorite shows and movies to your TV. A subscription is required, but you probably know someone with a login you can borrow if $10 a month is too rich for your blood.
Nova Launcher
One of the best parts of using Android is the sheer amount of customization that's available to you — if you're willing to put in a little bit of work to do it. Android phones come with a manufacturer's default launcher pre-installed, but if you're looking for something different, Nova Launcher is a great option for theming and customizing your phone to reflect your personality, or your favorite shows or hobbies.
Nova Launcher lets you change icons, layouts, animations and more to completely tweak almost every aspect of your phone's look and feel to your exact specifications. We've included a link to the free version of Nova Launcher below, but if you're serious about theming, you'll want to check out the paid version. You'll also want to keep it locked on the Android Central home page, as we frequently post theming how-tos that give you step-by-step instructions for keeping your phone looking fresh and cool, like this recent article on Star Wars themes.
Download: Nova Launcher (Free)
Pocket Casts
Podcasts are amazing, and Pocket Casts makes listening to podcasts even better. While you might scoff at paying money for a podcast app when Google Play Music and Spotify do the same for free, the folks behind Pocket Casts have incorporated some really smart features that you need to know about.
For one, they've got this feature that trims out the silence in all the podcasts you listen to, and if you're a heavy listener, that time will really add up fast. Other features include a smart volume boost which increases the volume for voices while keeping background noise to a minimum, full integration with Android Auto and Android Wear, and cloud-based subscriptions and playback, so you can sync your podcasts between your phone and the web service or (more importantly) keep all your subscriptions when you switch over to a new phone.
Download: Pocket Casts ($3.99)
Pushbullet
Pushbullet lets you receive your phone notifications on your computer, so you don't have to constantly check your phone every time you feel the buzz. Anyone who works with a computer for a living knows how distracting checking your phone can be.
Pushbullet not only lets you see who's trying to contact you — via text and phone call, but also supporting popular messaging apps such as WhatsApp, Kik and Facebook Messenger — and lets you respond with your computer's keyboard. So, not only will you never miss a notification, you'll be able to quickly respond to the important stuff and dismiss the less-important stuff for later.
Spotify
Millions of people have made Spotify their go-to source for all their music, and for good reason. You're able to listen to a shuffled mix of music from nearly any artist or band for free, but the real fun begins when you sign up for Spotify Premium.
Not only does Spotify Premium provide better sound quality, it also removes ads and lets you play any song by any artist when you want across all your devices. You can also build and share playlists with friends and family, along with an option to download music to your device for offline listening. And then there's other smart features like Discover Weekly, which curates a playlist of new music Spotify knows you'll love based on the bands and genres you listen to on the regular.
Solid Explorer
You don't have to root your Android phone to conveniently access files on your phone. Solid Explorer lets you do all that and much more, though you'll need to play to unlock the full version.
Solid Explorer lets you organize and manage all your files, including those stored in cloud services such as Dropbox, Google Drive and more. You'll be able to read and extract .zip, .rar, and other compressed file formats, along with options of creating password-protected folders and .zip files within the app. And if you do decide to root your phone, you'll be able to use Solid Explorer to browse your system files with ease.
You can try Solid Explorer on a trial basis for 14 days before having to pony up for the full version.
Download: Solid Explorer (Free Trial)
theScore
Sports fans need to know the score at all times, and there's no better sports app out there than theScore. They've got full up-to-the-minute coverage for all the major sports leagues, including NFL, MLB, NBA, NCAA Football, NHL, English Premier League, La Liga, Champions League, World Cup and all major sports and competitions. You can personalize your feed to only include the sports and/or teams you're interested in, so you're never bothered by a score for a game you're not interested in.
Pair this with alerts for goals, key moments, final scores and breaking news and with one app you're never more than a quick glance away from the absolute latest, up-to-date information. It bills itself as "real time, all the time" and that's probably the best way to think about it.
Uber
Uber is taking the world by storm and changing the way people think about getting around. Whether or not you've used Uber seems to depend on it's legal status in your city, or how frequently you travel. The taxicab industry is furious because Uber has jumped in with its ridesharing app and service that makes it way easier to get a ride somewhere.
Simply download the app, plug in your credit card or PayPal details, and you're ready to hail an Uber car to wherever you are. You can determine your fare estimation before requesting a car, and you'll be able to see details about the car and driver coming to get you an watch for their arrival on the app map as you wait. There's also different levels of service, from UberPool in which you share your ride with other riders for a cheaper fair, or UberBlack for a more upscale experience.
Weather Underground
Weather Underground provides the most accurate hyper-local weather forecasts right on your phone, with interactive radars, satellite maps and severe weather alerts included so you always know what's on the way.
At a glance, you'll be able to view current temperature and conditions from your local weather station include temperature, wind speed & direction, humidity, dew point and visibility. Weather Underground also makes use of crowd reporting, fostering a community of weather enthusiasts who report live data from weather stations in their own backyards, with this crowd-sourced data generates forecasts that are targeted to your precise location. You'll also enjoy the option of customizable widgets, so you don't even need to launch the app to see your local weather conditions.
Download: Weather Underground(Free)
What are your suggestions?
These are our picks that would make up our Android app starter pack — what would be in yours? Let us know in the comments!
Get the Android Central Newsletter
Instant access to breaking news, the hottest reviews, great deals and helpful tips.
Marc Lagace was an Apps and Games Editor at Android Central between 2016 and 2020. You can reach out to him on Twitter [@spacelagace.