Netflix adds Dolby Atmos support, but you probably can't use it yet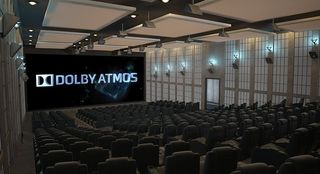 It's often said that video streaming services like Netflix, Hulu, Amazon Prime Video and even YouTube focus too much on video enhancements at the expense of audio. As we've moved from 1080p to 4K to HDR to wide color gamut, we've remained stubbornly adherent to audio standards that are approaching 10 or 15 years old.
Netflix wants to change that with the introduction of Dolby Atmos support (opens in new tab) for some of its titles, beginning with the acclaimed (and reportedly very weird) film Okja.
The requirements to actually experience Dolby Atmos on Netflix are quite restrictive at the moment: it's limited to the Xbox One or Xbox One S (and soon, LG OLED TVs) along with a "4 Screens + Ultra HD" streaming plan and, of course, a compatible receiver and speaker configuration.
I have admittedly fallen behind the times when it comes to surround sound codecs — the last 5.1 setup I had was probably 10 years ago — so I had to look up exactly how to take advantage of Dolby Atmos the way the company intends, and it's intense. The idea behind the setup is to create a 360-degree soundscape by augmenting a traditional 5.1 or 7.1 surround sound setup with between two and four ceiling speakers or, barring that, upwards-facing satellites.
There are easier ways to get Dolby Atmos, though: the company has worked with a number of companies to add support in a number of phones, headphones and, perhaps most importantly, sound bars that do a decent job emulating the surround experience.
More Netflix titles will get Atmos support in the coming months, including BLAME!, Death Note, Bright, and Wheelman.
Get the Android Central Newsletter
Instant access to breaking news, the hottest reviews, great deals and helpful tips.
Daniel Bader was a former Android Central Editor-in-Chief and Executive Editor for iMore and Windows Central.
This is awesome news!! Yeah!

This might actually be kind of cool, but nothing through some soundbar emulation. I'd love to hear a true 5.1 + atmos demo to see if those extra upward speakers are actually worth it.

What sucks is that the XBone's Netflix app is broken in that it switches to HDR mode for EVERYTHING, thus screwing up SDR content which is 99.9% of what's on Netflix. Properly functioning apps on every other platform and/or casting switch your TV in and out of HDR mode based on content, not globally.

That's weird because my Xbox One S doesn't do that.

I have a XBoneS and it most certainly does.

What does SDR content look like when it's forcibly displayed in HDR mode?

It doesn't look wildly crazy, but HDR TVs have different processing curves for standard and HDR content and when merely going into the app tells the set it's receiving HDR content, then SDR content is processed as if it was HDR. (This is why you need to have HDR signal fed the TV when calibrating HDR settings.) You can test it yourself by trying HDR content from the Amazon Prime Video app (e.g. The Grand Tour, Man in the High Castle, Mad Dogs) and bringing up your TV's info display and seeing if it's showing whether it's in HDR mode or not. (My TV blinks a moment while it switches modes.) Now try Netflix and check the info from the dashboard without even going into a title or use a non-HDR title to see it's being fed HDR10 metadata at all times.

That makes no sense. HDR is extra meta data along with a normal signal. It has no affect on non-HDR content.

You'd think, but the app is sending the TV a signal that it is HDR10 content at all times.

+1. My Xbox One S definitely does this! I always thought it was odd, but never gave it much more thought than that.

I wonder if it'll work on my Axon 7 since it has Atmos.

Atmos is useless unless you have a dedicated, custom built, media room at home. Nothing more than 5.1 is really practical for apartments of any kind. Even 7.1 is pushing things.

And no one should have a TV bigger than 42" unless they have a custom built media room, too?

I highly disagree. I've lived in basic apartments for the last 15 years and I've had a 5.1 setup the last 10 years. This week, I'm adding up-firing Atmos speakers to my Polk Tsi500 tpwers, so I'll have a pretty decent 5.1.2 setup. Anyway...I haven't customized the room at all (ie no construction, nothing to void my lease) and yet my setup is very clean and most importantly, I've been truly enjoying the full surround sound experience many times a week for all these years!

I just want to know when Netflix is going to add HDR support for Galaxy S8+

This is nice and all. But having it limited as it is. Then add the up tier charge and it may not be all that worth it.

Doesn't the Nokia 6 have Adobe Atmos support? Or is it the Xperia XZ Premium?