Nest Thermostat E review: The perfect downgrade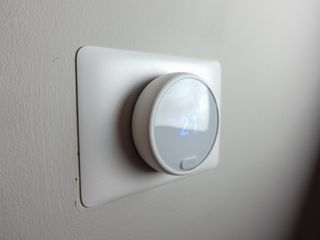 (Image credit: Android Central)
The biggest compliment I can give to the $169 Nest Thermostat E is that no one noticed it.
I've had a third-gen Nest Learning Thermostat in my entrance way for years, conspicuously placed so that everyone who walks into my living room inadvertently wakes up its bright LCD screen as they saunter past. The round stainless steel bezel is shiny — garish, even — inviting speculation and questions. "That's the touchscreen thermostat, right?" they ask. In fact, it's not touchscreen, but it looks like it.
After nearly two years with a Nest, I've learned a few things about it. For starters, it's very good at what it does; I've probably saved close to $1000 in electricity by intelligently rationing out central heat and air conditioning, and by allowing the system to learn my habits and create a schedule that accommodates my work-from-home lifestyle and my wife's desire for the house to be a tiny bit warmer than I'd prefer.
The second thing I've learned is that the Nest hardware itself is complete overkill, and totally unnecessary to enjoy the unit. It's a vestigial remnant of a time that you needed to physically walk up to a thermostat to make changes. And while I occasionally do make adjustments using the satisfying clicker ring used to navigate the basic user interface, I spend far more time in Nest's excellent Android and iOS apps. To that end, the $249 Nest Learning Thermostat is a nice-looking widget that tells people I have a smart home.
The Nest Thermostat E is not that. It's cheaper — $169, a full $80 cheaper — and wonderfully understated. Gone is the shiny stainless steel and black bezel, replaced by a smaller, plastic housing and a lower-resolution screen. The screen is also covered by a frosted white glazing, meant to slightly obscure the screen and allow it to blend it better with its surroundings. And you know, it totally works.
Installation and compatibility
The Nest E, as I'll refer to it, requires basically the same setup as its larger predecessor; it assumes that your house already has the necessary wires protruding from some wall in your house, likely in a basement or main floor. Compared to the Nest proper, there are fewer connections — six instead of 10 — which makes it less likely to be compatible with some higher-output dual fan systems, but it had no problem interfacing with my fairly generic single-blower forced air system.
Installing the Nest E was as simple as removing the older Nest, disconnecting the wires and removing the backplate, and installing the newer, smaller equivalents. My system was wire-for-wire identical, though that may not be the case for yours. If you're coming from an older system, or just don't really trust yourself to install it correctly, the company offers very detailed installation videos and, at a cost, professional installers, to ensure that it will work right.
Unlike the regular Nest, which claims to work with "95% of 24V heating and cooling systems, including gas, electric, forced air, heat pump, radiant, oil, hot water, solar and geothermal," the Nest E works with "most" heating and cooling systems, according to the company. In other words, the Nest E will probably work for you unless you have a bespoke or high-powered commercial system that probably needs a professional to maintain, anyway.
The experience
The Nest E offers what amounts to the identical experience as the regular Nest, with a few minor differences. The interface, due to the lower-resolution glazed screen, is a bit simpler, but it still allows you to turn the sphere to maneuver around, and push in to select, just as before. (If you're new to Nest, the controls are extremely intuitive, and you definitely won't mistake this one for a touchscreen.)
Once set up and connected to Wi-Fi, the Nest E can be controlled either through the unit itself or the accompanying iOS or Android app (which we'll get to shortly). Like any thermostat, the Nest E sits on your wall and monitors the ambient conditions using built-in sensors; these include temperature, humidity, proximity/occupancy, and ambient light. When it detects the temperature is above or below a given threshold, it activates cooling or heating, respectively. When it detects humidity is too high, it can be programmed to run the fans for a few hours. When it detects people aren't home, it can be made to automatically activate Eco mode, which sets the conditions a bit higher or lower than is comfortable to save energy.
What the Nest E doesn't have are the near-field and far-field sensors built into the original Nest, which means it has a hard time determining whether people are home by the ambient movement or sound around it. To make up for it, a proximity/occupancy sensor ensures that if someone walks past, it jumps to attention and figures out whether it should start working, but it's a little less precise. In real-world testing, however, I've noticed no difference at all.
The upside
In fact, that's what I'm taking away from my experience with the Nest E. If it works with your furnace, it's exactly the same experience as its more expensive counterpart.
Much of that is due to the fact that Nest's app, which has grown in usefulness while remaining remarkably simple, is the primary control center for your thermostat, and any other Nest products (of which there will be a lot more in a few months) you may have, from cameras to smoke detectors. I have all three, so I spend a lot of time in the Nest app, and I've absolutely come to depend on it.
Anything you can do on the Nest itself can be replicated in the app; Nest's best features are the ones you set once and forget about, from Airwave, which uses the fan to continue blowing cold air through the system once the air conditioner itself has been shut off, to Early-On, which suggests a time for reaching a certain temperature in the house and adjusts the cooling or heating accordingly.
That Nest has been available since 2013, which may suppress a bit of its magic to long-time owners, but anyone coming from a clunky offline thermostat will marvel at the ability to remotely set temperature a few hours before returning home from vacation, or even from work, to compromise between comfort and cost.
And now that the asking price is a considerably lower-than-before $169, Nest is accessible to even more people.
The downsides
Nest isn't the only game in town. Others, like ecobee, have shown considerable innovation in areas that, for some reason, Nest refuses to touch. ecobee, in particular, uses in-room sensors to detect temperature in multiple rooms throughout the house, allowing the thermostat to make intelligent decisions about heating or cooling with additional data points. My bedroom is a good five degrees warmer in the summer, and five degrees cooler in the winter, than my living room — such is the agony of a tall house.
When it's really hot or cold outside, I often have to manually adjust the temperature to accommodate for such discrepancies, something that I'm sure ecobee, and a couple of extra sensors, would take into account. ecobee's latest version, the ecobee 4, also integrates Alexa in the U.S.; Nest, owned by Google parent Alphabet, has no such plans to integrate Assistant into its thermostats anytime soon.
And Nest is a standalone product, owned by Alphabet; big names like Honeywell, Emerson, and Carrier, which either build their own or partner with many furnace providers across the United States and Canada, are manufacturing their own (admittedly dumber) smart thermostats, and providing heavy incentives for customers to upgrade. Nest isn't able to compete with such an entrenched market that is typically moved less by Silicon Valley than the Yellow Pages. Most of these companies throw in a so-called smart thermostat for free with a furnace or air conditioner upgrade, which puts Nest out of the conversation completely.
Should you buy it? Definitely
Even though I have the more expensive Nest Learning Thermostat, I have no intention of ditching the Nest E anytime soon. Not only do I think its white plastic housing looks better and disappears more easily than the chrome metal of the regular Nest, its simpler interface is a joy to use — I simply see no reason to go back.
For me, Nest built the perfect downgrade, a product that promises less and delivers more because of it. If you already have a Nest, you can completely ignore this review — there's no reason to switch. But if you've been on the fence about moving up in the thermostat world, the Nest E is probably your best place to start.
Get the Android Central Newsletter
Instant access to breaking news, the hottest reviews, great deals and helpful tips.
Daniel Bader was a former Android Central Editor-in-Chief and Executive Editor for iMore and Windows Central.