In a world of smartphones without headphone jacks, if your car doesn't have Bluetooth, it can be really difficult to stream music through its speakers. Nobody wants to suffer through radio ads and the same 12 songs played on repeat. If your vehicle is lacking, pick up the VicTsing Bluetooth FM Transmitter for only $8.88 with code 5JVK7DZG at Amazon. That's 40% off the normal cost, plus you'll get free shipping with Amazon Prime.
Two Blooths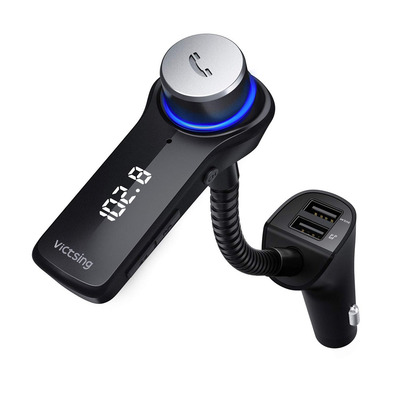 VicTsing Bluetooth FM Transmitter
Having a car without Bluetooth is strange. Retrofit your vehicle with this easy-to-use Bluetooth transmitter. It'll let you play audio through your speakers as if your car had Bluetooth built-in. Paying just $8 makes it a complete steal.
$8.25 $15.00 $7 off
This gadget is super easy to use. Simply plug it into your car's cigarette lighter outlet and connect your phone to it via Bluetooth. It'll play media through your vehicle's speakers via an empty radio station. Pro tip: use an app like ClearFM to find the perfect one for your locale. You can also use the two USB ports to plug in charging cables and top off your phone and other devices. There's a large backlit display on the transmitter to let you know what's going on, and the neck is flexible for the perfect placement. The transmitter even remembers the last device it was paired with, meaning you can just hop in your car and begin playing music. Your purchase is backed by a one-year warranty as well as hundreds of positive customer reviews.
We may earn a commission for purchases using our links. Learn more.