Multi-Window in Android Nougat is amazing on the Pixel C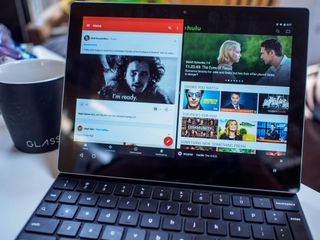 We saw hints of multi-window support coming to Android when it was hidden deep in the Marshmallow Developer Preview last year. When Google announced the Pixel C, we thought for sure multi-window support would be made available due to odd (for displays anyway 1√2 aspect ratio of the tablet. (You know, just like a piece of paper.) For months now, anyone with an Android tablet that wasn't made by Samsung has been screaming to multi-window support.
And now the newly released Android 7.0 Nougat will be bringing multi-window support for all.
Here's a quick look at how it works.
Multi-window in its current iteration is working on both phones and tablets. It works by splitting the screen in half, allowing you to run one app on each half of the display. If you're holding a tablet horizontally, those apps are split side by side. If you're holding the tablet vertically, those apps are split top and bottom. (Same for phones.)
To set an app up for split screen, you tap the multitasking button, press and hold on the colored bar above the app you want to set, and drag it to one half or the other. Once you let go of that app, it snaps into place and you'll see a black bar with a white line in the middle to show you the separation point.
From here, you have two options. You can either set another app from your multitasking tray as the second app, or you can tap the home button and locate another app from your app tray. When you press the home key with no secondary app set, the first app will tuck itself away on the side of the screen so you can access the whole screen to locate your app. The Desktop is never split between the two sides. Once you have launched a second app, it snaps itself in place to fill the screen. From here, if you tap the home button again, whatever app you snapped to multi-window last will be sent away, and if you press home a second time you'll be taken to the full home screen.
The default for this setup is to have the display split right down the middle, but that is far from your only option. The center black bar can be dragged in whichever direction you choose, increasing and decreasing the space the apps have available to them within several hundred pixels (or about a quarter or so of the full screen). In our brief tests, most apps we loaded handled this fairly well. Google has pointed out that resizing the window on the Pixel C can cause some crashing, which we've seen in our tests in earlier Nougat previews. If you load an app that isn't set up to handle multi-window, you'll see a little toast notification letting you know the app isn't optimized and may have problems. It's all early days, but still surprisingly functional.
By far the most important feature to multi-window is the way it forces apps to play nice with landscape displays. Apps like Slack, which force portrait when trying to sign in and look horrible taking up the whole screen on a large tablet like the Pixel C are contained and orient nicely in multi-window. While app developers should still stop behaving this way with their apps, Google has clearly stepped up and offered an alternate solution. We've only tested this on the Google Pixel C tablet so far, so your mileage may vary. That having been said, multi-window in Android Nougat is an amazing addition, and it's going to get even better as app developers prepare their apps for this new setup.
Russell is a Contributing Editor at Android Central. He's a former server admin who has been using Android since the HTC G1, and quite literally wrote the book on Android tablets. You can usually find him chasing the next tech trend, much to the pain of his wallet. Find him on Facebook and Twitter
ITS HAPPENING Posted from my Nexus 6/Nexus 7 2013/Surface Pro 3

It is just another gimmick by Samsung that went mainstream. It's a fad and Samsung sucks Posted via the Android Central App

Personally I have no use for it on a phone. Posted via Nexus 6 running on any data plan I want

Phone, no. Even with a six inch phone. But tablets, he'll yeah Posted via the Android Central App

Samsung never created this though Posted via the Android Central App on my Frost Nexus 6P

They put it on Android, made it mainstream. Who made it? Posted via the Android Central App

I wouldn't say they made it. But they did heavily popularize it on a mobile device and made it mainstream. A small loan of a broken G4

Well I personally use it regularly on my Tab3. I'm also constantly annoyed by the constraints on it (only a few apps work) - I wouldn't remotely call it a "fad".

There is an app in the play store that will allow you to use split screen with 99% of apps. MW-PEN App Enabler. Works great. Posted via the Android Central App

It was sarcasm Posted via the Android Central App

Would you recommend this tablet now that it has this feature? Posted via the Android Central App

It technically doesn't have this feature yet since this is just a Dev Preview Posted via the Android Central App

N will not launch for 5+ months. By then I guess I'd wait to see what the next pixel brings to the table.

You're still better off with a Surface or Windows tablet.

Depending on what you want to do. Windows tablets are terrible for the most part. I have a Surface Pro 3 and in tablet mode it is so frustrating to use. Everything is a pain in the ass. Docked with dual 24" monitors it is amazing though and it is good when used as a laptop. When you try to use the same way you would use an Android tablet or iPad, the experience really breaks down. Not only is the UI clunky, there are no apps to speak of.

Looks like windows 10 LOL

This is better than Windows 10 in Tablet Mode. Microsoft needs to make Windows 10 more tablet friendly like Android/iOS.

Looks more like windows 8. Which in this context is a good thing. Posted via the Android Central App

Beautiful Posted via the Android Central App

Seems like it will be pretty darned useful with Two-factor auth apps and password managers.

That makes me wonder if there'll be an API to allow apps to trigger this themselves instead of having to do it manually.

Can you have one side be an app and the other side be the home screen?

This'll be very nice on my Nexus 9! Been hanging out for multi-window. Posted via the Android Central App

Finally..... Been doing it on my G4 and iPad Pro. No reason to see why other Android phones that aren't made by Samsung/LG shouldn't have it. Though LG is killing it off in the G5, possibly replacing it with Google's implementation.....

To me that sounds more like the "basics" of a split screen mode, but amazing? How about functionality that makes the feature actually useful?
Is it for example possible to drag and drop content from one app to the other like we're used to from the Samsung MultiWindow Mode? I think such fine details are really important to determine if it's actually a useful implementation or behind the competition.

Drag and drop is already possible in the preview.

So what multi apps on one screen and you seemingly have to jump through hoops to make it work ? So many steps to get two apps ? It's overly complicated for large screen devices and acceptable for sub 7" devices. If you're in a 7"+ landscape environment Say the pixel C why does the app not open in a near full screen but windowed format and present the option of opening another that way say like Linux, OSX or windows ? Honestly the recent key is unintuative and bulky ! This is a convoluted way of doing something that's second nature to 90% of the user base ! The android system knows it's screen size fron the system so why must a big screen act the same as a smaller screen ? Google trys so hard to add features slowly but fails at things that should be a no brainier between environments. I don't expect a windows mobile device to act the same as a larger near desktop device when it comes to application GUI draw space boundary's, Imagen if you open windows calculator on a phone and it appeared in a 100x100pix windowed mode of a 5.5" phone !!!! Different screen sizes require different rules under one OS as a default and this should be basic stuff after all the OS knows the difference between the device being a phone and a tablet / netbook yadda yadda.yeah it's beta code but still let's at least get the common sense basics right out the starting block if not still slightly patchy implementation. But I guess this answers why Google won't merge Chrome OS and android yet. . .

Calm down. This is a developer preview. This doesn't indicate the final state of multi-window support. They will surely refine it over the next months before final release.

I like this a lot! Posted via the Android Central App

Russel, thanks for the preview on TWiT.
I have one question: I want to be part of the beta program, will I loose my data once the final release of N is available? Or I get an update just like Microfsoft does for windows developer preview

Time to buy. Posted via the Android Central App

This is a great step in the right direction. I hope they take this further. Posted via the Android Central App

every time I try with Netflix the video stops when I touch the other side. YouTube u have to be a red member to run video and scroll on other side Posted via AC app with my N9

One thing I've noticed, I used Ultimate Rotation Control on the Pixel C to force all apps into landscape, eg Instagram. With URC on, multiwindow support doesn't work, FYI. I did send feedback but just FYI if you're doing the same. Posted via the Android Central App

Just uploaded the developer preview on my Nexus 6 last night. Just figured out how to use the split screen this morning. Was playing around in the settings and you can auto rotate your applications now ala Apple iPhone. Lots of cool stuff on N. Haven't messed with it enough to judge battery, but it seems OK so far

The PC Era is over. The Rise of the Android Dynasty. The revolution has begun. A major change in technology is happening before our very eyes.

I think this feature is nice but still in the infant stage. I think the future is true multi-window support closer to say a windows experience. Or like a certain multi window xposed module i cant think of but had it installed on my old android tv box. It allowed infinite customization as far as i can remember. Wont really be useable/feasible for a 7inch tablet but on larger displays it would be a treat. (Maybe 10 or 12 inches and up)
Android Central Newsletter
Get the best of Android Central in in your inbox, every day!
Thank you for signing up to Android Central. You will receive a verification email shortly.
There was a problem. Please refresh the page and try again.