Multi-Window in Android Nougat is amazing on the Pixel C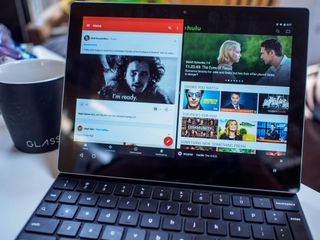 We saw hints of multi-window support coming to Android when it was hidden deep in the Marshmallow Developer Preview last year. When Google announced the Pixel C, we thought for sure multi-window support would be made available due to odd (for displays anyway 1√2 aspect ratio of the tablet. (You know, just like a piece of paper.) For months now, anyone with an Android tablet that wasn't made by Samsung has been screaming to multi-window support.
And now the newly released Android 7.0 Nougat will be bringing multi-window support for all.
Here's a quick look at how it works.
Image 1 of 3
Multi-window in its current iteration is working on both phones and tablets. It works by splitting the screen in half, allowing you to run one app on each half of the display. If you're holding a tablet horizontally, those apps are split side by side. If you're holding the tablet vertically, those apps are split top and bottom. (Same for phones.)
To set an app up for split screen, you tap the multitasking button, press and hold on the colored bar above the app you want to set, and drag it to one half or the other. Once you let go of that app, it snaps into place and you'll see a black bar with a white line in the middle to show you the separation point.
From here, you have two options. You can either set another app from your multitasking tray as the second app, or you can tap the home button and locate another app from your app tray. When you press the home key with no secondary app set, the first app will tuck itself away on the side of the screen so you can access the whole screen to locate your app. The Desktop is never split between the two sides. Once you have launched a second app, it snaps itself in place to fill the screen. From here, if you tap the home button again, whatever app you snapped to multi-window last will be sent away, and if you press home a second time you'll be taken to the full home screen.
The default for this setup is to have the display split right down the middle, but that is far from your only option. The center black bar can be dragged in whichever direction you choose, increasing and decreasing the space the apps have available to them within several hundred pixels (or about a quarter or so of the full screen). In our brief tests, most apps we loaded handled this fairly well. Google has pointed out that resizing the window on the Pixel C can cause some crashing, which we've seen in our tests in earlier Nougat previews. If you load an app that isn't set up to handle multi-window, you'll see a little toast notification letting you know the app isn't optimized and may have problems. It's all early days, but still surprisingly functional.
By far the most important feature to multi-window is the way it forces apps to play nice with landscape displays. Apps like Slack, which force portrait when trying to sign in and look horrible taking up the whole screen on a large tablet like the Pixel C are contained and orient nicely in multi-window. While app developers should still stop behaving this way with their apps, Google has clearly stepped up and offered an alternate solution. We've only tested this on the Google Pixel C tablet so far, so your mileage may vary. That having been said, multi-window in Android Nougat is an amazing addition, and it's going to get even better as app developers prepare their apps for this new setup.
Sign up for Black Friday email alerts!
Get the hottest deals available in your inbox plus news, reviews, opinion, analysis and more from the Android Central team.