MrMobile's LG V30 Giveaway!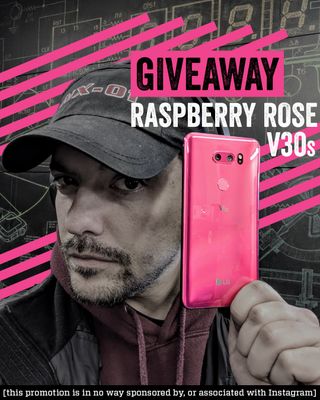 There are few things more useful when shooting a car review than a wide-angle lens, which is why I was so crushed to discover that I'd left my LG V30 at home when I flew down to Florida to film the Tesla Model 3 last week. Combine that oversight with the total destruction of my first review device while taking some sick underwater photos in Hawaii, and the story of MrMobile and the LG V30 is, at times, a sad one.
Fortunately, I've got just the thing to turn that frown upside-down. LG has given me three of the Raspberry Rose V30 devices to give away (one to U.S. followers and two for the entire global audience), and all you have to do to enter is follow a couple accounts on Instagram! To refresh yourself on just what a useful beastie the V30 can be, hit up MrMobile's review and Android Central's take as well. Then head on over to the MrMobile Instagram page to enter! No Instagram account? No worries; I'll have another giveaway on another platform soon enough.
Good luck and happy double-tapping!
Stay social, my friends
Ugh, why can't this phone support LTE band 4 so I can use it on T-Mobile?

You'd be luck if they even had one in store. I spent this weekend trying to buy one from a T-Mobile, and couldn't find a store to throw my money at. In Richmond Va, I went through 4 stores and none had one in stock.

Hope you do one for the YouTube channel. Love your vids.

Not an instagram user, but I'm not really a pink phone user either, lol. However, I do appreciate the offer going out globally... it's refreshing.

instagram boooo not worth it ;)

As a big fan of Samsung products & mostly Gadgets,I would really like to own this gear.i currently own S9 of which I made a pre order even before it was advertised on billboards.i have it for almost a month now nd believe I deserve this gear more than anyone.
Android Central Newsletter
Thank you for signing up to Android Central. You will receive a verification email shortly.
There was a problem. Please refresh the page and try again.