Motorola's 'Yo' Moto 360 contest is over, and it didn't end well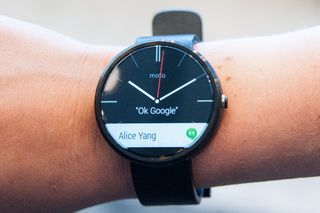 Motorola ran a contest yesterday on the questionably-useful "Yo" messaging app, with intentions to give away a Moto 360 to 20 winners. The contest has closed today and it seems that Motorola has picked winners... a lot of winners, many of whom actually haven't won anything. According to screenshots heading out on Twitter and Google+, folks are receiving messages from Motorola on Yo indicating that they have won the contest, and when they accept to redeem they're then told there are no more Moto 360s available to give away.
Comments on Motorola's Google+ post indicating that the contest has ended have started to fill up as well, with a whole lot of people not too happy with the winner mix-up. Motorola hasn't said anything yet as to what happened or why so many people were notified, but we have to guess its next contest will happen on a platform that's better suited for this sort of thing than Yo.
Source: +Motorola
Andrew was an Executive Editor, U.S. at Android Central between 2012 and 2020.
guess the fact the rules stated the first 20 to complete the registration win in the end.. I am sure we all got the msg.. just first 20 through it actually win.. :(

I've seen a couple tweets from people saying they didn't get the message.

I was one of those that didn't get that message

Me too. I signed up yesterday as soon as I saw it here on AC and I never received anything from Moto on Yo. Posted via the Android Central App

Same here. No message. Uninstalled the crap out of that stupid app.

Yea I was actually one of the people who got the YO back from Motorola but I didn't see it in time and so I obviously wasn't one of the first 20 to respond. Dammmmitttt Posted via Android Central App

It would not have mattered. I got the notification, pulled my phone from my pocket and filled in the info immediately only to get the "a shucks, better luck next time" response. Posted via a Republic Wireless Moto X using the Android Central App

Certainly was a strange one, yo Posted via Android Central App

I got all excited since I never win any contests, then all my excitement was shattered :'( I'm a big fan of Moto but this sucks Posted via Android Central App

Ditto lol. Posted from my Nexus 5 via Android Central App

And same here, got the Yo back and then nothing loll. Posted via Android Central App

Got the yo here also.. no messages saying the first 20 never even saw it in the rules. opened the program and it failed to load

Correction, it's "Ditto yo, lol."

I was so excited then nope. So much sad. :( Posted via Android Central App

I got the message and then promptly uninstalled the app

+1. No value in the Yo app, and certainly no need to keep it installed after I did not win

Careful Moto....you are starting to look like the One Plus of smartwatches.

That is exactly what I thought. People are excited enough for the 360 without falling back on poorly thought out gimmicks.

How so? This was simply a contest that fell victim to a glitch. Glitches happen, not the first time, and damn sure wont be the last. When the Moto 360 actually launches, it'll be available via several retail channels for purchase by the general public.

It wasn't a glitch. They made it clear in the rules, that everyone would receive a message, but only the first 20 responders would win. Poorly thought out contest.
Moto own words:
"Entrants must Yo Motorola via the Yo app before 2:59 PM CT on August 28, 2014. Motorola will Yo back a link on August 28, 2014. Entrants must be one of the first 20 users to successfully complete the entry form to be eligible to win."

Oh ok, I stand corrected. Thanks!

No worries. I think Moto could have stood to clarify. YO

Yeah, it is messed up that people were under the impression that they won, only to find out that they didn't.

Exactly. The link they sent out flat out says, "You've won!" Edit: And I was one of the people who made it in where you could type your email but the moment I clicked that I was from the US the page went blank... So yeah, I'm peeved.

And that's the problem. Moto ran a contest and expected people to actually read the rules. They clearly don't know their audience.
I installed Yo, read the rules and immediately uninstalled it cuz I knew I'd never respond within the first 20.

With Motorola, glitches don't just happen. "Glitches" in ordering, billing, warranty repair/replacement, and anything else (especially if they can bill your credit card for it) are business as usual and the daily norm. And don't even think you'll get any relief from their "customer (dis)service" line.

I've never had a non moto smartphone. Only had one non moto cell phone. I've never ever had any problems with any of their services.

So Which is it? You have never owned a non moto phone or you had one non Moto phone/. LOL

Smartphone =/ cellphone. Remember those old things?

So everyone who got yoed stating that "You won a Moto 360!" only to be misled afterwards gets a 360? Deal Motorola? Deal.

Sure, but the fine print that Moto writes up will have you somehow owing them more money than the watch retails for. Then they will bill your credit card, but "lose" your watch. When you demand a refund, they will refuse until you threaten to deny the charges on your card and have your bank launch a formal investigation, at which point, they will overnight you a prototype unit, easily broken, instead of the retail version of the watch.

I know I shouldn't be upset by something that was being offered for free but I am... I received the Yo! (to which I am ashamed that I even downloaded and left such a stupid app on my phone) and filled out my email just to be told, "We're out of Moto 360s." Not cool, Motorola.

Haha yeah I am in the exact same boat...I dont even use social media and decided to give this one a go even tho I thought Yo was ridiculus. I shouldnt be upset either but the fact I felt like I finally won a contest then let down within 3 seconds sucks...this is what it feels like to feel I guess...weird.

The contest clearly stated the first twenty to respond would win, not everyone. The article is definitely trollbait. Posted via Android Central App

Correct, but then you should be careful what you are stating on your welcome page. "You won a Moto 360!" was not quite the best wording, regardless of the terms and conditions. Don't oneplus your fans, Moto.

Actually... apparently there's a couple boats of people going on here: 1.) The people that got the Yo, that clicked and were taken to the form indicating they won, they were prompted to fill out their email address (had to be a gmail address) and then accept 2 checkboxes. 2.) The people that got the Yo, but when they clicked on it, they were told they were all gone. 3.) The people that never got the Yo in the first place. The 1st group (I am in that group) have every right to be mad. We understood the wording that indicated the first 20 to respond would win. That's why when we opened the link, and were told we'd won, we assumed we actually won. For many of us that have programs like Lastpass that autofill out information, that entire step of clicking the link to clicking the submit button took less than 1 second. So you can see why we're a bit ticked. The 2nd group, well, they were slower on the acceptance of the link, either due to their internet connection or just not noticing the 'Yo' immediately.. they clicked the link eventually, and then were told there were no more left.
THAT is what many of us who have participated in 'speed contests' in the past expected to happen.... history teaching us, and all that. The 3rd group never got their Yo's in the first place, and sort of feel left out, as though they were ignored entirely. I don't really blame them, but I generally prefer to lose a contest, by never being told that I won in the first place.

You, Sir, deserve more upvotes. ;)

I was in the first group too, got all excited since if it said that I won and they're actually asking me for my email address then that's legit. Kinda pissed :'(

there is a another ... People who got the yo but when you clicked on it you never were taken anywhere

Group 3 here Posted via the Android Central App

Plot twist: the actual winners are all named "Adrian".

Rotfl!
I wonder how many know what that refers to. Posted via Android Central App

Horrible contest... way to go opp.... I mean Moto.

I'm not out anything in trying for this. Other then knowing they suckered me into installing that completely useless app. Odds are though, even before this "contest" that I would be getting a ZenWatch anyway.

I even thought this was clear from the article posted to AC yesterday. It was certainly clear if you read the rules.

You gotta love the butthurt from people every time they lose a contest, haha. Edit: I actually feel bad for people that thought they won, only to find out that they didn't win anything...

Yes. It was. But then couldn't you just write "Enter your email for your chance to win a Moto 360." instead of "You won a Moto 360!" ?! There's a fine line.

I got the yo message, clicked it, my browser opened, but no page loaded. I didn't really even know what happened.

I was pumped as soon as I saw the notification from yo/Motorola seeing though I never win anything at all haha and then got let down hard! Sucks Thats all I am saying,well I work at Verizon so I'll just wait and grab it here then screw it lol Posted via Android Central App

Send me one please :D Posted via Android Central App

I somehow received two "Yo's" from them. Sadly both led to disappointment. Posted via the Android Central App

I was under the impression from the contest rules I read yesterday that a handful of people will be selected and sent a link and that the first 20 who fill out the form, will actually get one.

I should have taken a screen shot saying I'd won in case they let those people in.

Bahahahaha! Typical Motorola "customer relations". Read the fine print in their contest, and it probably says something like they never really promised you a watch if you won, and if you want it you have to pay them $400. The sooner these incompetent rip-off artists sink their ship, the better.

It wasn't in the fine print, it was clearly stated, douche nozzle.

+1 Posted via the Android Central App

It seems like if you're trying to run a random drawing, you can't say "first 20 people win" when you're sending out a mass message-- the people who are sent the message first clearly have a better chance than the people at the end of the queue. Although I guess you could argue that if you randomized the send order, it amounts to the same thing. They still should have made their lives easier and just picked 20 names.

Happened to me. I was pretty confused until I read this. Posted via the Android Central App

Remember folks....Moto is now owned by Lenovo. Lenovo....a Chinese company. A country that wants the U.S. burned to the ground. With that said, I hope all the folks that got the "You Won" text but didn't win, get a free Moto 360 and a chance to participate in the class action lawsuit that's about to ensue...hopefully with a new laptop. :)

Except you are very very wrong. Moto is still currently owned by google. The sale to Lenovo is still not finalized. Posted via the Android Central App

Bullcrap lol I got the you won a moto 360 page just to be let down. Sad sad day

I feel you! Great way to punch us all in the gut!

I really wish it was a random selected contest. Maybe give the first 20 people 5 minutes to sign up. If they miss it then it gives the next person a chance. Having thousands try for 20 at the same time is just a mess and one for people that can script.

This contest ended just as I said it would: in a major social media backlash against Motorola.

Who ever would have thought that using Yo as a platform for a contest would end in miscommunication?

Yo guys I never got a YO from Motorola. Posted via the Android Central App

Yep Happened to me =/ oh well i guess.

Maybe I'll turn my attention towards Samsung after all. Posted via the Android Central App

I was excited to see I had won... unfortunately it looks like everyone was a loser.

I didn't even get a Yo back. I say we all Yo Motorola straight for an hour and see what happens. Posted via the Android Central App

Moto seems to have issues with promotions, not sure if it is a marketing department that doesn't get it, does not think things through or what, but promotions are their weak point. Dan Posted via Android Central App

I got yo'd, I was over the moon, then it said there were no more moto 360's :(

Yeah such a bummer! Hoping Motorola will give us that got a winner notice some kind of coupon or discount at least

Ugh same here, very sad. I thought I had actually who something for once. Yo promptly uninstalled

Lols bet there's some disappointed folks out there Posted via Android Central App

Got this as well gave them my info and nothing.. So much suck moto.. So much suck

I got the You Won Message but I wasn't that disappointed. I always assumed it was just for a chance to win. I was at my desk at work.. YESSS... Nooooo.

Stunner, crap happens when promoting something on a crap app.

Actually mine said it went through. I got the confirmation yo, replied with email address, took me a page that said I'm getting an email to fill out from motorola. Have the screenshot I took of the page, don't know how to post here to validate. Hope I typed my email address in correctly. Posted via Android Central App

Andrew, calling Yo "questionably-useful" overstates its usefulness by several orders of magnitude.

in summary: Dear Moto,
Its all your fault that I can't read.
Sincerely,
Yo losers

They sent me a yo on my Gmail and after I tapped it, my Gmail wouldn't load ...never loaded..waste of time Bye bye YO...deleting your YO you putts Posted via Android Central App

got two actually one after another! that sucks Posted via Android Central App

Hell I couldnt even create an account to enter!!! The stupid app refused to accept my submission.. Tried different names also...was no go

To many sore losers, and even more that have a gross inability to understand directions. Maybe, just maybe, 20 people out there are better than everyone else in regards to response time. Either way, the LG renders for their watch make the 360 look like a prototype, and I wanted one to match my X. Posted via Android Central App

Watch? I thought it was the lottery and I won.........Dang! Posted via the Android Central App

The are so many people bitchin about the contest over on #Yoformoto on twitter. ..I'm surprised it's not trending. Everyone got a Yo and nobody won Posted via Android Central App

It was in the pay yesterday that the first 20 people to complete the claim form win, it didn't say only 20 people get a yo. Posted via the Android Central App

just got the confirmation message from Motorola, I think I won, for realsies! Thanks android central for the heads up, I've never won anything before!

https://lh5.googleusercontent.com/-J7C2KK22v_M/U_-wfAdFw7I/AAAAAAAACNQ/u... If you can't open that, sorry. But I just got the second yo and lost. But - I won the first one! Moto has been chatting with me through email :)

I got the same YO msg from Motorola

Sounds like no one here won =\

Yo Posted via Android Central App- Via HTC One

As soon as I saw you had to download a stupid non functioning app that stats with YO. I shrugged and never entered. Bad promo badly executed.

My message wouldnt even send. What a waste!

This is not a surprising result when you accept that a YO requires the recipient to be omniscient. Not so easy to accomplish - unless the recipient is God, of course .... speaking of which, you might want to check out www.YoGodApp.com !
Android Central Newsletter
Get the best of Android Central in in your inbox, every day!
Thank you for signing up to Android Central. You will receive a verification email shortly.
There was a problem. Please refresh the page and try again.