Motorola One review: The meat-and-potatoes smartphone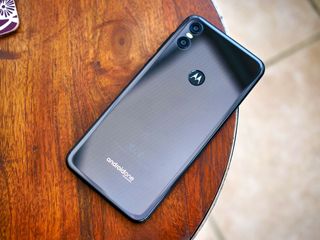 The flurry of Android One phone launches in the past few months has given us one of the more unusual devices in Motorola's lineup. The Motorola One sits adjacent to the more mainstream Moto G6 series, offering a different balance of features for its £269 price tag.
What you get is pretty standard Android One setup -- the same middle-of-the-road specs, super-barebones Android software and slightly dull aesthetic that also apply to devices like the Nokia 7.1 and HTC U12 Life. It's a meat-and-potatoes smartphone experience, only without the gravy enjoyed by phones at a higher price point.
Pros:
Quick performance
Clean, fast software
Moto Display and other extras
Updates to Android Pie and beyond
Reliable battery life
Cons:
Plasticky construction
Average camera
Dull chassis design
For enthusiasts, the real unique selling point here is the Android One software. The Motorola One ships with Android 8.1 Oreo, with an update to 9 Pie rolling out as we speak, and further platform update the next major Android version planned. That upfront commitment is more than you'll get from any phone at this price without the Android One badge. The pure Android software experience also promises zero bloat, with a pristine app drawer out of the box and only a few Google apps preloaded.
This isn't a completely barren Android experience, however. Android One device makers are free to add some extra features, and that's exactly what Motorola has done. The Motorola One has the Moto app preloaded, which controls gesture commands and the company's unique ambient display features. And that means it still feels like a Motorola phone to use, with useful tricks like the double-twist gesture for quick camera access, and the ability to quickly peek at notifications without lighting up the entire display.
Motorola's also brought across its own camera app from the G6 series, with a pretty decent HDR mode, depth-sensing portrait capabilities, and Google Lens integration.
Image 1 of 3
The internal hardware of the Motorola One walks a tightrope between affordability and power. It runs a Qualcomm Snapdragon 625 processor -- a fairly old chip, but still a good performer -- and boasts a healthy 4GB of RAM, which is more than many phones around its price point. Plus there's an ample 64GB of storage is backed up by microSD expandability.
But here's where we get to the one major compromise required to hit that sub-£300 price point: that 5.9-inch display. Colors are decent, as is daylight visibility for a phone in this price category. But you'll need to make do with an "HD+" resolution, meaning 720p and change, and the difference compared to 1080p is noticeable. Plus there's a big old screen notch up top, which may be a deal-breaker for some, but which I personally have gotten used to on countless other phones over the past year.
For everyday app use, the 285 pixels per inch on offer here is perfectly fine. But photos and videos appear noticeably less sharp than the 1080p competitors at this price point, of which there are plenty.
The battery is a mere 3,000mAh cell, which isn't an outstanding number. But thanks to the efficient chip, relatively low-res screen and trimmed-down software, the Motorola One's longevity never disappointed me. However hard I pushed it, it always got me to the end of the day, usually with between four and five hours of screen-on time. For speedy recharges, the device uses Motorola's Turbo Power, the company's rebadged version of Qualcomm Quick Charge.
Bonus points, too, are earned for USB-C connectivity and the increasingly rare 3.5mm headphone jack.
All that hardware is contained in a plastic-clad chassis that at first seems remarkably dull, but which has grown on me over the past few weeks of use. A 5.9-inch display at 19.5:9 makes for reasonably easy one-handability, and although the reflective back panel 100-percent feels like plastic, it's not as greasy or chintzy-feeling as some other Android One phones, like the HTC U12 Life.
Around the back there's also a capacitive fingerprint scanner built into the Motorola logo dimple, which I've found to be just as fast and reliable as the fingerprint sensors in more expensive flagship phones.
In person, there's no mistaking the plasticky nature of the Motorola One's chassis. It lacks the heft and hand feel of phones with more luxurious materials (once again, there are plenty around this price point). But from a distance, it looks smart and understated. For a plastic-bodied phone, it could've been a lot worse.
Another area that feels the pinch of the Motorola One's affordable price point is the camera setup. The dual rear camera array combines a f/2.0, 13-megapixel main shooter with an f/2.4, 2-megapixel secondary camera. Like many other cheaper dual camera setups, the secondary camera is used exclusively for depth sensing when taking portrait shots.
Image 1 of 5
Motorola's camera app does an admirable job considering the limited hardware in this phone, and in decent lighting you'll get pleasing photos with good dynamic range. In darker indoor light, or even twilight conditions outdoors, image quality quickly degrades, with fine details like tree branches becoming smudged by the camera's noise reduction algorithms.
In lower light, colors start to become washed out, and chroma noise and color cast start to appear. Outside of its background-blurring artificial bokeh mode, this is only an average camera experience for the price.
Image 1 of 2
4 out of 5
Most Android One phones are neither sexy nor exciting, and that applies to the Motorola One as much as any other phones bearing that brand name. The biggest disadvantages of the Motorola One compared to similarly priced handsets are a lackluster screen and average-quality photos from the rear camera. It's not for photo enthusiasts or video-streaming binges. Instead, this is a device for Android purists -- and anyone who wants a simple, high-quality, long-lasting Android experience that doesn't break the bank.
That doesn't make for the most exciting phone in the world; nevertheless, the Motorola One is a pretty good all-rounder considering the asking price.
Be an expert in 5 minutes
Get the latest news from Android Central, your trusted companion in the world of Android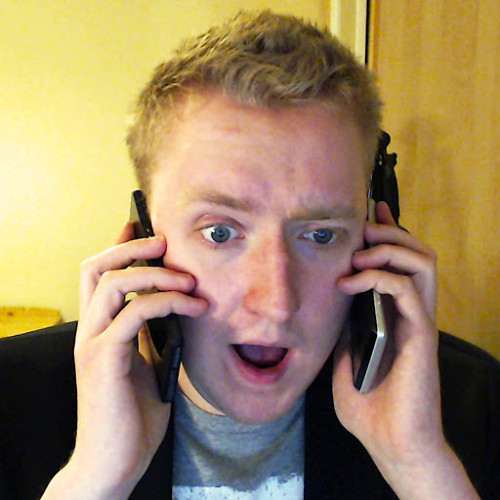 Alex was with Android Central for over a decade, producing written and video content for the site, and served as global Executive Editor from 2016 to 2022.