Motorola MOTOROKR S10 HD Bluetooth headset review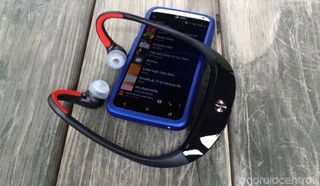 Most of the Bluetooth headsets I have tried and reviewed are headsets that go in one ear. If they do play music, it is in mono with so so quality. Other Bluetooth devices are speakerphones that are also mono music players.
The Motorola MOTOROKR S10 HD is a true stereo headphone with built in Microphone that is connected via Bluetooth. The idea sounds great; let's see about the actual implementation.
I love music, I love Bluetooth and I hate wires, so I was very excited to try out the Motorola MOTOROKR S10 HD and see if it could do what I currently use two or three separate devices to do.
Motorola MOTOROKR S10 HD
What's in the box
The Motorola MOTOROKR S10 HD comes with the headset, three extra sets of ear gels (varying sizes) a micro USB charger and a rather lengthy instruction manual.
Pairing the MOTOROKR S10 HD
Just turn on the Power button and put the MOTOROKR S10 HD around the back of your neck with the ear gels in your ears. The first time you turn the Motorola MOTOROKR S10 HD on, it goes automatically into pairing mode.
On your Galaxy S III, HTC EVO 4G LTE or HTC One X or other Android device, just:
Go to your Bluetooth settings
Choose Scan for devices
Select the Motorola MOTOROKR S10 HD from available devices
If you want to pair the Motorola MOTOROKR S10 HD in the future to another device, just hold down the Power button until you see a steady Blue light and it will go back into pairing mode.
Functionality
The Motorola MOTOROKR S10 HD functions both as a Bluetooth headset for taking and receiving calls and as a stereo headphone for listening to music.
On the left hand side of the headset (near your left ear) there are controls for Volume up (+) and Volume down (-) and a Call button for initiating voice dialing, phone calls or answering a phone call.
On the right hand side of the headset there are buttons for the music controls; you can skip Forwards of Backwards if you are listening to a playlist or album and you can Pause/Play the music by touching the middle button.
The Power button is along the back of the headset.
You can initiate voice controls on your phone by pressing the Call button. If your phone has commands to play music, you can use your voice accordingly.
If you are listening to a song and a call comes in, the music will pause, allowing you to take the call. Once the call has ended, the music starts back up.
To accept a call coming in, press the Call button, to reject it, press either one of the Volume buttons. Tap the Call button to initiate Voice dialing and hold the button to Redial the last number. You can also Mute a call by pressing the Skip to next song button.
One of the added features to the Motorola MOTOROKR S10 HD is that it is designed to be sweat proof. Couple that with no wires and you have, in theory, the ideal headset/headphone for workouts, cutting the grass or anything else that can take a toll on standard wired headphones.
Comfort
The Motorola MOTOROKR S10 HD are somewhat big and heavy. They are also weighted towards the back half which sits on your neck. The protrusion of the back half of the headset behind my neck limited my range of motion – especially the ability to life up my head.
An additional issue for me is that I wear glasses. I was unable to find a comfortable way to have these on without them pushing down on my glasses behind my ears.
I had used the S 9's previously and felt they were too big for my ears. The Motorola MOTOROKR S10 HD come with smaller ear gels which fit nicely.
Call quality
The microphone for the Motorola MOTOROKR S10 HD is located by the right hand earpiece. Since it is nowhere near your mouth, I did have a few callers say it was tough to understand what I was saying.
However, since this is a good quality stereo headset, I could really hear calls well. They were loud and clear.
Music quality
The Motorola MOTOROKR S10 HD support A2DP audio streaming meaning that when the headset is connected, you can stream your music from your Android phone right to the headset. You can also Pause/Play, Skip and go back a song in a Playlist or album by using the Music controls.
The Motorola MOTOROKR S10 HD is really designed to be a stereo headphone which can also take calls. Music quality was really just OK with the Motorola MOTOROKR S10 HD. A wired stereo headset at the same price point will almost always give better sound to your music. Music over Bluetooth is just an iffy thing. Another issue was that this headset does not play loudly enough for some situations. If you were running or cycling in traffic and wearing these (which is probably not the safest thing to do) the sound was too soft for my tastes.
The Motorola MOTOROKR S10 HD was also lacking any appreciable bass response. Mids were ok and high frequencies lacked the detail of wired headsets.
The wrap up
The Motorola MOTOROKR S10 HD is a great idea and has a lot of promise. It is great to have a study, sweat proof Bluetooth headset/headphones for working out or being outside. The sound quality, however, coupled with the fact that these can be a bit uncomfortable make it had to keep these in your ears for an extended period of time.
The good
Wireless headphones are a great idea
Built tough and exercise and sweat proof
Battery seems to last a while
The bad
Uncomfortable
Call quality was just ok on outgoing calls
Music quality and volume both needed a bump
The verdict
If you are looking for a set of Bluetooth headphones that are great for working out and can field phone calls, these might be great for you. If you are an audiophile or if you wear glasses, make sure you try these out somewhere before you buy them.
Buy it now
Others like this one
The S9's sound much better.

I had the S9 for a while and it was ok. I'm currently using the LG Tone, which is a far superior headset in my opinion. Not only does it exceed 8 hours of straight music streaming but, unlike my S9, I can actually pump up the volume to an uncomfortable level.

I have this bluetooth headset, by few months ago and I love it. If I'm listening music and someone call me, it stop the song, take the call and when I'm done It let me go back to the song I was listening before.
It has a great audio, and is a good quality.

Everything you have described is a standard function of Android and nothing at all to do with this headset.

ive used this headset for over a year and a half for in the office and at the gym. the trick for awesome sound and bass response is using the large bulbous earbuds that were included, they seal your ear and create a lot of bass. pretty much blocks out all sound. for me, with that earbud this was a fantastic headset. the article is correct with the phone call quality though, its actually really bad.

I just recently won a pair of these from the Shop android Givaways. i agree with pretty much everything said here. they aren't very comfortable (glasses or not) after about 3 hours my ears start to hurt. sound quality isn't that great. and taking phone calls is actually pretty good. i could be heard pretty well, and they came across nicely. my main complaint about these are the buttons.
all buttons are very hard to press, the power button in particular was difficult. there is no actual "click" to the button...i just kinda had to mash down on it until i saw the lights come on.
even the other buttons, while "clicky" were still difficult to press.
i do like the available buttons though...plenty of them to choose from. comparing these to my jabra bluetooth headset, i would rank them below those in terms of comfort and sound quality. functionality though, i would give the edge to the motorolas. if you want something sweatproof, for mowing the lawn or something, working out, running ect. i would say the motos are for you. but for wearing for a long time at work or something like that, get the Jabra Clipper as you can use any headphones you want.

I've used these headphones (along with my Motoactiv) for several months now. As a runner, there really is no better option out there right now. The volume and sound quality are as good as can be expected from a wireless headphone. They get loud enough to hear the music in normal running conditions but not so loud that you can't hear trafic. The battery life is great. I can go on an 8 or 10 mile run and the next day (if I forget to charge) I'll still be good for another. I'm fairly good about charging and haven't had them die on me yet. If I want to use them with my phone, its nice to be able to skip tracks using the buttons on the headphones, rather than fumble around trying to look at the phone on my armband. The buttons are textured and it doesn't take much time to learn where everything is. I run with sunglasses without trouble. You get used to the glassed riding on top of the headphones. In general, once you get used to them, moving your head around is not an issue. I tended to be over careful with them at first, but they're actually very durable. Really no complaints at all.

Quote: "As a runner, there really is no better option out there right now." Actually there is. Its called wired earbuds, preferably a set aimed at athletic activity. These stay in your ear regardless of how hard you run, weigh less, sound better, and you can actually take a call if you want to. Athletic earbuds are becoming easy to find. For some of folks with cone shaped ear canals, they are the only kind that will stay in place on a run. I use Yurbuds, but there are many different brands. Don't fear the wire.

I've owned several (higher end) sport wired headphones and my opinion is that getting rid of the wire makes a huge difference for me (when I run with an arm band). When I with the Motoactiv, there is no question, you can't use the Motoactiv efficiently while running unless its on your wrist (and having a cord from your wrist just doesn't work). I've had several iPods, used my phone, used stand-alone GPS watches, so rephrasing my original comment: Using these headphones along with my Motoactiv, as a runner, there really is no better option out there right now (for someone who uses a GPS, listens to music, and uses a heart rate monitor while running).

I've been using the Jaybird Freedom BT earbuds and they have good sound quality and don't hurt my ears after long runs or workouts.

If your ears sweat a lot when you exercise, DO NOT get these. I went through 4 warranty replacements within 1-2 months before I gave up and bought a pair of Jaybird Freedoms. My runs consist of 2+ hours and the S10's would start to cut out and die after about 15-30 minutes of use. When I say die, they literally died. Save yourself the hassle. They are not sweat proof.

I completely agree - Motorola should stop calling these "sweatproof". I had two pair of S9 headphones die before I stopped using them for running, the switchgear failed due to sweat generated running in 80-90 degree weather. I still have a pair of S9-HD that I love for music but the microphone placement is so bad they are basically unusable for calls and the design doesn't allow you to rest your head against a chair or couch, or lie down in bed. Strictly for walking to and from work (no running unless you yourself are "sweatproof"!).

Try out the Tone. I read a review from somebody that wanted to test out the extent of it's water resistancy and he took them into the shower with the only problem being he started singing in the shower, lol.

I recently picked up a pair of Jaybird Freedom (http://www.jaybirdgear.com/jf3/) -- the lifetime sweat proof warranty was what appealed to me. These are great & incredibly comfortable.

Yeah - my S9's decided that they didn't want to charge anymore so I stepped it up to the S10s since I liked the S9s so much. I think the audio quality is just fine for my ears. They get plenty loud for me and I use them pretty much every day at work so I can zone out the other individuals on the job site(I do new construction plumbing). They are a bit less comfy then then S9s, no question about that but I do love that they went with Micro instead of Mini charging like the S9 was so now I don't need to carry that car charger around with me at all. Distance is great but I do notice, with any bluetooth, if your neck is sweaty and the backplate is resting on it, it starts to cut off.

Musically, yes, they're pretty much all mid-range. You can use Google Music's built-in EQ to boost bass and treble in a pinch, but these headphones are hardly meant for audiophiles. That said, they were a recent Woot item at a deep discount. Cheap refurbs should be plentiful, and at $30 they're a bargain.

Quote:
"You can use Google Music's built-in EQ to boost bass and treble in a pinch," Its entirely possible I've missed something because I've only been using Google Music since prior to its public release date when it was still in beta. But, as far as I know Google Music does not have a built in Equalizer. If your phone doesn't have one, you don't get any EQ capabilities in GM.

Not sure about GM, but the equalizer in PowerAmp can only do so much and it never was enough for the S9

I have a S9 sitting in a storage crate somewhere. The biggest problem I had with it was the short standby time. Got me a Kensington BT3071 and haven't looked back. Great battery life, no standby cutoff and the best part: calls are also in stereo :)

Phone calls are never stereo.

Mine snapped in the bag because apparently you have to have a certain head size. -That's what she said.

if you have only reviewed bluetooth headphones with so so sound, then you really need to expand your budget to include more headphones. WITHOUT a doubt, the best bluetooth headphones are the Jaybird Freedom headphones. Great sound, secure fit and well worth the $100.

Agreed, I have owned these headphones for about 4 months now and the sound is fantastic. My ONLY complaint is the battery life. I seem to get about 6-7 hours of music time which isn't always enough when traveling. Have a feeling this may be common to all bluetooth headphones though.

Agree! These are fantastic wireless earbuds. Use them with my MotoACTV and work great.

I have been using the LG tone for several months now and I love them. They work similar to these but don't have the bulk. You can buy them for around $50.

Keep an eye on newegg for sales around $39.99. I love these and plan to use them until they die

I have been through 3 different, earlier models of motorola's bluetooth head sets. Begining with the S9. Great concept and they sound fine. They said that they were "Built tough and exercise and sweat proof" They are not. Each set I bought died the same way in about 2 to 4 months. Each set that I bought I exchanged 3 to 4 times in the year of warranty. Best buy won't sell an extended warranty on them. I have never had a pair last more than 4 months. I didn't buy the last model b4 this one. I thought about it because I like the idea. I hoped they had fixed the problem with them dying after a couple of months. I seached the web for customer ratings and saw that people were complaining of the same issue. Thats why i didn't buy yht model prior to this one reviewed. Hopefully Motorola has fixed the problem, but I would be wary about buying them again.

I was only interested because I misread S10 as $10, about halfway in I realized my mistake...

I had the S9 headphones and liked them except while listening in bed as the pillow would push the ear buds out. I'm now using the LG Tones, how would you compare the S9's to the Tones?

I was eying these but don't cae for in ear and found Artic P311 to be an awesome value. Audio.quality is nothing special but cheap and comfortable and battery lasts forever. I wear them for jogging. There are other branded versions of the 311 also.

I bought two pair of S9-HDs (first got chewed up by my dog). The quality is good but the range sucks. Couldn't go outside with my phone in my pocket or it would break up really bad. And they're hard to listen to while lying down. My dad bought the S10s like a year ago. Figured they'd be better since ya know, 10 comes after 9. Nope. Music didn't sound as good and the volume was very low.

I bought these about 2 months and a half months ago and mine died today. Just today I can't get them to power on. When they were powered on I sometimes couldn't get them to power off. To get them to power off I'd have to plug in the charger. Sometimes, after about 30 minutes off the charger the battery would die if I was outside and the back part got warm in the sun. If I went inside for a while to let them cool off they would work for about 2 to 3 more hours before the low battery indication sounded. I have problems with the call button getting jammed and calling people even though I'm nowhere near the button. The down volume button just presses itself on its own and turns the volume down. The up button doesn't work at all now. I use these 3 hours a day. I walk at lunchtime and sometimes get sweaty which may be the cause of the problems with the buttons mysteriously pressing themselves. I really liked these when I first got them. They sounded OK since I didn't have any other experiences with BT headsets. I'm waiting for Moto to issue me an RMA number so I can send them back or whatever the return process is. If I continue to have problems, and it sounds like I will, it's time to look for another alternative. The Jaybird Freedom sounds interesting. I may look into those the next time I need to buy a replacement headset (which could be real soon from the sounds of it).

I have a pair of MOTOROKR S305's that I've had for nearly two years, and they're exactly as they were the day I got them. Unlike these, they're supra-aural (pads that sit on the ear) headphones, which was great when I worked at a truck wash and needed to wear earplugs. The S305's went over them comfortably and are loud enough that they can easily be heard through the earplugs, even with a half-dozen wash wands all going at once. I should also mention that I wear glasses, and the S305's don't cause me the discomfort that was mentioned in the article. I assume they're also sweatproof, since they dealt with high humidity and overspray constantly. Sound quality is better than any of the wired on-ear headphones I'd used previously, but not as good as my Sennheiser HD280s. Call quality is superb, and despite the mic being built into the right earpiece with only a small hole at the front betraying its existence, the other party has no trouble hearing me even with rather high levels of background noise. Battery life is excellent, they would last for an entire eight-hour shift at the truck wash while playing music nearly the entire time. Now that I no longer work there, I mostly use them when mowing the lawn, again with earplugs in underneath. I highly recommend them to anyone looking for a stereo Bluetooth headset who doesn't absolutely need earbuds or canalphones.

My husband and I both have the jay bird freedoms. These are sweat proof and they do it all. If you like something around the ear to hold in place the many sizes of earbuds you get two different colors black and clear. If you want to try something new they also give you like an in the ear cartilage piece. Pick your size and go. For sports I'd use the more secure way with the removable ear clip, but in the car or walking around the other ways prove to be great also. For both music or phone calls. They will pause your music to put your phone call through. In the back is a free moving wire to connect the two earphones and that's it. So great for sleeping too. Just my 2 €. Good luck and great playlists!

Really awesome that my comment was never posted! Thanks AC! /s

I think it is difficult to choose the best bluetooth headphones for gym or running. But In my opinion I think you should choose Sony SBH80 Bluetooth in-ear headphones. With battery life enough time for a day about 6 hours and delivers better sound for running
see here: http://www.thebestearbuds.com/best-bluetooth-headphones-for-running/
Android Central Newsletter
Thank you for signing up to Android Central. You will receive a verification email shortly.
There was a problem. Please refresh the page and try again.