Motorola Droid Pro getting its Gingerbread update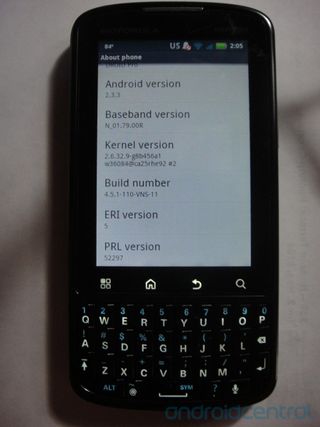 The rumors are true, folks. While your phone likely is still languishing with Froyo (hey, could be worse), the Motorola Droid Pro (read our full review) is getting its Gingerbread update. And why shouldn't it? We found the Droid Pro to be a more-than capable (if a little small) 3.1-inch Android smartphone, with the front-facing QWERTY keyboard that so many of us had been wanting.
Anyhoo, back to the update. Looks like it's Android 2.3.3 (Build number 4.5.1-110-VNS-11, if you're into that sort of thing). You'll have the updated version of Motorola's Blur skin (which isn't the worst thing in the world), as well as all the tweaks that Gingerbread can muster.
Thanks, Eric!
Droid Pro Review | Droid Pro Forums | Droid Pro Accessories
Android Central Newsletter
Get instant access to breaking news, the hottest reviews, great deals and helpful tips
Ok sprint, get your head out of your ass!

Call me strange, but as a former BB user, I would love to see this phone (or something very much like it from say, HTC) on LTE with maybe some dual (or quad?) core processor love. I have a Droid2 now, as that was all the choices were for physical KB's at the time. Is the slab KB style like the Pro here dead? Anything like this coming down the road, or should ppl like me just jump on this now that it has GB? Seems the world is all slabs now... sigh :(

Of course, I pick the Droid R2D2 over this and this gets GB first :( And there still isn't an official announcement if the R2D2 will get an upgrade to GB, just that the Droid 2 will.

You will get it when the normal version gets released. It's the same phone, it just has a few extras in the OS like sounds/wallpaper/pictures - that's it.

I know! I can't even believe the Pro's going to get it first. As for the R2D2 getting gingerbread, it will. I have one as well, and if you go into "about phone" under "Model number" it will display "DROID2"

hmm, double post, ignore me

I'm excited. (Evo owner) smf. :-\

This is ridiculous the Droid Pro is getting 2.3 but the EVO doesn't get it...come on

no, the Droid Pro is getting 2.3 but Atrix 4g is not, now THIS IS ridiculous....

We'll get Gingerbread after the EVO 3D is released. Probably a week or two later. July 4th weekend, at best.

you know what else is ridiculous? Epic not getting it. Google picked samsung and nexus s got the GB when? Exactly. Sammy had hands on GB early, and still theres no gb love. Yes EE03 leaked and *somewhere* there are 2 more builds. I just hope it won't be like with froyo. DK28 leaked and then there was another long wait for the official update. C'mon Samsung. ...hey I can hope, right :)

Now that the Pro has gotten it, it's only a matter of time before the Droid 2 gets it... Right? (I hope)

Yea...thats the think that is ticking me off....the X got it Friday, Pro gets it today or soon, where is the D2, D2-R2D2, and the D2G?

Just testing this out....

I LOL'ed at that. It makes me wonder if it was really him, but I think it's an impostor! A large percentage of Android users are former Crackberry users (like myself) and I actually wouldn't mind something like this in the future if it only had 4G radio and a dual core processor. Are you listening Moto? HTC? Sammy?? Oh yeah, don't lock the damn bootloader, thanks :)

Hello HTC and Verizon, um, DInc love please.

From a study a while back Verzion gets android updates the fastest then Sprint then at&t then . So this means Sprint phones are next

Also Htc then Moto. Then samsung so really htc phones on verizon should be first

I'm a happy Droid Pro user. I've always be nonplussed as to why the phone wasn't more successful in the marketplace but happy it's getting this update. Question: Is the only option to wait for the OTA update, or can you go to a store or directly download it somewhere?

All Motorola interfaced phones (essentially all but Original Droid) allow you to pull updates. check your about -> System Updates....probably won't be there yet as the 'soak' test is only starting now, wide release is probably in a few days.

Thanks! Before posting I'd tried to pull the update a few times like you described, and hadn't gotten it, so I'll have to be patient.

p3droid says there will be a GB leak by sometime today.

sooo...... when is pro supposed to get it?

Still no update for my Droid Pro.

It is June 22nd and I still have not received the update for my phone. Anyone else having this issue?

Hey android central.. did this update ever happen? If not time to pull the story, no?
Android Central Newsletter
Get instant access to breaking news, the hottest reviews, great deals and helpful tips
Thank you for signing up to Android Central. You will receive a verification email shortly.
There was a problem. Please refresh the page and try again.