Moto G4 Play finally has Android 7.1.1 Nougat 13 months later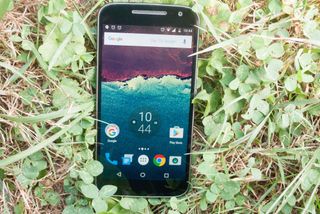 Back in 2016, Motorola released three entries in its G-series with the Moto G4, G4 Play, and G4 Plus. The G4 and G4 Plus were both updated to Nougat later in the year, but the same could never be said for the G4 Play. Motorola was running Nougat soak tests for the G4 Play at one point in 2017, but an official over-the-air update was never released.
Now, in January of 2018, this is finally changing. One Redditor shared a screenshot of their G4 Play, and sure enough, it's running Android 7.1.1 Nougat (a version of Android that's now 13 months old) with the November 2017 security patch.
We aren't sure why it took Motorola so long to get Nougat pushed to the G4 Play, but we're certainly glad that it's finally here. Unfortunately, don't expect to be using Oreo at any point in the future. This is the last planned update that Motorola has for the G4 Play, but considering that this is a phone nearing two years of age that had a retail price of $99, that's not all that surprising.
Joe Maring was a Senior Editor for Android Central between 2017 and 2021. You can reach him on Twitter at @JoeMaring1.
How about my G4 Plus? It's still on 7.0..

The G4+ is slated to get Oreo sometime in the future.

that future is 1 year from now.
you would be fool if you buy moto for updates, the best phone to get update faster but not faster than pixel is Android one devices

Same with my wife's. It's pitiful.

There's hope for my Moto E4!!!!

Moto E4 is already running 7.1.1

Uh...I mean a year later we might get Oreo...

I really hope Treble fixes this nonsense, especially in regards to custom roms.

Hey, my AndroidOne Moto X4 still doesn't have Oreo either.

Whatever happened to the Motorola owned by Google that actually had better software updates than the Nexus program?

didnt you hear google sold motorola?
dont expect the same from Lenovo. if you need good update then the phone you need to buy is pixel 1(or pixel 2 if u have money) because trust me this device will get more update than any recent devices.

We know we're just reminiscing.

They had like two phones to support.

With the G5s ahead of it, plus not being the flagship... Yeah. Set the right expectations.

Lenovo ruined Motorola. Had a Droid Turbo, never buying another Motorola again. Awesome phone but they don't support their products any more.

Better late than never I guess lol

Haven't gotten it yet. Any tricks (not including sideloading) to get it OTA ASAP LOL?

I have a G4 Play that I am not using anymore. I might power it up to see if it gets Nougat, though I am not holding my breath - it is the Verizon prepaid variant...

This phone is know to stop recognizing the memory card after a couple months. Avoid.

I've had mine for almost a year and no SD card problems here. You must've gotten a bad lemon.

Well, it took them long enough. I wish we still had a chance of getting Oreo though.
Android Central Newsletter
Get the best of Android Central in in your inbox, every day!
Thank you for signing up to Android Central. You will receive a verification email shortly.
There was a problem. Please refresh the page and try again.