Moto G 4G now available for purchase through Motorola site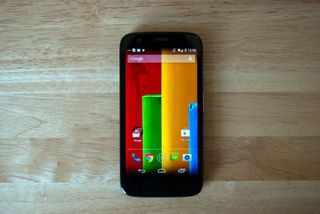 If you've been waiting for the Moto G 4G to arrive on the Motorola site, today is your lucky day. The Moto G 4G LTE has now landed on the Motorola website and is available for direct purchase for only $219 in either white or black.
The specs on the Moto G 4G are identical to that of the standard version of the Moto G with the exception you also get a microSD card slot to go along with that 4.5-inch 720p display, 1 GB RAM, 1.2 GHz quad-core Snapdragon 400 SoC, 8GB internal storage (No 16GB option sadly), 5 MP camera, 1.3 MP front camera, Wi-Fi 802.11 b/g/n, Wi-Fi hotspot, Bluetooth 4.0, microUSB 2.0 and a 2070 mAh battery.
And of course, it's also running Android 4.4 KitKat. Any takers on this one?
Thanks, Adrian!
Get the Android Central Newsletter
Instant access to breaking news, the hottest reviews, great deals and helpful tips.
If I didn't have an X already I might...

Hey Chris. Why do you think they put in an SD slot if on the other moto devices they didn't?? (Moto X) Posted via my Moto G

The Moto X debuted with Android 4.3 which does not handle SD cards securely, with the changes made in KitKat it is now safe for manufacturers to add SD card slots.

Screw that I don't need google to babysit my SD card Posted from my Nexus 7 2013 or Samsung galaxy S5

You don't. A lot of other people do. Hell, a lot of other people don't even realize they have SD cards in their phone in the first place. We need to stop thinking of ourselves and realize that Google is looking our for our tech illiterate friends and relatives. I mean honestly, Google isn't even babysitting your SD card. They're just saying "want to use it, then do it like this". They aren't preventing anyone from doing anything, they're just making sure developers do things the right way. Which at the end of the day is a good thing.

You guys should mention it's only available in the 8 GB configuration with LTE. Posted via Android Central App on my Galaxy S5/Galaxy Note 3

if this came on Verizon I'd get my brother one. Posted via an AT&T Galaxy S III LTE running on America's....neither fastest or most reliable network. ):

It was $70 on Verizon like 2 weeks ago I think. Not sure if its still at that price.

Isn't it 2gb of ram? Maybe not.... Posted via Android Central App

No Posted via Android Central App on my Galaxy S5/Galaxy Note 3

How does this compare to a nexus 4? Specs seem almost the same, its like getting a N4 with LTE and SD card capabilities. Posted via Android Central App

This is a very capable phone, because it is only pushing 720p it always opens apps faster than my 2013 Nexus 7, but you do need to switch to ART to get the smoothest experience on the G, it was a bit laggy on Dalvik IMO. The only place my N7 is faster is loading big web pages and games otherwise I see almost no lag at all on the G it's really incredible

I sold my nexus 4 to buy this. all in all, it's about equal. I don't miss the extra gb of memory since really i only use the phone for phone calls / texts / and the occasional google look up or maps.

it's only an 8gb version with no option for a 16gb, which sucks, i'd rather buy a 16GB 4G not MicroSD than an 8GB 4G with MicroSD. i hate MicroSD cards, though i am in a place where constant data is available for relatively cheap, so yeah

Likewise. 16Gb would have been more desirable, with LTE. SD card I can take or leave but 8Gb as standard on a phone will limit the amount of data (Gmail, cache etc.) regardless of how much storage any available SD would have, without manual manipulation.

And as has been pointed out again and again when it first debuted, a 16 GB LTE version would have cost more thereby making it less affordable from an average consumer perspective which would have defeated the purpose of the device. That being to produce and release a decent phone with LTE capabilities and expandable storage. It doesn't matter what you would rather buy. You likely are not the average buyer. Don't like it? Buy something else, but we're at a point where going into sites and forums and saying "doesn't have X, if it had X I'd have bought it" is the equivalent of saying "first" or "lame". It makes you look like an idiot.

I think I just found my backup phone! Posted via My Nexus 5.

You mean like me? Yeah the nexus 5 makes a great back up Posted via Android Central App

I just ordered a Moto G LTE from Amazon. Same price and you have the option for FREE 2-day shipping using PRIME. I opted for the $5 1-day shipping because I just shattered my Nexus 4, and I need a phone ASAP. I have shattered my N4 twice before and fixed the screen both times. This time was the last straw. I NEED a phone that OtterBox makes a case for, and the Moto G is the perfect option!

Otterbox makes a case? Why bother? It's tough as nails Posted via Android Central App

Yeah Otterbox makes the Defender and Commuter vases for the moto g. I personally NEED an otter box. I work in construction, and myphone takes a beating. My N4 had a sedio case that couldn't do the job

More on board storage and I would have bought one. Seems like a great backup phone. I'm the kind of guy who stops a microwave at one second to feel like a bomb defuser.

It is also available from Amazon, no tax no shipping for prime members. Mine just arrived about 3 hrs ago.

I have tax in my state for amazon :(

I'm copying my music library to the 64gb microsd in it.

Moto G with 4G LTE
8GB of internal storage
Supports removable micoSD cards up to 32GB You may find that the Moto G will only read 32Gb of that 64Gb micro card

Bought it from Amazon, already have it in my hand.

Hi, can you please tell me if the phone supports 64 gb sd cards ? Thanks !

Any info on when there's going to be an international LTE version available??

June 30th I believe. Posted via Android Central App

It's a great value phone for a device that can handle most needs. They deserve to sell a boat load and probably will. Posted via Android Central App

16 gig and id Grab one for sure. Moto really doesn't push the fact that both the g and x are water proof. I watched video of both devices submerged in water for 30 minutes and then worked just fine afterwards. My girlfriend has a moto G and my son dropped it in the toilet. Who knows how long it was in there but the phone still work with no issues whatsoever. I love what moto has been doing all the way around. Maybe my next is moto X +1 John Hancock

From Amazon's page, it seems fully compatible with T-Mobile's HSPA and LTE, or am I reading it wrong? Posted via Android Central App

Yes, it support T-Mobile AWS bands for HSPA and LTE.

Nice little backup phone even better now with LTE access. Posted via Android Central App (Moto X)

Go one already last Friday...... Posted via Android Central App

Is the white one on Amazon new too? I only remember seeing the phone in black so far. Posted via Android Central App

They've also added a gyroscope to this which is missing from the normal Moto G. This means you get photosphere support via the Google Camera app. Posted via Android Central App

Motorola has officially released Moto G LTE in June, 2014. The phone is powered by 4.4.2 KitKat android version. It also comes with Quad-core processor and 5 megapixel camera.
http://tech.infopsyche.com/motorola-moto-g-lte/