Moto 360 update keeps a better connection with your phone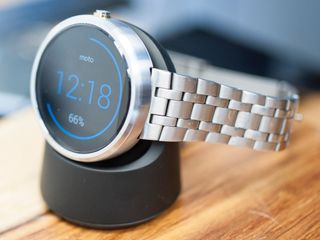 Motorola is rolling out a new software update for the Moto 360 smartwatch that brings a number of bug fixes and improvements including a more Bluetooth connection with your smartphone and alerting you that the watch is charging with better charging indicators. The update takes the firmware to version KGW42R.
According to Motorola, the update is being pushed out to users in phases, so fret not if it's not showing up on your phone. Additionally, at this time, you can't manually pull the update either so you'll have to wait for the update to arrive.
Here's the change log:
Bluetooth connectivity: Improved Bluetooth connectivity between the watch and phone to reduce momentary disconnects experienced by some users.
Charging notification: Added a message to confirm that Moto 360 is charging in cases when its battery is fully depleted.
Bug fixes: Implemented bug fixes and other system optimizations.
Curious about the Moto 360? Be sure to read our review.
Source: Motorola (opens in new tab)
Get the Android Central Newsletter
Instant access to breaking news, the hottest reviews, great deals and helpful tips.
Hope this fixes the lag Posted via Android Central App

Well, hello Moto. :) Posted my "LiquidSmooth 4.4.4" Sprint GS3

I just got the update. I didn't really notice a lag before, I guess I didn't have anything to compare it with, but it is *noticeably* smoother now. Like someone enabled hardware acceleration or something.

Fixes BT connection? Awesome. I know that is a big non-Motorola-phone issue. I'm on an S4 and would get it a dozen or so times a day, at least when I would notice it.

Also on an S4. My troubles ended when I switched out of Cyanogenmod. Google, "Cyanogenmod Android Wear disconnect". Running Gummy if you're curious.

I'm running stock Samsung. I don't install mods on daily drivers.

I just got the update...really hope this helps connectivity...my lg g3 kept disconecting

Battery life!!! I hope you can confirm if this did work for the connectivity issues though, that's what kept me from placing my order this weekend :)

my samsung s3 CM11 phone has been fine, i think. no problems, so i hope this just keeps it awesome. i'd love an update that adds even more "stock" watch faces!

Huh, interesting. Better than average Bluetooth performance is not something I typically associate with CM. Glad it's working well for you!

How do we get the update or how am I notified that it's available? Push notification or something?

It will show up as a notification on your watch.

Thanks. I also just had a look in the settings and you can search for updates. It was not ready as the article said it wouldn't.

Mine updated and sometimes it keeps showing me the step counter card every couple of minutes. Even after i swipe it away. Anyone else having that problem??

No update for me yet, but I just got my 360 from Best Buy yesterday. Was getting the steps constantly, so I shut it off in the Android Wear app on my phone.

How large are the files for AW updates?

looks like we also got an new option on the menu... a REMINDER option that is linked to the voice command

Pretty sure that was already there.

I been having 0 issues since I had it. Posted via Android Central App

I'm on hold with Motorola right now to return the 360. Wanted so badly to love it, but just doesn't fit my lifestyle the way Pebble does. Love the way it looks and the colored screen. I couldn't get through a day. Didn't have ambient screen on, but drove me crazy not being able to see the time all the time. Thing needed to be charged twice a day which isn't gonna work. Bummer :) Hopefully android wear updates and gen two hardware will work better for me. Posted via Android Central App

Hi Jeff,
I was feeling the same way as you as after 3 days I was getting 12 hours battery with ambient mode off. The next day I had no cellular signal but was playing golf so the screen would go on every time I swung. I squeezed out 15 hours. The next day I still had no notifications and just used it to look at the time - I got 23 hours. The rate of battery usage went from like 8% per hour to about 4.5% per hour. So screen on time definitely kills it. So I used the App Mini launcher to turn brightness down very low as even outside you can still see the time.
It was then important to remember to get in the mindset to only use the watch as a glanceable notification center - checking and reading mails/texts, time piece, and occasional more taxing things that you may otherwise do on your phone. If you use it as you use your phone it will die quickly. I even cover it with my hand after I have interacted with it to turn the screen off quicker.
After a week I now get a good 18 hours and that is with 3 email accounts buzzing off (use cloud magic so can read enterprise mails), Facebook, Whatsapp, Highlight and other random cards it throws at you. That is enough for me to get through a work day. How long have you had yours? I do think it takes about a week for the battery to get fully up to strength...

Cool. I love seeing updates quickly to address issues. Posted via the Android Central App

I have not seen any issues either, also I have been experiencing way better battery life then I thought (off what everyone was saying). I use it a lot and have been pulling a day and a half off the battery and coming from Samsungs Gear getting 12 hours I think that is a step in the right direction.

That's is awesome! I get 12-14 hours tops. Are you setting the brightness down? If I set it to always on but in dim mode (which is how it should be) I get about 6-8 hours. It sucks to have a watch that you can't use it as a watch. I have to tap the screen or shake my wrist to get it to light up, and then you only get a few seconds before it's off again. Posted via Android Central App

I have it set at auto brightness and screens off unless I look at it (move wrist). I will say having it on auto it seems most like setting it at 1 or 2 brightness. I will say i started wearing it today 11 hours ago and right now I am at 66% battery life left. Also I have yet to receive the update so it has nothing to do with that.

Just wanted to follow up on my first comment. Now that I have updated my watch I seem to be getting more disconnects. I don't think I had any before the update. BUT the battery seems to last longer and interface is more responsive.

I'm definitely seeing smoother screen transitions and snappier performance. So far, so good on staying connected to BT (HTC One M7). Posted via Android Central App

I can kill mine in less than a working day with ambient mode off (or screen on more often in dim mode), sometimes, but otherwise it's pretty impossible... I'm actually really satisfied with it's battery life. My usage case must be pretty light or something. /shrug The stock grey leather band did seem to leave a slight shade on my wrist yesterday after I sweat a lot tho, I was only casually looking at alternate bands but now I'm a little more concerned with replacing it. It's comfy for sure, just not sure about it's durability.

I never had any connection problems with my moto 360 with my oneplus one. O.o Posted via the Android Central App

How is your battery life? If very good, you will be the Fourth person in the last three days that I have seen have no issues while connected to a OnePlusOne. I'm starting to suspect that what phone the 360 is connected to is impacting both these areas.

Got the update last night. No more BT connection issues with my Nexux 5 since then (It would drop BT 3-5 times per day with the phone right there). I have wear aware installed and have not buzzed me a single time. Maybe its just me, but I removed the 360 from the charger this morning at 7am and it is now 1:30pm and still has 83% on the battery. It would last me 14-16h without ambient mode on, just auto brightness. So far better than before. Smoother interface too... Posted via Android Central App

Still waiting for my update...

I too am seeing better battery life. Mine is now depleting 4.1% per hour and at this rate will last me 24 hours. Before update I was getting 18 hours.
Before the update I lost connection to my Note 3 5 to 6 times a day. Afterr the update no lost connections.
I do think that perhaps there was battery drain as it searched for my device...
My advise to anyone getting the 360 is to give it a week, let the battery get acclimatized and do this update.

Has everyone else received this? Checking for updates on the watch doesn't work. It says that the System is up to date, but I am still running build KGW42N.

They are rolling it out in waves. You will get it eventually. It is too early to be sure of better battery performance after the update, but my 360 is at 60% after 14 1/2 h of normal use :) Posted via Android Central App

It seems like the performance is better. Before the device was a lag fest but it's much smoother now.