MIPS Tablet promises 7 inches of Ice Cream Sandwich for $99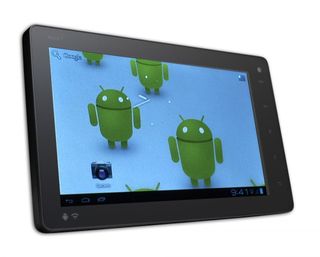 Cheap Android tablets are nothing new, but Sunyvale, Calif., company MIPS Technologies looks to be one of the first out of the gate with a cheap Ice Cream Sandwich tablet. The first version is launching as a 7-incher -- 8- and 9-inch tablets are on the way. It's running a 1GHz MIPS-Based XBurst CPU with a Vivante GC860 GPU has the usual Wifi, Bluetooth, HDMI and microSD features.
We've generally been less than impressed by most every cheap Android tablet we've seen. You usually do get what you pay for when it comes to this sort of thing. But MIPS' press release also includes a quote from Android's Andy Rubin, who said:
It's being touted as retailing for less than $100. In fact, it's $99. And we just paid $66 in shipping. We'll just have to see when we get our hands on the MIPS whether it's worth even that much. Full presser's after the break.
MIPS Technologies and Ingenic Semiconductor Announce
Availability of World's First Android™ 'Ice Cream Sandwich' Tablet
1GHz, Low-Power Tablet Sets New Market Standard at Sub-$100 Price Point
SUNNYVALE, Calif. – December 5, 2011 – MIPS Technologies, Inc. (NASDAQ: MIPS), a leading provider of industry-standard processor architectures and cores for digital home, networking and mobile applications, and Ingenic Semiconductor, a leading China-based CPU provider for mobile multimedia applications, today announced worldwide availability of the world's first tablet based on Android ™ 4.0, known as 'Ice Cream Sandwich', that is retailing for less than $100 (U.S). The tablet is powered by Ingenic's JZ4770 mobile applications processor, which leverages a MIPS-Based™ XBurst™ CPU running at 1GHz.
According to Andy Rubin, senior vice president of mobile at Google, "I'm thrilled to see the entrance of MIPS-Based Android 4.0 tablets into the market. Low cost, high performance tablets are a big win for mobile consumers and a strong illustration of how Android's openness drives innovation and competition for the benefit of consumers around the world."
The new Android 4.0 tablet is available in China and online through Ainol Electronics Co., Ltd. It will be available in the United States and other geographies within the next several months under brands from companies including Leader International Inc. and OMG Electronics Ltd.
The new tablet is available with a 7" capacitive multi-touch screen. 8" and 9" form factors will be available soon. All versions include support for WiFi 802.11 b/g/n, USB 2.0, HDMI 1.3 and microSD, as well as 3D graphics with the Vivante GC860 GPU, 1080p video decoding and dual front/rear cameras. The XBurst processor's power-efficient architecture provides extended battery life—the 7" tablet draws less than 400mA during active web browsing.
"We are pleased to join with MIPS to announce these breakthrough high-performance, low-power, low-cost Android 4.0 tablets. Combining the elegance of the MIPS architecture and Ingenic's innovation in processor design, we are bringing a new level of processor technology to mobile devices. As we continue to collaborate with MIPS to broaden the mobile ecosystem around the legendary MIPS architecture, we anticipate even broader proliferation of our devices worldwide. We believe the mobile world will be more versatile and colorful with another processor joining in," said Qiang Liu, chairman and CEO, Ingenic Semiconductor.
"The openness of Android is enabling a new level of connectedness and interaction between devices and between people across the globe. We are excited to be a part of the Android ecosystem delivering on that vision. We applaud Ingenic's accomplishment in developing this new high-performance, feature-rich Android 4.0 tablet, and offering it at a price point that makes it widely accessible. We look forward to teaming with Ingenic as it continues to develop MIPS-Based mobile innovations," said Sandeep Vij, president and CEO, MIPS Technologies.
Ingenic JZ4770 SoC
The Ingenic JZ4770 SoC inside of the new tablet is one of the first MIPS-Based systems-on-chips (SoCs) targeted for mobile devices that delivers 1GHz+ frequency, increasingly a requirement for tablets and other devices that incorporate rich multimedia and high-performance applications/functionality. The JZ4770 SoC is powered by a MIPS32 compatible XBurst CPU designed by Ingenic. The XBurst CPU core adopts an innovative ultra-low-power pipelining architecture which consumes less than 90mW in 1GHz (with L1 cache), and the entire SOC consumes ~250mW with the CPU and video engine operating under full load. In addition to the XBurst CPU, the JZ4770 SoC integrates an optimized 1080p video processing engine, OpenGL ES 2.0 3D graphics processing unit from Vivante Corp. and numerous on-chip analog and application blocks such as audio codecs and GPS.
Pricing and Availability
Ingenic's JZ4770 SoC for Android 4.0 tablets is available now. The new Android 4.0 tablet is available in China and online through Ainol Electronics Co., Ltd. at www.ainovo.com. The 7" tablet retails for less than $100 (U.S.) non-subsidized. The tablet will be available in other geographies within the next several months. For more information, visit http://en.ingenic.cn/.
About Ingenic
Ingenic Semiconductor was founded in Beijing in 2005 to develop innovative processor technology. Based on the MIPS architecture, Ingenic designs its own CPU core called XBurst. The XBurst CPU adopts an innovative micro-architecture which consumes very little power under high performance. Powered by the XBurst CPU, the company's JZ47xx series application processors are widely deployed in embedded devices and consumer electronic products including PMPs, educational electronic devices, eBooks, biometrics and more, with more than 30 million units shipped to-date. For more information, visit http://www.ingenic.cn (opens in new tab).
About MIPS Technologies, Inc.
MIPS Technologies, Inc. (NASDAQ: MIPS) is a leading provider of industry-standard processor architectures and cores for digital home, networking and mobile applications. The MIPS architecture powers some of the world's most popular products, including broadband devices from Linksys, DTVs and digital consumer devices from Sony, DVD recordable devices from Pioneer, digital set-top boxes from Motorola, network routers from Cisco, 32-bit microcontrollers from Microchip Technology and laser printers from Hewlett-Packard. Founded in 1998, MIPS Technologies is headquartered in Sunnyvale, California, with offices worldwide. For more information, contact (408) 530-5000 or visit www.mips.com.
Follow MIPS on Facebook (opens in new tab), LinkedIn (opens in new tab), YouTube (opens in new tab), RSS and Twitter (opens in new tab).
Heck, I think I'm going to get it just because it's a full blown Android tablet for under $160 even with shipping. I was planning on getting a cheap tablet for my wife so she can watch movies when we're traveling and I was looking at some of the ones they sell at like Big Lots and Toys R Us, but this looks much better.

$66 in shipping? What, did they hire a limo to deliver it to you?

Phil, can you clarify something? In the article, you wrote: "It's being touted as retailing for less than $100. In fact, it's $99. And we just paid $66 in shipping." Was that a typo? Did you mean that you paid $99 + $66 shipping, or only paid $66 total, including shipping? Thanks.

When I checked it was $60 in shipping. So the total is $159.

$99 for the tablet, $66 for the shipping. I'd reckon it's being imported.

MIPS? So that means nothing compiled for ARM will run (i.e. any game using NDK rather than just java stuff) or am I missing something? (edit: Their promo stuff shows Angry Birds running, and mentions it'll run regular android apps, so I'm not sure what's going on here!)

I have a MIPS tablet right now(some Velocity Cruz piece I think) and it has an issue with most games that use the NDK(to include Angry Birds).

Most Apps are compiled dalvik virtual machine code. As long as you have market access you have all access required for all apps. Binaries are a different story. You will need a new busybox and superuser binary in order to use a different processor. Some apps require code to run natively. This is destined to cause problems. I'm not a fan of decentralization. This makes things more difficult. Intel has just injected code for atom processor support. Mips has done the same.. now poor Stericson has to compile 3 separate binaries for busybox installer market app. Super User has to identify architecture and download one of 3 compiled binaries... not so cool.. decentralization sucks.

We'll be back to the good ol' days of Windows CE 2.x, where each app had 5 or so versions - 1 for each arch. Soon we'll see apks for ARM, MIPS, and x86. Google needs to address this in the apk file spec and android installer.

they do. you can specify a native binary for every architecture in the apk file.

If it can browse the internet and play a video, it's all you need. Very interested.

That might be all you need... I need it to not give me issues when there is something other then browsing the interwebs and playing videos. On the first error, your going to say to your self, " I got what I paid for".

Now if only amazon would sell it so I could use the amazon prime I got with my fire for the shipping...

I think im going to pick it up...just wish i knew how fast it would ship!!

$60 for shipping is crazy. Gotta be imported.

More Chinese crap, price is good though.

Wondering with the price if this is a case of "you get what you pay for". My Mom really wants one of those cheap Android tablets that Walgreens and other small stores sells, she'd be a little happier to have my nerd seal of approval on this, being that it has ICS. People are bringing up an interesting concern over the MIPS architecture though here. All she wants to do is browse really, so.

The concern is that once it's in a person's hands they are going to want to do more than just "browse". It is inevitable. As soon as they get it they will find other things to do with it and when they can't get it to do the next thing they need it to do they get frustrated. That's why the iPad is so popular, it does just about everything. Yes, it is not $150 dollars, but it will handle just about anything you can think to throw at it. Until an android tablet can do that, they will continue to play catch-up no matter what the price point.

Name something an ipad can do that has no equal on an Android tab.

Be used for a females menstrual cycle. wait... Theres an APP for that!

Actually, there are some high-end audio apps that can't be done on any Android tablet due to issues with Android's sound capabilities. But in general, you are correct.... almost anything you can do with an iPad tablet, you can do with a [real] Android tablet. That guy's rant is completely illogical.

Well, I have a $180 Android 2.3.4 tablet with Capacitive Screen and Cortex CPU, 512MB RAM
I also have a $1000 ipad With my Android tablet I can:
Use Built-In HDMI 1080p and the content is being displayed on both
Watch content in Adobe Flash Player 11.1 (HTML5 is available too)
Use MicroSD-HC Cards
Connect USB 3G Modem when WiFi network is not available
Connect external storage devices or mice/keyboard by the built-in USB Host
Watch 1080P H264/MPEG4 online streams as well as MKV and most other formats fully in hardware even with built-in player
Download APKs from both Android Market and outside of Android Market without unofficial hacking None of the above can be done on my $1000 ipad. The games performance, Including Angry Birds, Asphalt 6, Fruit Ninja, Raging Thunder 2 and all the others I tried are working with equal speed on both ipad and Android tablet. So what exactly are you talking about?

Sold out already..... sigh At least they're off to a great start!

Anybody get one yet and wants to review it? Looking for a 7" for the kids...have a Nook Color and it does fine...plays games and videos and can read books...all the kids want...but this is cheaper so I'm wondering
Android Central Newsletter
Get the best of Android Central in in your inbox, every day!
Thank you for signing up to Android Central. You will receive a verification email shortly.
There was a problem. Please refresh the page and try again.