Minecraft Pocket Edition for Android uncovers infinite worlds in latest update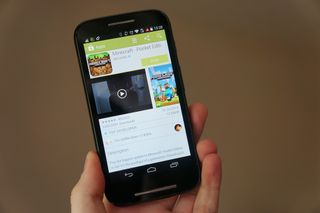 Mojang has released a fairly substantial update for the Pocket Edition of Minecraft, available for iOS and Android. This release focuses on adding more mobs, features and extended functionality, while also addressing the size of worlds and squashing any known bugs affecting the immersive experience.
Version 0.9.0 contains quite the feature list, so be sure to check out the list below for a full run through.
Infinite worlds
Caves
Loads of new blocks and items including Monster Eggs and huge mushroom blocks.
Wolves! Tame a loyal companion.
Loads of new flowers! So pretty.
New mobs, including the spooky endermen and less spooky Mooshrooms.
New biomes from the PC version, including mesas, jungles, swamps and extreme hills.
Abandoned mineshafts, villages, and many other cool places to explore.
A brand-new "interaction" button. Never accidentally punch a sheep again!
New feature generation, including lakes, vines and monster rooms.
Many bugs fixed, and possibly a few added.
How are you enjoying this latest update? If you haven't yet checked out Minecraft, give our top tips and cheats guide a read through.
Ummm awesome. Looks like I may be redownloading this.

Better, still lacking red stone, texture packs and cloud storage. Survival craft is still much better. It's a shame, I love MC and they need to pull their fingers out. Posted via Android Central App

The addition of caves and infinite worlds are pulling me in. Posted via My Ever-Bloated S4

Finally! Posted via Android Central App

Still desperately needs controller support Posted via Android Central App

Works with the Shield. Posted via Droid Razr M on the Android Central App

Just updated this on my Daughter's tablet. She's been talking non stop about the update coming soon. She thought it was due tomorrow so she's in for a surprise today when she goes to play it. I tested it out and seems to run OK on her Galaxy Tab 2 7.0 . From the DeathStar using my rooted LG G2

Lol, I'm glad I'm not the only one who's kid has been excited about this update. My son has been taking non-stop about this update ever since I told him it was going to include wolfs. He has this installed on his Nabi and has been playing it for a few months now and he just loves this game.

My kid love's the update. Very little lag if you cast it to tv. Posted via Android Central App

About time! Posted via Android Central App

Android TV is going to be awesome for playing games like this on your tv without having to dish out big money for a regular console.

My Kids have tried playing Minecraft PE and screen casting to the ChromeCast. Even when lag is minimal there is a disconnect becuase the controls are on their Nexus 7s and they still need to look at their screens to see where they are touching for input.

Infinite world's! Finally! Been waiting ages for this! Can't believe mojang took so long when survivalcraft did all this a long time ago. Posted via Android Central App
Android Central Newsletter
Get the best of Android Central in in your inbox, every day!
Thank you for signing up to Android Central. You will receive a verification email shortly.
There was a problem. Please refresh the page and try again.