Microsoft Office is now available for all Chromebooks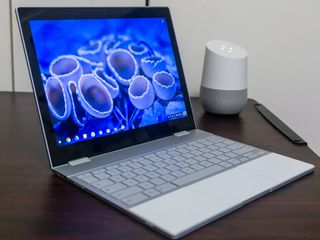 Thanks to relentless software updates and exciting hardware options, Chrome OS is now a realistic alternative for a desktop operating system that can be used over the likes of Windows and macOS. One of the biggest additions to Chrome OS that makes this possible is the ability to download and run Android apps, but one selection of apps that's been noticeably missing from certain Chromebooks is Microsoft Office.
Microsoft Office has been available for some Chromebooks like Google's new Pixelbook, but on others, it either didn't work properly or show up in the Play Store at all. This unsurprisingly caused a lot of irritation for Office fans that wanted to give Chrome OS a shot, but it looks like these headaches are finally coming to an end.
The folks at Chrome Unboxed recently discovered that Microsoft's Office apps are all of a sudden showing up in the Play Store on all of their Chromebooks, including the Samsung Chromebook Pro, Acer C771, two models of the Chromebook 15, and the Pixelbook.
If you own a Chromebook, this means you can now head to the Play Store and download Microsoft Word, Excel, and PowerPoint. You'll need a subscription to Office 365 in order to actually edit files on these apps if you have a Chromebook with a display larger than 10.1-inches, but even so, the fact that everyone now actually has the option to use these apps is great.
Are Microsoft's Office apps showing up in the Play Store on your Chromebook? Let us know in the comments below!
Joe Maring was a Senior Editor for Android Central between 2017 and 2021. You can reach him on Twitter at @JoeMaring1.
Are they Chrome apps or the Android versions?

Not positive myself, but the article says that they found the apps on the Play Store and that permissions are based on screen sizes, so I'm fairly certain it's the Android app version. However, for those same reasons I'd assume that these apps are now well optimized for Chromebooks.

It is the Android versions. I was happy to see the versions I side-loaded were automatically updated through Google Play recently. Flicked via the BlackBerry keyboard on my Pixel 2.

hopfully OneDrive and onenote are available too!

Awesome. Can't wait to get a Chromebook to give it a whirl....

>>Are Microsoft's Office apps showing up in the Play Store on your Chromebook? Since my chromebook still doesn't have the Play Store it was promised to have years ago, I can't check. Can we change the title to say "most chromebooks" or "all new chromebooks"?

Just downloaded Word onto my Acer R11. Yes it works! This is a very big step forward.

Are these the full versions, or the Office On Line apps that I have been using since I got my Chromebook?

Neither, thee are the Android, mobile versions.

These are the android apps and you have to have an office 365 subscription to use them on any device with a screen size larger than 10.1", which means basically every chromebook. Kind of a non starter when you can use the web version for free.

Meh, most jobs have a corporate office subscription so non issue?

But at least you can work offline and save from the app to the web client.

A more accurate heading should read, "Microsoft Office now available for purchase on Chromebooks"

Just swapped out my college kid's chromebook (Dell 13) for a Surface Pro due to the need for Office. All the options I looked at 2 months ago were subpar, even with an Office360 subscription.
Is this only for the latest Chromebooks with Play Store access?

All are available on my ASUS C302C.

The have ALWAYS worked on my Samsung Galaxy Tab S2 9.7 for 2 years.... Full versions. I'm glad I didn't trade it for a Chromebook.

And what about Minecraft? Had the same spotty support as the Microsoft Suite.

Minecraft from the Google Play store runs great on my HP Chromebook 13 and also has built in Bluetooth controller support.

Until an equation editor is supported, this won't work for me. Maybe one day. I'm a calculus teacher. This is a must.

Glad it's finally available. Btw, you mispelled Excel to "Excell".

So, this is just the Android version, right? Until I can get the full desktop version, this is a no go for me.

all my chromebooks are still on the list to get Google Play in 2017. there's not a lot of 2017 left, I hope Google makes good on it.

I hope they have worked on the optimasation
Android Central Newsletter
Thank you for signing up to Android Central. You will receive a verification email shortly.
There was a problem. Please refresh the page and try again.