Microsoft Launcher's biggest overhaul yet is here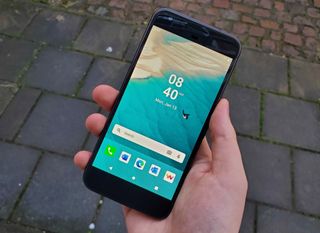 (Image credit: Android Central)
What you need to know
Microsoft Launcher is getting its biggest overhaul since launch.
The app's 6.0 update is now rolling out for everyone with landscape mode, a fresh design, and more..
You can grab Microsoft Launcher 6.0 now from Google Play

(opens in new tab)

.
Microsoft has been cooking up a new version of Microsoft Launcher in preview for several months, and now it's finally available for everyone to check out. Version 6.0 of the app is now officially rolling out to everyone, and it comes with a refreshed design, new features, and more.
"This launcher is built on a new codebase allowing us to bring multiple new features to you – such as Personalized News, Landscape mode, Customizable App Icons, Bing-Supported Wallpaper, Dark Theme, and numerous performance improvements like speed to load, low memory utilization, battery optimization and fluent animations," Microsoft said in its blog post announcing the new update. Here's a full look at the main features of Microsoft Launcher 6.0:
Personalized news: Stay in the know. The personalized news feed updates throughout the day with top trending stories, making it easy to stay on top of whatever's relevant to you.
Landscape mode: Microsoft Launcher supports vertical and horizontal orientations to enhance your viewing preference.
Customizable icons: Give your phone a consistent look and feel with custom icon packs and adaptive icons.
Beautiful wallpapers: Enjoy a fresh new wallpaper from Bing every day or choose your own photos.
Dark theme: Reduce eye strain when using your phone at night or in low light environments. This feature is compatible with Android's default dark mode settings.
Improved performance: Microsoft Launcher now loads faster, uses less memory, is more battery efficient, and offers fluent animations.
This is a major update for the launcher that Microsoft has been working on for months. It also likely gives us a look at what the Surface Duo's out-of-box launcher experience will be like when it finally arrives.
If you're using Microsoft Launcher, you can grab the update now via Google Play. For those who were testing the Microsoft Launcher Preview, you'll start seeing a pop-up message that states the preview will be phased out by the end of July.
Microsoft Launcher
The latest Microsoft Launcher features new options like landscape mode. It's also built of a new codebase, so it should use less memory and battery than previous versions of Microsoft Launcher.
What's that ugly phone with huge bezels you have in the picture?

It looks like an internal testing app similar to the virtual device on Android Studio. So maybe this is Microsoft-owned Xamarin? And that phone looks like an iPhone, not any Android phone, by the way.

Looks like a Pixel 2 to me

Looks like a Google Pixel. Maybe XL version. Definitely not the Pixel 2 as the other person suggested.

Wow another bezel obsessed person

Either this article jumped the gun or they already yanked the update. Version on the play store is 5.11........

Maybe it's a phased roll out? I'm a beta tester and I'm on 6.2.

Still no version 6 in the store for me :(

BlackBerry Launcher is all anyone should be using. I dumped Nova ...... Yeah, can't say that with a straight face 😐

It doesn't look any different than the Preview version. Landscape mode is just bad, bad, bad. Still.

I like a lot of what MS is doing with the launcher, but find critical faults. I've tried it off and on when they update and have had integration and usability annoyances here and there. I didn't play with it enough this time to find everything that might annoy me. The calendar card does not show holidays and birthdays. I can hit more to open a window and see the info. But, it won't actually show it on the card. It just says 1 all day event, and then says no events. I can see where some people might not want to see them, but in that case make it an option.

Their cards do need to be improved, I find the widget of specific apps better. Hopefully in the new version they improve on them

Does it still force Bing on us? That is biggest reason I stopped using it. The news aggregation was bad as well, because, Bing.

Well it is called Microsoft launcher so probably yes.

You can set your own search engine this time

I changed mine to Google.

Perhaps I will give it another go. I have tried it a couple of times, however, I found it no match for Nova.

Still no version 6 in the UK Play store. Hopefully it should be there soon.

Still no version 6 of Microsoft Launcher yet in the UK.
Android Central Newsletter
Thank you for signing up to Android Central. You will receive a verification email shortly.
There was a problem. Please refresh the page and try again.